Total of 1 carriers in
Sully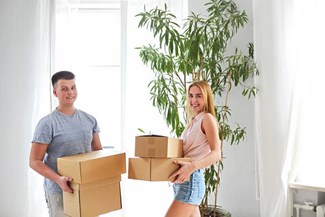 Sully Movers
Are you getting ready for a move in the future? Whether you need local, interstate or cross country moving services, you're probably trying to figure out how you can get connected with the right companies. How can you be sure that you're going with the right company in the first place?
As you work out the info that you need, you want to be certain that you connect with the pros that can help you to stay ahead of everything. At iMoving, we do everything possible so that you can know that you're working with the very best. We work with both long distance and local moving companies, so that you can get the best results for your efforts.
If you work with iMoving, you will find that there are all sorts of movers in your area. We only facilitate moves between top moving companies and our clients. How do we know they're the best? Because we took the time and effort to do a background check on every single company we work with – we make sure that they're trustworthy and that they have the resources to facilitate any move we schedule with them.
As facilitators, we do everything possible to ensure that your move goes as smoothly as it possibly can. There's so much that you need to take care of that we try to take that load off of you with little to no issues. We want you to feel calm and confident throughout your move so that you can take care of the important parts.
Use our site to estimate moving costs, then compare costs of moving companies and to see which company in your area is going to take care of you in the best way possible. We can help you to learn about your options and ensure that you've got exactly what you need in order to finish your move. We even have a moving checklist - check it out!
Moving Services in Sully, Virginia
Local Moves - If you're moving within 100 miles of your current residence, then it's considered to be a local move. Local moves are charged by the hour, which makes them cost significantly less than what you'd see for a long distance move. On top of that, you can typically get them done within a day.
Long Distance Moves – Moving further than 100 miles? Then you'll need to sort out the details of a long distance move. Long distance moves take much more time and coordination, so moving companies will use different criteria when it comes to billing. It's a combination of the weight of your items and how far you're going, which can make things vary pretty widely.
Residential Moves – Home moves are a big deal. You want to know that your family is taken care of and you are going to get all the furniture and stuff from your old home to your new one. That's where residential movers excel. They can help you to learn a lot and ensure that everything is done the right way!
Commercial Moves – Business moves are a lot more complex than home moves, and you need the right experts to deal with them. Finding local or cross country movers that work on businesses can make the process go much more smoothly for you. Let them know what your business needs and how you want to try and accomplish your move more easily.
Additional Services – Moving companies offer all sorts of additional services, including storage options, selling moving boxes and other supplies, white glove services, and even packing/unpacking. Make sure that you ask about services like these before you choose your moving company.
Moving Tips
Schedule some time off after moving into your new place, if you can
There's a lot to be done when it comes to moving day, and you're going to need some time to settle in and recover. If you can give yourself a bit of a gap between moving day and when you go back to work or school, do so. It'll relieve your anxiety and make things go more smoothly.
Put together a checklist
It's always a good idea to have a complete checklist, filled with every little thing that you're going to need to do or take care of. Even if you feel like you're micromanaging, a moving checklist is going to help you ensure that absolutely everything has been completed before you move. It'll reduce your stress and you can know that you're doing what you can.
Boxes should be labeled and color coded
Labels and color coding can provide a lot of assistance when it comes to actually sorting out moving boxes. There are a lot of ways to do this, but if you make each room a different color, you'll find it a lot easier to determine where those boxes need to go in the new house.
Don't move everything in your home
One of the biggest issues that people have is that they think they actually need to bring everything with them. The fact is, now is the absolute perfect time to really sort things out and see what you can get rid of. Donate items, give them away, throw them out, and/or have some sort of moving sale. In the long run, there's going to be what makes the process a bit easier for you.
What to Know When Moving to Sully, Virginia
Sully, Virginia is a neighborhood located within the city of Centreville, Virginia. Centreville is found in Fairfax County, which is one of several counties that Virginia natives refer to as "Northern Virginia" or "NOVA." With a population of around 70,000, the entire city of Centreville is considered to be one of the best places to live in the state.
If you're looking for somewhere that is filled with restaurants, pubs, and coffee shops, Sully is a great place for you to consider moving to. There is always some sort of celebration that's going on, and neighbors are constantly coming together and enjoying each other's company.
Like most of Northern Virginia, you're going to notice that the population density is quite high. This means that the traffic can also get pretty difficult. But, you also have a really big advantage – you're not far from Washington DC. That means that all you need to do is jump over to Vienna and take the orange line up to DC. There are also some bus routes that run to DC, as well.
As with most of Northern Virginia, the cost of living in or around Sully is higher than other parts of the state – but it's not higher than what you'd find if you tried to move to other parts of the Baltimore-Washington Metropolitan area. The entire region is costly to live in, but the salaries paid throughout the area are much higher on average as well, to make up for it.
There are several routes from Sully that make it easy to get to different parts of Western and Central Virginia, both of which are covered with natural areas, National and State Parks, and more outdoor activities than you can shake a stick at. If you love the outdoors, Virginia is definitely a state you want to consider moving to, even if you live in a city.