Total of 1 carriers in
Des Plaines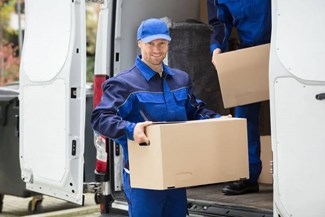 Des Plaines Movers
How does having a courteous, timely and professional Des Plaines moving company sound? iMoving has the network to make sure you're in contact with only the very best in the area.
We have one of the largest and most trustworthy networks of local moving companies in Des Plaines. Every company that we work with has the experience needed to complete any job you need as well as dedication to customer service and quality service that is non-negotiable.
The movers in our network are:
Handpicked and interviewed by the iMoving team
Removed by us when community standards are violated
Licensed and insured
Validated by a local state government or the Department of Transportation
Besides having some of the very best movers in Des Plains, we also do our best to provide the fairest prices. Our bidding system is for the customer.
When you get a quote with us, you'll enter the details of your move and the job will be sent to Des Plaines movers. These local and long-distance moving companies can bid on your job, but can also see the bids their competitors offer. This leads to a situation that tends to benefit the customer and pushes down your final price.
iMoving does more than provide a quote and a trustworthy moving company. We are a part of the entire moving process. From the day your move is booked until the day you've moved into your new residence, the iMoving support team is available via phone, email or live chat.
Get a quote today and experience a simpler, smarter way to move.
Moving Services in Des Plains, IL
Long Distance Moving: Moves to another state or completely across the country are complex. Some moves can be handled by one company, but others may require the services of at least two companies to get the move done.
Commercial Moving: Moving a business is not as simple as picking things up, loading them in a truck and unloading them at the new location. Many factors go into a commercial move and oftentimes sensitive and confidential data is in the hands of a moving company. iMoving helps you make sure you are working with a company you can trust.
Local Moving: The cost of a local move depends on how many people are needed for a particular job and how much time it will take to complete it. You are then charged a fixed hourly rate. Any additional services you
Moving Labor: You don't always need packing or transporting services. Sometimes you just need help loading and unloading extremely heavy objects, boxes or delicate items. If that's the case, then this is the service for you.
Tips for an Easy Des Plaines Move
Have snacks at the ready
Moving day is very long and very exhausting. To have the necessary energy to make it through without feeling awful, pack some snacks and keep them nearby. That way, you'll be able to fight off hunger and provide yourself (and anyone else involved) with some much-needed boost.
Take a picture of assembled items
Take pictures of furniture, cords, and electronics before you disassemble or disconnect them. This will help you set everything up faster at your new place and keep yours from having to remember how you made it all work in the first place.
Place seasonal items in plastic bins
Items that you only use once a year can be stored in bins instead of boxes. Bins will save you a lot of time when packing and make managing your belongings more efficient. They can also be the last things unpacked in your new place because you won't need them for a while.
Leave unneeded items where they are
We know about the boxes sitting in the attic and the garage. If you can't remember the last time those boxes were opened or you actually can't even remember what's in them, chances are you don't need them in the first place. Don't take those boxes with you to your new home.
Take measurements
If you want to enhance the interior of your new house or make sure the furniture fitting with you can fit in it, knowing the measurements is a good idea. Items that looked good at the old place may make the new one feel stuffy or just may not be as good of a fit. Anything that can't fit can be left behind.
Backup computer files
Backup all your important files on your laptop and computer if they are being moved. Accidents happen during moves, be ready by having a copy of your hard drive.
What to Know about Des Plaines, Illinois
Chicago isn't too far away
If you enjoy the small feel of Des Plaines but are hankering for some excitement once or twice a month, you can easily find your way to Chicago. It's less than a 40-minute drive and less than an hour by train. World-class shopping, dining, and culture are only a drive or train ride away.
Square Deal Shoe Store
This family-run shop has a secret: there's an antique shoe museum that houses shoes dating back to the early 1900s. It has the shoes of the world's tallest man and is home to a fluoroscope, the machine that took x-rays of feet. Visitors are able to have their shoes fit personally, but can still shop current brands. The cash register is the original and must be used until it breaks; it hasn't yet. You'll love the vintage vibe the family has worked to keep up.
Busy Beaver Button Museum
Though the name may leave your tongue twisted, this company makes buttons for companies across the entire nation. Located in Chicago, see thousands of buttons in their collection, musing over the intricate details. Some are encased, but others are on the walls and desks where workers can be viewed making new buttons in real-time. You'll learn the history of buttons and the effort that goes into those tiny little things.
Lake Opeka
This is a highlight of Des Plaines. The lake is a nice place to walk or fish. You can relax in the sun and watch the river or get active and rent paddleboats. In the summer, they play movies in the pavilion, and in the fall bring the family to the many carnivals. There's also a golf course and a clubhouse that has snacks for those in need of a boost.
iMoving has one of the largest networks of Des Plaines moving companies that can get you to your new home fast and easily. To get started, get a quote from us then choose from a vetted company that is sure to reduce the stress of your upcoming move.