Total of 1 carriers in
Skokie
El Cubano Moving and Storage
Skokie

Skokie, IL

3.82
1

Years in Business

2

Trucks

10

Workers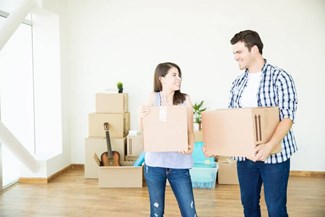 Skokie Movers
Knowing all the details of your Skokie move are not necessary to get started planning. iMoving has every tool you will need to handle every detail of your journey smoothly, both known and unknown.
Tell us the details of your move that you do know, our cost calculator will provide you with a quick quote that:
Provides accurate price ranges
Factors inflexible move dates and additional services
Allows you to access our large network of Skokie moving companies, all of which are licensed and insured
Choose to book with us and you will have a reliable range of prices that will help you set more realistic expectations. With this information, you'll spot fake quotes from a mile away and be able to create a reasonable budget.
When you do decide to book with us, you can look forward to:
Binding quotes that cannot be changed by movers, only you.
Payment protection – you don't need to handle any transfer of money, we pay the movers after you tell us you are satisfied with your move.
Competitive pricing from local and long-distance moving companies in Skokie.
Skokie movers that have been personally screened and handpicked by our team.
A wide range of services, like auto transport and special handling.
Managing your move through our app or from the website.
Moving shouldn't be a hassle; at least that's what we at iMoving believe. Even if you don't know everything about your move, book with us and you'll always know what to expect.
Moving Services in Skokie, IL
Assembly & Disassembly: Items that are bulky and large must be broken down into manageable pieces before you move. They also need to be put back together once the move is complete. Professional movers offer to do this, keeping parts safe and organized.
Special Handling: This service is a specific style of moving and packing items that are fragile or very heavy. Also known as white-glove service, this category includes antiques, musical instruments, large and unwieldy items, and furniture.
Truck Rental: Renting a truck is an option for those who need a vehicle to move their possessions and have no problem driving – it's also a great way to save some money. Renting a truck requires the signing of contact and down payment which holds the vehicle for you.
Local & Long Distance Moving: The distance you travel from the origin to the final destination is the main difference between these kinds of moves. Local moves are often completed within the day, while long-distance moves are typically more complex. Similar services – packing, transporting and loading/unloading goods – are offered by both.
Use These 5 Moving Tips for a Successful Skokie, IL Move
Have rekeying services done as soon as possible
There's just no way to know everyone the previous owners of your new place gave a copy of their keys to. Keep your family safe by rekeying the entire house before moving in. A property manager or locksmith will be able to rekey your locks in hours.
One last once over
Especially when things are out of sight, it is easy to leave them behind. Avoid this by doing one last look-through before handing the keys back to the property manager. Double-check places like closets, cabinets, drawers, and your fridge. These places are always hiding something.
Secure a parking spot for the moving truck
Please don't forget to find or reserve a parking spot for the movers or the U-Haul truck you're using. Without a parking spot, it's highly likely you're going to run either your old or new neighbors the wrong way. Don't forget that the longer it takes movers to find a spot on their own, the more money it's going to cost you.
Moving day essentials box
This box (or bag) is going to be filled with the items that you are going to need or want on the day of your move and a few days following it. Necessities like bottled water, trash bags, toothbrushes, medications and toilet paper are a few things you may want to consider packing.
Select a moving day like a pro
Knowing the times that Skokie moving companies are the busiest will help you save money. Avoid the beginning and end of the month and weekends as moving prices are higher at this time. The summertime is also very popular for moving. Rates are going to be the lowest in the middle of the month, in the middle of the week.
Good Things to Know When Moving to Skokie, IL
The S in Illinois is Silent
It will be very easy for people to know you're not from around these parts if you pronounce the "s" in the state's name. Nothing is more annoying than hearing the "s" sound; it's almost like nails on a chalkboard. So, for the record, it is "il-uh-noi", never "il-uh-nois."
Northshore Sculpture Park
Once a neglected stretch of land along the northern channel of the Chicago River, it is now a recreational park that has jogging and biking paths, picnic areas, and large-scale contemporary sculptures. The park is open year-long and is free. 
Heritage Museum
The Skokie Heritage Museum is located inside the town's oldest municipal building – a repurposed fire station built in 1887. There's also an old log cabin, known as Log Cabin, right next door that can be open upon request. It is older than the station. The museum contains short-term and permanent collections and special exhibits and hosts activities ranging from yoga to history classes.
Emily Oaks Nature Center
A thirteen-acre savanna and nature center is waiting for you in Skokie. This oasis is full of native oak trees, wildflowers, grasses, trails, and a two-acre pond. Wildlife that resides in this area or visits include coyotes, flying squirrels, blue herons, cooper's hawks and northern water snakes. Besides those things, there are meeting rooms, offered classes and activity shelters. There is plenty to do for families.
Skokie's Imagination Playground
The Exploratorium is known as a top destination on rainy days for the Chicagoland area. It is much more than an indoor playground, however. It's a place where interactive play brings adults and children together. There's a costume dress-up area, tubes, and tunnels to explore wall climbing and a water play area. It's unlike anything you've experienced.
iMoving can make your upcoming move to Skokie much more relaxing than you'd think possible. When you book with our network of movers, you know you're going to get service that is fair, high quality and professional. Get started today.