Moving From California To Georgia: Benefit, Costs & Tips
From green spaces enjoyment to friendly neighbors, this beautiful and diverse state is an amazing place to live. Moving from California to Georgia cannot be easier than this. Check these tips.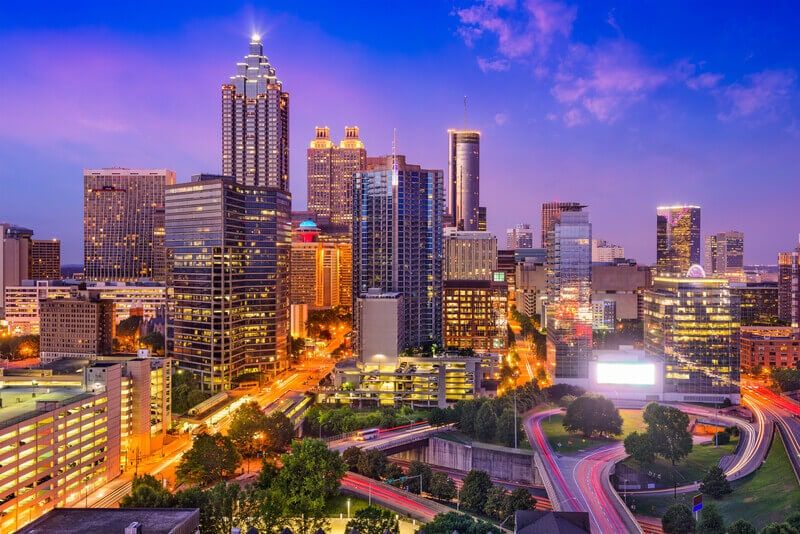 If you are considering changing coats, but don't want to switch weather, then, relocating to Georgia from California can be amazing for people looking to experience the other side of the country. Georgia is popular for its warm weather and there are lots of locations where you can enjoy it. Georgia has many beaches, and almost fifty (50) state parks to add to her cap.
You shouldn't be surprised that The Peach State also has fresh produce that stands with the best in the country. Together with sunny skies, let's discuss some of the main reasons why you may want to choose Georgia as your next home after leaving California.  
Moving from California to Georgia: What you stand to enjoy
Apart from the weather, there are certain amazing advantages of moving from California to Georgia. Below are some of them:  
Weather Forecast
Atlanta is famous for its mild climate, even though it does see all four seasons; it is mild when compared to other parts of the country. In the city of Atlanta, summers or often humid, some days in December have also been reported to be sufficiently warm with no bundling up. Sometimes referred to as Hotlanta because it can get toasty during the summers, however, moving from California means you will appreciate that utilities are affordable and the ability to operate your air conditioning as necessary.
Affordable Cost of Living
The cost to live in Georgia is highly affordable than that of California. When making a comparison of two most moving destinations of the states, Los Angeles and Atlanta, Atlanta stands out when it comes to affordability. In general, the cost of living is 39% lesser in Georgia than in California. The median cost of a home in California is $689,500, while it cost 62% less in Georgia with your median home cost at $259,000.
In Georgia, transportation is also 26% cheaper than in California. This is expected since Georgia is not as congested as most cities in California. Food and groceries costs are also 5.1% cheaper. While the cost of living is cheaper in Georgia than in California, there are parts of life that are highly expensive in Georgia. Utilities can be higher at 10.6%, and healthcare cost is a bit expensive at 2.7%. In total, with the low cost of living and housing, it is a very big addition to moving from California to Georgia.
Convenient Access to travel
The busiest airport in the country is the Hartsfield-Jackson Airport, with lots of unlimited flights. Hartsfield-Jackson received the title of the busiest airport in the world after it saw over 107 million passengers in 2018. That's roughly 300,000 passengers traveling through the airport day by day. To compare, Disney World's Magic Kingdom is the busiest theme park in the universe and it sees below a fifth of that number per day.
Did you know Hartsfield-Jackson is located on an old and abandoned racetrack formerly known as the Atlanta Speedway?  A huge 63,000 people are employed by the Atlanta airport, including concessionaire, airport tenant employees, the federal government, security, City of Atlanta, and ground transportation, making the airport the largest employer in Georgia.
The airport has 6 Starbucks coffee shops so if you are flying in Atlanta, you will have six different chances to hit your preferred coffee chain.
Education
A recent report shows that Georgia stands in the 7th position in the overall education quality in the country. Regardless of the city or town you choose when moving from California to Georgia, you will discover an education option to match your family's requirements. You can check online to see current school rankings (for elementary, middle, and high schools), campus and location maps.
Top elementary schools in Georgia are:       
Britt David
Sharon
Peeples
Marietta Center for Advanced Academics
Daves Creek
Top high schools in Georgia include:
Columbus
Davidson Magnet School
Johnson Magnet
Savannah Arts Academy
Allatoona
Best universities in Georgia include:
Emory University
Georgia Tech
University of Georgia
Georgia State
Savannah School of Art and Design
Traffic
You just have to take the good with the bad and sadly Atlanta is famous for traffic jams. Similar to any big city there are some times of the day when traffic congestion is at its peak, so we recommend that you adjust work arrangements as needed. The MARTA system offers public transportation which helps eliminate traffic congestion near the city.
Atlanta is a progressive place so lots of companies have moved to remote working part or all of the week which makes many drivers stay off roads during rush hours. Locals tend to consider traffic to be bad since they've never seen California traffic or mainly congested traffic in other U.S. cities daily.
What are some of the Best Locations to Move to in Georgia?
The perfect neighborhood, similar to your perfect move, rests on some factors. Working remotely, having a family, and working with a budget are all great reasons to screen down your options.
For those seeing Georgia as their next home, consider these neighborhoods:
Savannah: This is a charming, classical Southern city that is ideal for history lovers and artists. Those looking to buy a house should consider Athens, boasting a bustling entertainment scene and amazing housing costs. Families with kids should go to Woodstock, a great city filled with recreational centers and parks. It is also closer to Atlanta.
Summerhill: This is an amazing pick for families, thanks to its huge residential homes and closeness to restaurants and grocers.
Lake Claire: This is another family-friendly area, easily located between calm suburbs and more bustling downtown locations.
Candler Park: This is one of the highly affordable locations in Atlanta, perfect for students and remote workers who desire to save as much money as they can.
Decatur: This is a walkable, trendy, and centrally located neighborhood in downtown Atlanta.
Kirkwood: This is a lush and forested area that is perfect for families and single employees alike.
How much does it cost to move from California to Georgia?
Among the major setbacks of moving to Georgia from California is the cost of moving. Both places are located on the opposite side of the country, so, obviously, your moving costs will be higher than relocating to a nearby state like Arizona.
Moving costs will usually differ based on the number of furniture you own, your type of furniture, as well as the moving company you hire. Be prepared to spend from $1,500 - $4,000 when relocating from California to Georgia.
| | | | | |
| --- | --- | --- | --- | --- |
| Home Size | Professional Movers | Container | Freight | Rental Truck |
| Studio/1 Bedroom | $2,230-$6,190 | $2,506-$3,166 | $1,853-$2,520 | $1,963-$2,479 |
| 2-3 Bedroom | $4,230-$8,992 | $3,264-$4,966 | $2,613-$3,900 | $2,041-$2,952 |
| 4+ Bedroom | $7,944-$9,222 | $4,513-$6,392 | $3,515-$5,280 | $2,599-$3,628 |
Tips to Moving from California to Georgia    
For your school-aged kids, know that schools located down south start earlier in the year than the ones up north. Find out the actual date from the school district.
Moving to Georgia in the months of months will imply that you will cope with severely hot temperatures, so keep hydrated on move day and try to hire a Georgia moving company to handle every heavy lifting.
Make sure your move time falls before or after rush hour traffic. Major cities like Atlanta, are famous for longer commute times. You may want to plan a weekend move.
In addition, during your move to Georgia, you will want to change your address with the USPS so your mail is ready for you when you arrive.
FAQ
Is it a good idea to move to Georgia?
Georgia is among the best locations to live as shown by the 100,000 new residents that relocated here per annum. The major cities in other states are overpriced and overrated. People love our relaxed culture, clean air, and good food. You can visit here and experience a historic Georgia town or stroll in a park.
How much money is required for Georgia move?
An individual that lives on a stable salary will be able to live sufficiently in most parts of the state with $50,000. You will want to earn around 60k if you want to live in Georgia comfortably.
How much money is essential to living comfortably in Georgia?   
For comfortable retirement in Georgia beginning from now, a minimum of $120,000 will be needed as savings.
Does Atlanta Georgia see cold?
Expect hot and muggy summers in Atlanta; short, wet, and cold winters; and the climate is partly cloudy throughout the year. The temperature year-round varies from 35 degrees and is rarely under 22 degrees or more than 95 degrees.
Is it cheaper to live in California?
California is widely known as one of the costliest states to reside in the U.S. Housing costs take a major part of that. There are also daily food, utility costs, transportation costs, and regulations, and crippling property and state income taxes.  
How to relocate from California to Georgia
Starting from the state's beauty and cost of living, it is obvious why the Peach State is an attractive choice for many people. If you are considering a change to the California lifestyle, look at these reasons for relocating from California to Georgia. We'd like to assist you to remove the stress – check out our local moving companies, and be free to contact us for any questions you may have.