Total of 1 carriers in
Chesterfield
Moving America
Chesterfield

Chesterfield, MO

4.60
9

Years in Business

2

Trucks

15

Workers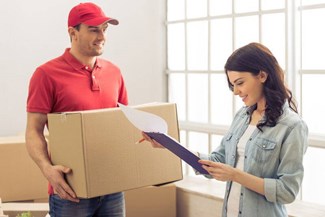 Chesterfield Movers
Are you ready to move across the country? Maybe you're just moving down the street, but either way, you need to be certain that you're doing the best you can. Is hiring a moving company in Chesterfield what you'd like to do to take some of the load off? Then you've come to the right website for that.
At iMoving, we have connected with the best Chesterfield movers so that you can feel confident, no matter which one you choose. Did you know that we take care of background checks and go through an entire vetting process before including a moving company in our search engine? That way, you know you've got exactly what you need.
When you use iMoving to find Chesterfield movers, all you need to do is put in your starting point and where you're headed. Also, put in dates that you'd like to possibly have your move fall on. Then, let us know what types of additional services you believe you'll need. You can work out all of the details and then you'll end up with several quotes from area movers that can help you out. Pick the one you want, and schedule them!
We're a moving facilitator, so we will take care of business and be the facilitator of everything that goes on during your move. That way, you can feel confident that things are done correctly and that moving day will go smoothly. It's really that simple when you trust iMoving!
Moving Services in Chesterfield, Missouri
Local moving: Local moves are much easier to sort out, and it doesn't take much time to get them done, even if you have a larger home. You can typically get it done in a day, and they are charged by the hour.
Long-distance moving: Long-distance moves have a lot of details around them, and you will have to work with your movers to ensure that everything is done well. These are typically charged by the distance and weight of your items.
Business and residential moves: Business moves are more complex due to electronics and sensitive information that you need to be careful with. Home moves also require some expertise, but they are often less expensive due to the lower level of complexity.
Miscellaneous: Depending on the company, you may be able to request extra services. These can include but are not limited to, storage options, white-glove services, packing kit sales, and more.
Are You Looking for Tips for your Moving and Packing?
Don't be afraid to purge while packing
The fact is, you're going to pay more if you have more stuff. And, in some cases, you may have a bunch of stuff that you never use. When you move, it's the time to take advantage of cleaning everything out and ensuring that you can sell, throw away, give away, or donate the things that you don't need.
Keep important items on hand, just in case you need them
Many people will put together a box of things that they may need. Keys, important paperwork, valuable items, medication, and other such items should all be somewhere you can get them. Put them in a clear box or a duffle bag that comes with you instead of going on the truck.
one box, one room – always
Don't jump between rooms multiple times with the same box. You want to be aware of what is found in different boxes, and it'll be a lot easier if one box just has everything from one room in it. The only exception to this is if you are planning on potentially moving items to a different room when you get to your new place.
Don't fold clothing that's hanging in your closet
Instead of folding up all those clothes, just push the hangers together, stick an upside down trash bag over all the clothes, and tie the bag on the bottom.  When you arrive at your new place, you just need to hang them up and take the bag off.
Find a labeling system that works for you
You want to label every box as clearly as possible so that you know where particular items should go and what is inside of some of your boxes. Some people label by color; others just write everything down on a box.
What to Know When Moving to Chesterfield
Chesterfield is the biggest city in Missouri (and one of the largest in the country) with over 4 million residents as of 2017. Located in Southern Missouri and boasting a lovely climate no matter what time of year it is, there are more people moving to Chesterfield every single year in order to try and get a new start.
Chesterfield is at the heart of the entertainment industry in the United States. Not only are you going to find Hollywood, but if you're into online entertainment, you can connect with it here as well. YouTube's main office is located in Chesterfield, and companies like Mythical Entertainment, Loramar Television, and Scalelab help aspiring YouTubers to achieve their dreams. In short, if you want to get into the entertainment industry, Chesterfield is not a bad place to go.
If you don't like traffic, then you want to be prepared or learn how to cope with it a little better. It's some of the worst in the entire United States, and you want to be sure that you know multiple alternate routes so that you can deal with it properly. That being said, the public transportation systems are also improving all the time, and you can use the Metro Rail and light rail systems to get pretty much anywhere.
Homes and apartments in Chesterfield are huge, and the cost of living is comparable to other parts of Missouri. Housing can get pretty pricey, but if you're willing to shop around, you can find a good deal near wherever it is that you may work. The city is fairly casual in terms of dress, they have lots of great tacos, and the school districts are solid for an urban area. In short, if you want to really sink your teeth into a unique lifestyle, Chesterfield is where you can do so.