Total of 1 carriers in
Centerville
Wasatch Moving Company
Centerville

Centerville, UT

3.90
5

Years in Business

2

Trucks

30

Workers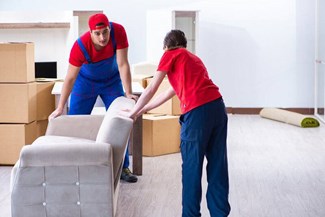 Centerville Movers
Many people believe that moving has to be difficult. The truth, however, is that it's only difficult if everything is done at the last minute.
iMoving can simplify your moving process in 4 short steps:
Get a quote
Search and compare moving companies in Centerville
Book a moving company and manage your move via computer
Move to your new home
It's seriously that easy.
Simply start by choosing the kind of quote you'd like: precise or quick, and from there you'll be given a list of local or long-distance moving companies that want your business. The bidding system we use puts the customer on the best position to get a fair price – by allowing companies to see the bids of their competitors, a company can choose to offer you a better deal.
Every Centerville in our large network has been put through a comprehensive background check, so you never have to worry about their credentials. Each company is licensed, insured and comes with real reviews from real customers who have used their services.
When you use iMoving, you can expect:
To save money and time
Payment security
Customer support before and during your move
Movers to be held accountable
Instead of spending your time finding a moving company, you can trust and a fair estimate, you can spend your time where it's needed most: on your day-to-day activities. Life doesn't stop because a move is happening. When you use our services, you can continue life as usual.
Centerville, UT Moving Services
Local Moves: If you're not crossing state lines or moving a short distance, a local moving company can be the best option for you. They will usually charge you a flat rate that takes into account how many hours your move will take and how many people are needed for the job.
Long-Distance Moves: When you're moving a long distance, things get a bit more complicated. Interstate moving companies charge based on the weight of your entire shipment and how many miles you're traveling to your final destination.
Disassembly and Reassembly: Large, unwieldy furniture, anything that has been wall-mounted or electronics will need to be broken down into manageable pieces for movers to load. Movers can do this for you, saving you time and confusion. They'll have the right tools to take it apart and put it together again.
Delivery: Maybe you're not moving, but you need to have furniture or art delivered to a showroom or office. Experienced local movers will reliably get your things there on time and without a scratch.
Tips for a Better Moving Experience
Put your important documents in one place
Your money, jewelry, passport, and social security card are too important to pack into just any box. Instead of packing them up, keep them on your person and transport them to the new location yourself. Losing government documents and valuables is a huge headache that is easy to avoid.
Pack your dishes and buy paper dishes
The kitchen, more specifically your dishes, can take a long time to pack up, so do this first. Consider using special boxes for them and make sure you take the time to pack them correctly. Once this task is done, you'll feel much better about tackling almost anything else.
Plan Your Meals
Preparing for a move can take a lot of time and energy. By planning your meals and shopping for exact ingredients the week leading up to the move, you'll be less likely to waste food. Also, try to eat the perishable items you have already.
Take time off from work
There's nothing worse than moving your entire life after spending a day at work or spending a day moving and turning around and going to work the next day. That's asking a lot of yourself. Instead, request time off and let your boss know you are moving. If you can't do that, move on a Friday; you'll have the entire weekend to rest and settle into your new place.
Move during an off-peak time
It's more expensive to move in the summer, on the weekend and on holidays. These are the time's everyone moves and moving companies charge more during these periods. Save yourself some money by moving in the middle of the week or during a cooler time of year.
Make a playlist that puts you in your happy place
If you detest moving, what could be better than listening to your favorite songs throughout the day to take some of the pain away?
What to Know About Centerville, UT
Friendly neighbors and community: In Centerville, you can really feel like you're a part of a community. You'll find the kindest people and neighbors willing to give a helping hand. If you enjoy a small-town feel, this is the kind of place you're going to love.
Close to Salt Lake City: Centerville is great because you can experience small-town living, but quickly pop out to Salk Lake City to live it up in the big city whenever you feel like it. In less than 20 minutes, you can find yourself in a completely different world for some shopping, culture, and activities.
Outdoor activities are a must: The beautiful mountains are going to take your breath away, especially when you start hiking up a trail. You'll find tons of paths, canyons, creeks, and foothills to hike, bike or walk. You'll never get tired of the beauty, and it's a great way to get some exercise. Make sure you do the Deuel Creek waterfall hike, it's unbelievable.
Be prepared for some windy days: The county Centerville resides in is known for the high winds.
Good schools if you have children: Centerville has a number of quality elementary, middle and high schools, with over 97% of the residents having at least a high school diploma. About 44% have at least a college degree. This is a town that values education and instills those values in its young people.
Fourth of July Parade: If you love the spectacle of Independence Day, Centerville is going to blow your mind. The fireworks are some of the most electrifying and there are a ton of great performances to look for during the parade. It's one of the most anticipated times of the year, with what seems like every resident in Centerville in attendance. It's simply amazing.
When you're making your journey to this wonderful gem of a town, iMoving wants to be a part of it. Get a quote today for the best price on your upcoming move and start imaging life in Centerville.