Total of 1 carriers in
Millcreek
Classified Moving Company
Millcreek

Millcreek, UT

4.00
1

Years in Business

1

Trucks

5

Workers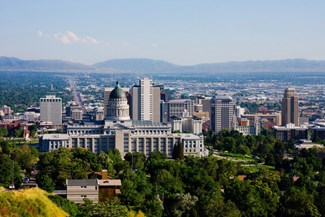 Millcreek, UT Movers
Perfectly situated close to Salt Lake City's best outdoor recreation while still enjoying the benefits of city living, Millcreek is a great place offering residents an excellent quality of life. Frequently ranked as one of the best places to be in Utah, Millcreek moves are becoming more popular for those seeking safe city living close to top-rated schools and family-friendly amenities.
To enjoy everything that comes with living in the Beehive State, you'll need to find the best movers in Millcreek, UT to handle your relocation. And, with the help of iMoving, finding the best movers is only a few clicks away with our comprehensive database of moving companies.
How To Find the Best Local Movers in Millcreek, UT
Instead of wasting time searching through endless Google results for Millcreek movers, you can save time and energy with iMoving. Our database makes it easy to browse hundreds of local moving companies in Millcreek, UT to find the best one for your moving needs.
Any of the local movers in Millcreek, UT you find through our platform are guaranteed to be fully licensed and insured, so you can rest assured your belongings are in good hands. Plus, with iMoving's real customer reviews, it's easy to get an idea of what other customers thought about their experience with each company - no more guessing if a mover is reputable or not!
With iMoving, finding local movers capable of handling a move across the street or to a nearby town is easier than ever.
How to Find the Best Long-Distance Movers in Millcreek, UT
Long-distance movers require different credentials than local movers, so it's essential to do your research when selecting a long-distance moving company in Millcreek, UT. In addition to being licensed and insured, long-distance movers must also be registered with the Federal Motor Carrier Safety Administration (FMCSA) and have a valid USDOT number.
Finding long-distance movers in Millcreek, UT through our database means that you always get licensed and insured companies registered with the FMCSA. And, with our real customer reviews, you can get an idea of what to expect from each company before even contacting them for a quote.
Plus, by hiring long-distance movers in Millcreek, UT directly through our online booking system, you qualify for a money-back guarantee that promises a refund for moving services that don't meet our company's stringent expectations.
How To Calculate the Cost of Movers in Millcreek, UT
Moving costs are calculated based on weight, distance, and hours needed to complete the job - and Millcreek, UT is no exception. The average cost of a move in Millcreek, UT is $2,300 for a two-bedroom home, but prices can range from as low as $800 to as high as $4,000 depending on the size of your home and the distance of your move.
To get a more accurate estimate of your moving costs, contact a few different Millcreek, UT moving companies for quotes. Be sure to have an idea of the size of your home and the distance of your move when requesting quotes so that each company can give you an accurate estimate.
You can also get an estimate for potential moving needs and their costs by using our free online moving cost calculator. With this tool, you can better understand the specifics of your move and compare different combinations of moving services to find the most cost-effective option for your budget.
What to Expect When Moving to Millcreek, UT
Living in Millcreek comes with several perks - beautiful scenery, top-rated schools, and numerous entertainment activities. The city is also known for its low crime rate and friendly, welcoming community.
With Salt Lake City being a metropolitan area, it's best to schedule your move during the week to avoid traffic. Additionally, snow during wintertime moves may present some challenges, so be sure your mover is prepared for winter conditions. Read and download our detailed moving checklist to understand other important details about your move to Millcreek, UT.
Completing a Millcreek move with the help of iMoving is easy and stress-free. With our online booking system, you can quickly compare different Millcreek, UT moving companies, read customer reviews, get quotes, and book your move - all in one place!