Total of 1 carriers in
Provo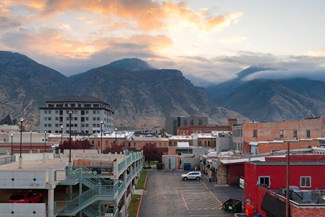 Provo, UT Movers
The lakeside city of Provo is home to great educational institutions, art and culture, and a friendly small-town feel. With abundant outdoor recreation and lively downtown, it's no wonder that Provo is one of the fastest-growing cities in Utah.
Whether you're making a Provo move for work, school, or family, you'll want to hire professional movers to make the process as smooth and stress-free as possible. But to hire the best professional movers in Provo, UT, you'll need to know what to look for. With iMoving, you can find and hire the best professional moving company for your needs with ease.
How To Hire Professional Local Movers in Provo, UT
When you want to hire professional local movers in Provo, UT it's essential to look for a company with experience. Make sure to read reviews and compare pricing between different companies. Ask each company you're considering if they're licensed and insured, and get estimates from at least three different businesses before making your final decision.
The movers you hire should be able to provide you with a detailed estimate that includes the cost of labor, materials, and any additional services you may need. Before hiring a company, be sure to get the estimate in writing and always ask about hidden fees or charges.
With iMoving, verifying licensing and customer reviews from professional local moving companies in Provo, UT is easy. Our side-by-side comparison tools and mover profiles provide all the information you need to make an informed decision.
How To Hire Professional Long Distance Movers in Provo, UT
When hiring professional long-distance moving companies in Provo, UT, be sure to ask about their rates and services. If possible, get an on-site estimate so the company can give you an accurate quote. With an on-site estimate, you can ensure a more accurate moving cost estimate that won't be increased unexpectedly on moving day.
Get all pricing and service information in writing before hiring a long-distance moving company, and make sure to read the fine print. Some companies charge extra for fuel, insurance, or other services, so owing these fees in advance will help you budget appropriately for your Provo move.
Hiring professional long-distance movers in Provo, UT through iMoving comes with binding estimates and a money back guarantee so you won't have to worry about getting hit with hidden fees. Additionally, our moving partners offer full-service moving packages that include packing, unpacking, and more to make your long-distance move as stress-free as possible.
Estimating the Cost of Movers in Provo, UT
Provo movers will charge a flat rate or by the hour, depending on the type of move you are making. Local Provo moves are priced by the hour ($35-$100+) depending on the kind of services you need and the intensity of the move.
Long-distance Provo moves are charged a flat rate for miles traveled and the weight of your belongings. This flat rate is usually about .60 cents for each on average but can be more or less depending on the company's policies and price structure.
Additional moving services such as packing, storage, or furniture placement will be charged at an additional cost. To get an accurate estimate of your total moving costs, use our online moving cost calculator that takes into account the type of move, distance, and services needed to help you plan your moving budget.
Tips For Moving to Provo, UT
Provo is the second-largest city in Utah and it's a good idea to research the area to find the best neighborhoods to fit your needs. For example, look for family-friendly neighborhoods with good schools if you have children or areas with a higher concentration of young professionals if you're single and looking to make new friends.
The cost of living in Provo is higher than in other areas of Utah, so be sure to factor this into your budget when planning your move. You should also factor parking permits for moving vehicles into your budget since Provo is a highly populated city.
You should also read our detailed moving checklist with more tips on planning your move to Provo, UT. This checklist covers everything about the moving process and is just one of the many ways that iMoving is the best resource for your upcoming Provo move.