Total of 1 carriers in
Brookline
Poseidon Moving & Storage
Brookline

Brookline, MA

4.00
6

Years in Business

3

Trucks

15

Workers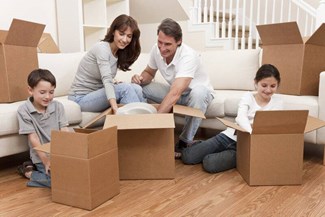 Brookline Movers
Brookline town in Norfolk County, Massachusetts, is one of the best places to settle with your family. The location offers an urban feel to residents, and most of them own their homes. There are several parks, coffee shops, and restaurants. With a population of about 59,000, Brookline has some of the best schools and public facilities, making it an ideal place to move in with your family.
Relocating to this particular region should not bother you because you can utilize several moving companies to keep you sorted. Here at iMoving, we can link you to Brookline's best moving companies to help you complete your relocation. We are a moving enabler with a great platform to complete your moves to this particular town.
How to Complete Your Move Using iMoving?
Our site is easy to use and will enable you to complete your relocation to Brookline. The first step is keying in your move details. This includes your name, contact, moving date and time, and new address.
Make sure all the information is accurate to minimize any confusion that may arise. The next thing you should do is to compare prices between different moving companies in Brookline. This is possible on our platform because they have been listed and moving fees indicated.
However, you should understand that such fees may vary depending on several factors like your type of move and the number of your belongings.
Comparing rates will help you get a mover in Brookline that is charging reasonably for their service. You can also go through reviews that are on our platforms. This will help you know more about different Brookline movers on our platform better. 
Their ratings have also been indicated so that you can choose a company with the most star ratings. Once you're done checking the reviews and ratings, it is time to pick a mover in Brookline who meets all your requirements. You can do this and complete your booking as you await your move.
Why iMoving is the Best for Your Moving Needs?
We pride ourselves as one of the best moving facilitators in the US. Our services are available in almost all states. One reason you should choose us is that we will link you to a wide range of moving services in Brookline.
We also work with highly reputable moving companies in the region. Before registering with us, these companies have to meet specific requirements. They should have a certificate of insurance (COI), which is vital in ensuring all your items are transported safely to their destination, and you can get compensated for any damages.
Companies willing to partner with iMoving must have an operating license from the local state government or transportation department. Experience is something we value most, so we consider movers that have been in business for at least two years.
iMoving offers the best customer service. Our movers will ensure your goods are well-packed and get to their new destination safely. We also have a 24-hour customer service you can call whenever you need help or experiencing challenges with our moving services.
Moving fee is usually an issue of concern for many who have no idea how much they are likely to spend for such a service. This should not worry you because our platform has made it easy for you to get an estimate of the amount you are likely to spend.
The moving cost calculator feature on our site will help you develop an estimate of the amount you are likely to part with for your relocation to Brookline. You can never go wrong when you use iMoving to look for a mover in Brookline. 
How does Our Moving Cost Calculator work?
The moving cost calculator feature on our platform has made it easy for many to understand the amount they are likely to spend for such a service. You have to key in several details to calculate the total costs you are likely to incur when you use specific Brookline movers from our platform. They include:
Travel distance
Size of your apartment
Insurance type
Full packing service
Availability of elevators in your new home
Flight of stairs in your new home
These are some of the things on our platform that can determine the amount you are likely to pay for your move. The cost calculator feature on our platform has benefited many in several ways which include:
Time-Saving
You can utilize your time better when you use the cost calculation feature on our platform. There is no need to call different moving services inquiring about their rates because you can get a quote or estimate from our platform using the cost calculation feature. This will also help you save money you would have used on-call rates. 
Proper Budgeting
One headache you are likely to face when planning your move to Brookline understands the amount required to pay for such a service. Getting a quote from the moving cost calculator on our platform will help you know how likely you are to spend on your move to Brookline. This will help you budget and get the right Brookline moving service.
Reduced Scamming
Getting scammed or overpaying when using certain moving companies is usually high if you have no idea of the amount you are likely to spend on your move. The moving cost calculator has helped to reduce all that because you can easily get a quote and have an idea of the amount you are likely to spend on your move. This will reduce the chances of overpaying or getting scammed. 
Why Insurance Matters to Us?
Another essential factor you should look into when hiring a mover in Brookline is insurance. Hiring an insured moving company is vital for the safety of your belongings. The chances of your items getting damaged while on the move are usually high. This is a common thing when transporting fragile items. They can easily break due to numerous movements or shaking. You can easily get compensated when you hire a Brookline moving service that is insured. 
We value insurance the most, and that is why a certificate of insurance is one of the essential documents we look out for when choosing the right companies to partner with us. Clients can get compensated easily in case of any damages on their goods.
Moving companies can also benefit from being insured. They can get help in paying for the damaged goods of a specific client. You will have the peace of mind needed during your move when you hire an insured mover. Use iMoving to get the best-insured mover in Brookline.
Our Services
There is a wide range of services we offer through our iMoving platform. They include:
These are moving services meant for those who want to relocate from Brookline to other towns within Massachusetts. You need to identify your moving needs to choose the right company to help you complete your relocation to any other region in Brookline or Massachusetts. iMoving is the right platform to use to get a company offering local moving services.
You may also wish to relocate to another state. Getting an interstate mover should not bother you because iMoving will connect you to different moving services in Brookline that offer long-distance moving services. This also applies to those relocating to Brookline from other states in the US.
Having excess goods at home or in your business can be a bother. These are items that may use up much of the space in those particular places, making your stay or working environment less comfortable. Keeping them in storage facilities is one of the options you have to create enough space. These facilities are also ideal for those who want to keep some of their business stock in a secure place.


iMoving also offers self-storage services, which may come in handy in several instances. Your goods will be kept in a state of the art storage facilities that are well secured. They are also best for those with perishable commodities.
Special Handling
One of your greatest concerns when moving is your fragile items. You might have a difficult time comprehending how such items can be handled. This should not worry you because we have partnered with moving services that offer special handling for your commodities.
They will come with the right moving boxes to ensure your items are well and safely kept. Cushioning materials are also essential in lowering the chances of damage to your items. This is something you will enjoy when you hire a Brookline mover from iMoving.
Packing and Unpacking
The moving companies you hire from our platform also offer packing and unpacking services. This is one area you may experience a challenge, especially if you don't know how to organize your items. Hiring moving companies through iMoving will help ensure you have a smooth time.