Total of 1 carriers in
Wilmington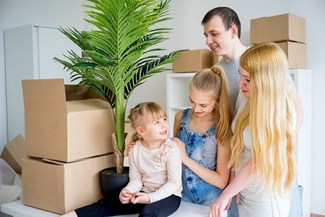 Wilmington Movers
Moving is a part of life. Moving out can be stressful and quite a task, especially when you don't know the best way to go about it. It is a hectic and often stressful process that can take a toll even on the best planners. There is a lot to take care of in the process, and it seems like a lot to handle. You are even at the risk of losing some of your valuables in the hustle of moving.
Some local movers in your area may be too expensive for your budget or don't offer the particular services you require. If you are in Wilmington and think of moving, you will need a reliable local moving company in the area.
There are various moving services in Wilmington. It's best to settle for established moving services in Wilmington among Wilmington moving companies. Wilmington movers on iMoving are a smart choice.
There wouldn't be a better solution for you than the imoving service in Wilmington with a wide range of Wilmington movers. Our local movers offer extraordinary services that are not only convenient but affordable for everyone.
Wherever you want to go, we are there for you. We help to link you with the best Wilmington moving companies. Finding the right Wilmington movers will be easy for you. There are many movers in Wilmington, but the local moving companies we connect you with have all undergone vetting.
Also, they are licensed, insured, and bonded. You, therefore, have nothing to worry about in terms of credibility. Have a look at our website to connect with your preferred moving companies in Wilmington.
Local Moves in Wilmington, Massachusetts
Commercial moving: At iMoving, our Wilmington moving companies are moving your business. You will be considering a lot of logistics, such as how to conveniently and safely pack your computers, office records, and other office equipment. Partner with us to find moving services in Wilmington to help you relocate your business with minimum interruptions. Some of the common businesses our local moving companies deal with are government organizations, non-profit organizations, and education institutions. 
Local moving: Whether you are moving three houses or a block away, our moving companies in Wilmington have got you covered. Wilmington movers offer services such as storage, packing & unpacking, loading, and unloading, among others. 
Long-distance moving: At iMoving, no place is too far. Our Wilmington moving companies have experts and experience in moving long-distance while keeping your valuables safe and intact. Most moving companies in Wilmington that are listed with us will help you set up for free! Get your play-list or book ready, and let's roll.
Storage services: You may need storage services, for example: if you are doing home renovations or need a temporary space to store belongings that aren't fitting in your house. iMoving will connect you with moving companies in Wilmington who offer flexible terms such as short-term or long-term storage services. 
Other services: Most local moving companies in Wilmington will provide you with additional services for your convenience. They include; difficult maneuvering, debris pickup, and cleaning, packing, and unpacking. 
Quick Tips for Moving and Packing
Call the utility companies as soon as you know you're moving: This doesn't take long, it can be settled by a few phone calls to the relevant utility companies of your current residence and where you are moving to. When you start planning on other moving logistics, this is a vital step you may forget to put in order. Handle it as soon as you have your new address. 
Find local movers first and fast: When planning to move, you will need to know the local moving companies available. If you want professional moving services in Wilmington, iMoving is your best shot. We will offer you a variety of Wilmington movers, and you will be able to compare their prices and services. The credibility of the Wilmington moving companies on iMoving is guaranteed.
Have a budget and stick to it: Moving can get expensive. You will need a budget that fits your pocket. You do not want to end up unable to foot your moving bill or in debt. At iMoving, we offer you a choice of local moving companies with different price rates to find which suits your budget best.
Put together a moving essentials bag: You will need essential items while traveling and right after you arrive at your new residence. Items you may need while traveling include food, snacks, and medication. Right after arrival, you may require toiletries, change of clothes, electronics chargers, and medication. Pack a small duffle bag with these items in different compartments for ease of access. 
Plan for kids and pets: If your kids are too young to be involved in the moving process, you may not have time to pay attention to their needs. You can have your family or friends take care of them while you move. It will reduce stress and save time. This will also be helpful for pets. If possible, make arrangements for your kids and pets to travel on a different day from the moving day. 
What to Know When Moving to Wilmington, Massachusetts?
Are you thinking of moving to Massachusetts? We don't blame you, after all, who wouldn't want to live in Dixie's heart? The yellowhammer state is home to rocket science. If you want to be sure of job security, Massachusetts will not disappoint. The state has some of the most fast-growing and highest paying job fields in the United States. 
They include; aircraft assembly and EMT, computer science, nursing, and occupational therapy. 
In housing, most of the properties available for sale or rent in Massachusetts were built from 2000-2010. This guarantees that they are newish, in good modern condition, and affordable. The state is home to true southern hospitality with lots of good food and warm welcome. Last but not least, the state is famous for its breath-taking landscapes that you can never get enough of.