Total of 1 carriers in
Westborough
M&M Moving and Storage Company
Westborough

Westborough, MA

4.87
Years in Business

10

Trucks

Workers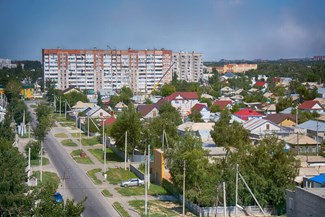 Westborough Movers
Famed for its wildlife, natural beauty, and history, Westborough is one of Massachusetts's most desired places to live. Residents here enjoy a high quality of life, with excellent schools, safe neighborhoods, and plenty of things to do.
Of course, to enjoy the many amenities that small-town living has to offer in Westborough, you'll need to hire reliable movers. While searching through millions of results for moving companies is often overwhelming, iMoving makes it easy to find and hire the most reliable movers in Westborough, MA, thanks to our easy-to-use online platform.
Keep reading to see how iMoving can help you find and hire reliable movers for your upcoming Westborough transition.
How To Hire Reliable Local Movers in Westborough, MA
Determining whether local movers are reliable or not isn't something you have to worry about at iMoving. Our team of moving experts has curated a list of only the most reliable and trustworthy local moving companies in Westborough, MA. As part of the vetting process, each moving partner has had their licensing, insurance, and moving services verified for your protection.
Local movers might not need as long to move your stuff, but that doesn't mean they shouldn't be treated with the same level of care as any other mover. When you use iMoving to find local movers in Westborough, MA, you can be sure that your belongings are in good hands from start to finish.
Plus, with our informational moving guides, you won't have to worry about missing a thing when getting across town or across the street.
How to Hire Reliable Long-Distance Movers in Westborough, MA
Whether to or from, iMoving can still help you compare and hire the most reliable long-distance moving companies in Westborough, MA. All of our long-distance and interstate moving partners are thoroughly vetted by our internal team to ensure that they are up to our high standards.
You can get to know each long-distance mover before committing to anything with detailed moving profiles, including FMCSA registration numbers, user reviews, average pricing, and more.
When you're ready to hire long-distance movers in Westborough, MA, use iMoving's encrypted online booking tool. Not only will you get a money-back guarantee for all moving services ordered through iMoving, but you'll also enjoy complete control over the entire moving process with a personalized dashboard of online communication tools.
What is the Cost of Movers in Westborough, MA?
Calculating moving costs before the move doesn't have to be complicated. While your particular move may be more or less expensive than the national average, a few key factors will determine your overall moving costs.
The first is the size and distance of your move. The further you're going and the more stuff you're bringing, the more it's going to cost. The second factor is whether you need any additional services like storage, packing, and auto transport. These services will always add to the cost of your move but may be well worth it depending on your circumstances.
Ultimately, you can expect to pay between $400 and $3,000 to move the contents of a two-bedroom apartment or house for a local Westborough move. But, of course, if you're moving a larger home or traveling across state lines, you can expect to pay more. Use our moving cost calculator to get accurate estimates for part or all of your move.
Things to Know About Moving To Westborough, MA
Westborough is a vibrant and welcoming community with plenty to offer residents of all ages. The town is home to several landmarks and attractions, including the Harpers Ferry National Historical Park.
If arriving during the winter months, be sure to have warm clothes packed in boxes that you can easily access when the movers unload your belongings. Additionally, it may be necessary to secure parking permits if you plan on having moving trucks parked in residential zones for more than 24 hours. Read our moving checklist for more helpful tips on streamlining the moving process.
iMoving is here to help you make a Westborough move easy and affordable. With our online database of reliable moving partners, you can compare and hire the best local and long-distance movers in town with just a few clicks. So get started today and have your Westborough move planned and organized in no time.