Total of 7 carriers in
Brooklyn
Reputable Moving & Delivery
Brooklyn

Brooklyn, NY

4.65
10

Years in Business

3

Trucks

12

Workers
Fidelity Transportation
Brooklyn

Brooklyn, NY

4.40
5

Years in Business

3

Trucks

10

Workers
Van Gogh Moving & Storage
Brooklyn

Brooklyn, NY

4.27
50

Years in Business

4

Trucks

25

Workers
National Moving Dynamics
Brooklyn

Brooklyn, NY

4.20
1

Years in Business

2

Trucks

4

Workers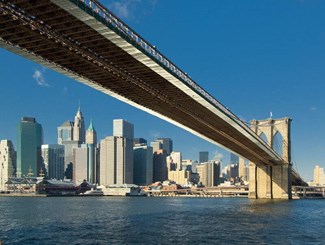 Brooklyn Movers
Long-distance moving companies like Brooklyn a little bit more than they like Manhattan – it is just easier to deal with than going into the city with its tunnels and unending traffic. But you would be forgiven for worrying about the cost of a move into any of the 5 boroughs.
iMoving is a service that can give you peace of mind. When you book a local moving company or cross-country movers through our service you will know the price quote you get is a fair price for the job and there are no hidden extras. The number at the bottom of the paper is the price you'll pay and that's that!
Here at iMoving, we have a different concept in moving – it is based on the idea of no surprises. You give us an idea of what you need to move and we will give you back a number of quotes and information about the companies who meet your needs.
You can then see the reviews, check out what other people say and choose a Brooklyn mover who is right for you and will do all the things they promise to do.
The iMoving team has visited every one of our moving partners and we require that each one lives up to the high standards we set for ourselves. All the local or long-distance moving companies in Brooklyn that we work with believe in a policy of full transparency and reliability. You will see all the reviews on every mover before you make your mind up. It gives you an unparalleled sense of security knowing you're properly covered.
There's no denying sometimes it all goes south in a big way. Things happen it is the nature of life. When you're with iMoving, we're going to turn an accident into a hiccup and not a crisis. Isn't your move worth some security?
Moving Services in Brooklyn, NY
Apartments in Brooklyn can be on the small side and you might just need a moving truck for a couple of hours. If you do, iMoving has you covered. In addition, we can find you:
Long-distance movers: Relocating from one state to another or clear across the country calls for a moving company that can handle the logistics of the long haul. Look amongst the companies we partner with that specialize in cross-country, interstate or long-distance moves.
Full-service packing and unpacking: Sometimes called "white glove" service, this option is ideal for seniors who just can't physically handle the job, or for those who simply don't have time. Movers can also do partial packing if you don't need everything done.
Car transport: If you don't want to put your car through the wear and tear of a long drive, or have a secondary vehicle that needs to be moved, we have partners that can easily ship vehicles.
Our Top 10 Moving Tips
Try to move midweek and mid-month. It will save money, movers are less busy and it will give you more time to deal with the move before you have to go back to work. Wednesdays or Thursdays are great days to move.
Packing the kitchen is the longest job of all. Be ruthless. If you have never opened that jar of paprika don't take it with you. Get rid of as much as you can, and on the day of the move have only the very last pieces to pack, like the coffee machine.
Make a schedule and get all of the jobs on it. If you are a project manager treat it as a complex project and be realistic on your timescales.
Pack room by room – it keeps you on track and it gives you a sense of achievement.
Start with the basement, the attic, and the kitchen. They are the places where you can usually get rid of things easiest and the less you take the better.
Charities will take what you don't feel like selling – get them to collect early.
Find out well in advance what things may be problematic to move (like plants or firearms). Do it early to avoid a crisis on moving day.
Pick out what you will transport personally. Take things like your valuables, any essential drugs, and any essential items like the teddy bear the little one can't sleep without.
Order more boxes than you could ever imagine needing because believe us, you'll need them. Do the same with tape and thick markers too.
Pack an 'open me first' box – only you know what goes in but we bet it has a screwdriver and a hammer.
What You Need to Know About Brooklyn, New York
Technically, Brooklyn is on Long Island – but most New Yorkers forget it. Actually, so do the people who live on Long Island too. Brooklyn's identity is firmly tied in with Manhattan. Remember the morning after scene in Moonstruck – with the much-missed twin towers in the background? A little water doesn't change things.
For all that its identity comes from the big cousin across the East River, Brooklyn is the larger of the two and is much less densely populated, even though there are more than a 2.6million residents. In fact, if Brooklyn was its own city, it would be the fourth largest city in the world. Luckily there is plenty of green space, but don't expect to be alone all that much.
But it tells you a lot about the place that the average age is 34 years old. This is a town of young professionals many of whom grab the subway or walk across the bridge into the melee of lower Manhattan.
The bridge is probably one of Brooklyn's best-known landmarks – or is that watermarks? It was opened in 1888 and it is hard to imagine when you see the traffic on it now, but originally people were concerned that the mixed cable/suspension bridge wasn't strong enough. Twenty-one elephants from PT Barnum's circus soon put those fears to bed.
Brooklyn has nearly everything you could want and you really don't need to leave Brooklyn other than to see a Broadway show or hit a cultural high note at Lincoln Center. Brooklyn has its own share of cultural highlights and the restaurants are as good as any in Manhattan.
Those living in Manhattan might look down their noses at Brooklyn and they're welcome to – in Brooklyn there's plenty of native New Yorkers.