Total of 3 carriers in
Alpharetta
Elite Movers & More
Alpharetta

Alpharetta, GA

4.60
4

Years in Business

3

Trucks

6

Workers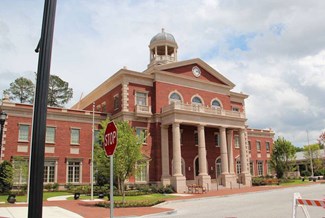 Alpharetta Movers
Planning a move to Alpharetta? Moving with professionals is a lot easier and more affordable than moving on your own. If you want to make sure all of your items get where they need to be with no delays or missing belongings, then look to iMoving to provide you with trusted moving companies in Alpharetta, GA. The movers in our impressive network of companies are reliable and trustworthy, so your move can be less stressful and more organized.
Working with a random company can be a gamble, but there's no need to do so with our moving partners in Georgia. Every long-distance or local moving company we work with has been put through a thorough and complete background check to make sure that they have all the credentials needed to move your items safely and securely. You can rest easy knowing that your important possessions will be treated with caution and care so that you can get started in your new location with as little hassle as possible.
We even have a handy function on our site that lets you make an itemized list of your items and figure out how much each item will cost to move. There are no surprise fees when you use our service – everything is laid out in front of you so that you can make the best choice for your relocation.
We only work with the highest-rated, reliable moving companies in Alpharetta, Georgia to ensure that our customers are satisfied getting the professional help needed to make a smooth transition from one place to another. For an affordable solution to your move, look to iMoving.
Moving Services in Alpharetta, GA
Not every moving company in Georgia offers the same services, so our site has been optimized to find you movers that provide every moving service you need to get to your new location with ease and precision.
Full Packing: With full packing services, you can rest while professionals pack your items and make sure everything is safely wrapped and boxed.
Storage: For storage before, during, or after your move, you can find a Georgia moving company with pest and temperature-controlled units available.
Local & Long Distance Moves: Whether you're moving within the state of Georgia or from the west coast, your movers should be licensed and qualified to get your valuables to your new business or place of residence.
Commercial Moving: Commercial moves are more of a challenge than residential moves, but we can connect you with professional moving companies in Alpharetta that can handle your businesses assets and equipment safely and carefully.
Special Handling: For items that are fragile, heavy, or oddly shaped, our moving partners are the best way to ensure they get where they need to be in one piece.
Moving Tips
Moving is a long process that involves a lot – literally everything in your home and possibly even more. To make matters simpler, iMoving has outlined some ways to save yourself frustration and money while making the move to your new home.
Create a plan of action. When it comes to tackling everything in your home, the best way to keep things moving forward is to make a list and make sure that you follow a plan of action to handle everything in an organized manner.
Use a calendar. Days can move by fast, so to keep yourself from losing track of time it's a good idea to use a calendar to plan moving tasks and get prepared for the big day. This will make tasks more manageable and keep you from forgetting important items.
Schedule disconnection times. A lot of people forget about canceling their utilities after moving to a new location. Get in contact with your internet company as well as the cable, gas, and electricity providers to speak with them about your move and getting everything turned off.
Pack enough clothes to last for several days in a separate bag along with an overnight bag of toiletries and other essentials so that you can get comfortable after getting to your new location without having to unpack boxes right away.
Label all moving boxes. The organization is key to moving with the minimum amount of hassle. Stay organized by labeling boxes and keeping like items together, such as packing toiletries in one box and winter clothes in another. Keeping items labeled will prevent you from having to look for the things you need when it comes time to unpack.
What to Know When Moving to Alpharetta, GA
Moving to a new state is always an adventure. Even interstate moves are exciting for the family. When moving, you need to rely on movers in Georgia with the skills, qualifications, and license requirements needed to move your items safely and get them where you need them to be. Every mover listed in our expansive network has been verified through our system of background checks to ensure that your items are in safe, reliable, dependable hands.
Once you've settled in, it's time to hit the town and get to know your new neighborhood. You'll meet new faces and make lots of friends that will be more than willing to show you around Alpharetta. There are a bunch of fun things to do for adults as well as kids in Alpharetta itself, and or course, in Atlanta.
You and the kids can visit the Georgia Aquarium to learn about aquatic life and see cool fish, sharks, jellyfish, and more. For more learning opportunities, there are museums located all over the state that offer tours, so you can get to know the history of the great state of Georgia - the Peach State. Museums, like the World of Coca-Cola, are entertaining as well as educational and can be the starting place of a lifelong career.
When it comes to green space, Alpharetta is outstanding. They have a renowned park and recreation department with miles of walking trails and greenways, sports fields and gardens. The arts and history are also big in town, with gallery and theater events at the Alpharetta Arts Center and the popular local history walk.
You can start exploring Alpharetta and neighboring Atlanta faster with Alpharetta movers helping you with the moving process. Packing up and starting somewhere else is tough and time-consuming, but you can get it done more efficiently and productively with moving companies from our iMoving network on your side.