Total of 1 carriers in
McDonough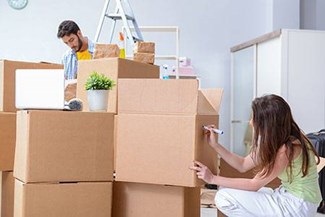 McDonough Movers
Moving is a difficult process – there's so much to do and there seems to be so little time to do it. In the hustle and bustle of things, iMoving is here to make things easier, more efficient and much less stressful.
We provide support during every step of your move with movers in McDonough, GA that can help you get into your new home as quickly and smoothly as possible. Let's look at some of the ways we make sure that our customers are taken care of and completely satisfied.
Budgeting for your move: iMoving makes it easy to know exactly how much you'll be paying for moving services. We provide you with a way to add every item that needs to be moved in your home and estimate the costs that will come with your move. You can create itemized lists of items and add special services to your move as well.
Protection for payments: Your payment to McDonough movers is held onto by us until you have made sure that all of your items are present and you have accounted for everything. Each moving company is paid after a week when the customer has had time to look through boxes and verify that everything went smoothly. This eliminates the fear of having your items kept away from you until you pay extra fees for "services" you didn't know you ordered.
Movers you can trust: Every McDonough local moving company in our network are licensed and has been verified through our rigorous vetting process. We go through their history to make sure that past customers have been satisfied with the service received and they do not have red flags on their account. We also only work with companies that have been established for more than two years, so you can trust that there won't be any trainees handling your belongings.
Moving Services in McDonough, GA
Complete Packing: If your home is just too much to pack, then you can count on McDonough movers to get your home packed. You can even have movers unpack your items in your new home, saving you the trouble of going through the entire process on your own.
Storage Solutions: For home and business owners in need of storage, many of our partner movers have plenty of options available for secured storage units, so your items are kept safe until you retrieve them.
Commercial Moves: Commercial businesses need movers, too. iMoving has experienced business movers in our network that are skilled and know how to handle even the most complex commercial moves.
Long Distance & Local Moves: Whether you are moving locally or making a trip a long distance, there are McDonough movers in our network that can handle your move and get your belongings to their destination safely.
Moving Tips
When you're planning your move, there are some tips you should keep in mind to make things go more smoothly.
Keep an Emergency Kit Handy
In life, an emergency may happen at any moment. Whether it is something as simple as a nosebleed or something more serious, you should be prepared with an emergency kit. This kit should contain bandages, gauze, disinfectant, and other essentials that you or your household members may need. If anyone has allergies, an epi-pen should be present. For individuals with asthma, an emergency inhaler should be included in the kit. You wouldn't want to be on the road and everything you need during an emergency is packed upkeep it in a kit and keep it handy.
Clear the Clutter Out of the Home
Over the years, a home accumulates lots of clutter as items are gotten and forgotten about. Before getting packed up and ready to go, it's a good idea to declutter the home and get rid of items you won't need or that don't function as they should. You can donate items or give them to friends and loved ones. You could also hold a yard sale or consign your items to make a little money while you're preparing to move. Once everything is gone, you'll be able to pack much more efficiently and won't have a new home filled with old clutter. It also saves you from throwing items away when you reach your destination and start unpacking.
Clean Out the Fridge
Your fridge is likely to be the last thing you consider when packing everything and getting your items organized. However, you shouldn't neglect cleaning out your fridge. If you're taking it with you, then you'll need it empty so that it can be transported to your new home. If you're not taking it with you, then it's simply courteous to remove all items and defrost it.
What to Know When Making Your Move to McDonough, GA
When you're moving to a new city, you should get familiar with some of the facts about your new home. McDonough, GA has plenty to love and get accustomed to.
There are numerous public schools in the city as well as private schools, so your child can have a good education. Many of the residents of McDonough have achieved a degree from an institute of higher education, so you can expect innovation around every corner. Whether your child is in elementary school, middle school, high school, pre-K, or college, they will have the opportunity to get a thorough education that prepares them for life.
When it comes to healthcare, the city's residents have access to affordable and complete healthcare along with insurance. If you could rank a city on health, McDonough would get an A. The city is kept clean and residents are in great shape – very few clouds of smoke, and many partake in exercise and physical activities. This isn't surprising when the area is so beautiful it makes you want to get outside.
While it's warm most of the year, with temperatures peaking during the summer months, the lows can get a bit chilly. Some of the lowest temperatures you'll ever experience are likely to be in December, January, or February when the temperatures can get as low as 31 degrees Fahrenheit. While this is cold for the South, Midwesterners and Northerners may welcome the reprieve from freezing cold winters and icy roads.
You won't have much of a problem finding a job in McDonough. The unemployment rate is low, just above 5 percent, so you know your skills will be needed somewhere. There are many occupations available in business, sales, science, offices operations, the arts, and more. This city is diverse, so you can find something that you love no matter what your interests are.
McDonough is a place where there is something for anybody – you'll love this beautiful city and its inhabitants.