Total of 3 carriers in
Savannah
Essential Moving Company
Savannah

Savannah, GA

3.80
1

Years in Business

2

Trucks

10

Workers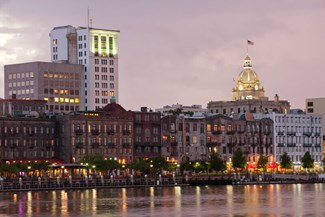 Savannah, GA Movers
A coastal city in Georgia near the Savannah River, Savannah is the home of charming parks, antebellum architecture, and great food. With a pleasant climate and friendly communities, newcomers find it easy to settle in Savannah.
As you prepare for your local or long-distance Savannah move, finding the best movers in the area may be proving difficult. While you can find the names of countless moving companies, knowing whether they are worth hiring is another matter.
Let iMoving to help you find the best movers in Savannah, GA through our state-of-the-art platform. We rigorously vet movers, checking their insurance, licenses, rates, customer reviews, and services before adding them to our platform. Search for the best mover in minutes, and get a head start on your move to Savannah.
Choosing Quality Local Movers in Savannah, GA
Finding reliable local moving companies in Savannah, GA is a lot easier when you can use iMoving. Our platform lists the top-rated movers in the region based on their services offered, fees, availability, and location.
You can find the best local movers in Savannah, GA that provide the relocation services you are seeking. Whether you are moving locally or long-distance, or require any special services, we can help you find the ideal company.
There is no uncertainty about the quality of a mover when search the iMoving platform. Any mover that is available on the dates you are planning to relocate, has reasonable rates, and offers the services you are seeking is worthwhile. You can contact them through our platform, which allows you to easily get binding quotes before making a decision on who to hire.
Finding Trustworthy Cross-Country Movers in Savannah, GA
The iMoving platform makes it a lot easier to find the best cross-country movers in Savannah, GA. We allow you to securely search for the best movers that are available on the dates you are planning to move.
When you use iMoving to find movers, you are in total control of the process. You can scroll through the list of cross-country moving companies in Savannah, GA to find the one that best meets your expectations.
You can securely communicate with movers through our platform, informing them about the specifics of your move. The more details you provide, the more accurate a moving quote you will receive from companies in the area. Then you can decide who to hire.
iMoving also allows you to finalize the hiring of a mover in Savannah. You can put down a deposit for their services through our secure platform, resting easy knowing that your money is safe with us.
The Cost of Hiring Movers in Savannah, GA
Whether you are moving locally or long-distance, the cost of moving may become a burden. Allow iMoving to help you keep the costs of your relocation under control through our brand new moving cost calculator. Use the calculator to understand the factors that are determining the quotes you receive from movers on our platform.
The calculator lets you adjust the services you require, and how much work you can do alone, to assess your potential moving expenses. For example, you could reduce the size of moving truck you require, pack and unpack your belongings without professional help, or move on a different day of the week to lower your moving cost.
Regardless of your final moving bill, you can feel comfortable that you are paying for a top-notch service. All the movers featured on our platform are excellent at their jobs, ensuring that you relocate to Savannah without any hassle or setbacks.
Moving to Savannah, GA
There are so many tasks you must finalize before you can close the page on your relocation to or from Savannah. Even a small mistake, such as forgetting to forward your mail, could cause serious headaches for you in the coming weeks and months.
Avoid such a fate by taking advantage of the customizable and printable moving checklist on the iMoving website. Our checklist allows you to list every little task you must complete during your move. Having such a list on hand ensures you will not forget something, as you must check off each item before you move onto the next task.
Let iMoving to make your life a little easier as you plan and execute your upcoming move.