Total of 1 carriers in
Kennesaw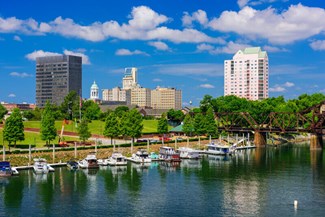 Kennesaw, GA Movers
A small town with a population of less than 40,000, Kennesaw is a quaint area northwest of the Atlanta metro area. With Civil War monuments, beautiful trails, skate parks, and close proximity to Atlanta are just a few reasons so many are making a Kennesaw move.
By using the iMoving platform, you can easily hire quality movers in Kennesaw, GA. Not only will you have access to information about the best movers in the area, but you can compare their rates, assess availability, and determine if they can handle your move without any fuss.
Allow iMoving to do the hard work of vetting movers, checking their licenses and insurance details, and following up with customer reviews, and focus on your upcoming move to Kennesaw.
Hire the Best Local Movers in Kennesaw, GA 
When you started to plan a move to or within Kennesaw, you were likely confused about how to find the best movers. There are many local moving companies in Kennesaw, GA, but knowing who is reliable is almost impossible.
Every company advertises their services similarly on the internet. Whether you are using search engines or review platforms, identifying the top local movers in Kennesaw, GA could take days. Rather than spending so much time analyzing movers, use the iMoving platform instead.
We verify licenses, insurance details, customer reviews, and visit the movers in-person to ensure everything is up to standard. That means, if you are scrolling through a list of movers on our platform, you can trust that each of them are reliable and worth the money. We only partner with the best, which is why you can count on us to make your upcoming move easier.
Find Reliable Cross-Country Movers in Kennesaw, GA
iMoving makes it effortless for customers to find the best cross-country movers in their area. We offer easy online bookings, binding price quotes, and full control over your communications with the movers.
Since cross-country moves are more expensive, finding the best cross-country movers in Kennesaw, GA is even more important. You cannot allow a substandard mover to handle your cross-country relocation, as you could end up paying thousands of dollars to receive your items late or partially damaged.
We only list the very best cross-country moving companies in Kennesaw, GA on the iMoving platform. You can rest easy knowing that all these movers are verified and licensed, and that you can connect with them directly through the iMoving website.
What is the Cost of Movers in Kennesaw, GA?
How much will it cost for me to move to or from Kennesaw? That is a question you may be pondering as you plan your upcoming relocation. One way to understand how much a move may cost is to use the state-of-the-art iMoving moving cost calculator.
The calculator is easily accessible through the iMoving website, allowing you to compare how different factors can influence the cost of relocating. If you are determined to move on a budget, you can take several steps to lower the cost of hiring movers.
One option is to downsize your move, as the movers could use a smaller moving truck and need fewer men to handle your loading and unloading. Customers who pack their own belongings can also save money, as the movers have to do less work.
Other options to save money on a local or long-distance move include moving in the off-season, picking a weekday as your moving day, and booking a time slot with the movers at least six to eight weeks in advance.
Final Tips on Moving to Kennesaw, GA
When you are in the midst of planning and executing a local or long-distance move, you likely have a lot on your plate. With so many moving balls and not much time to complete each task, you may find yourself overwhelmed.
Using a checklist, such as the one you can find on the iMoving website, can make your life a lot easier. The iMoving moving checklist is comprehensive and printable, allowing you to write down each task you must handle before you can classify your relocation as complete.
As you prepare to build a new life in Kennesaw, ensure that you start off on the right foot. Use the iMoving checklist, along with the tools that allow you to find the best movers, and complete your relocation with ease.