Total of 1 carriers in
Decatur
Onyxx Movers & Relocation Specialists
Decatur

Decatur, GA

3.83
14

Years in Business

2

Trucks

5

Workers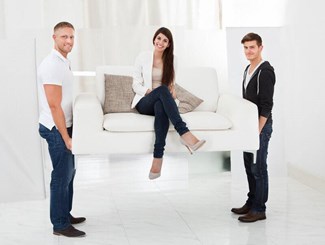 Decatur Movers
When the time comes to make a change, it can be a big decision. After you've chosen to move in or out of Decatur, GA, you'll need qualified movers to make sure all of your items get to their new destination safely. For this reason, iMoving provides a vast network of highly trained and trusted Decatur moving companies to make sure your move goes well.
Without a moving company, you could be left doing everything on your own – packing, organizing, loading, transporting, unloading, and unpacking. Moving companies in Decatur can take away the hard work, leaving you with the simple things to look after and peace of mind on your moving day.
iMoving knows how much of a difference a smooth moving process can make in regards to your first impression of your new home or business, and so do the Decatur movers we partner with. Each professional moving team is dedicated to safely transporting your items to their intended location without any delays, extra fees, or damages.
Every one of the Decatur movers in our network is verified and put through a thorough background check to make sure they have all the licenses and insurance needed to perform local, interstate or even cross-country relocations. You can even get a precise estimate of the cost of your move by using the tools here on iMoving.com.
Use iMoving to find a moving company in Decatur that has the skills, experience, and reliability needed to make your move a success.
Moving Services in Decatur, GA
For all of your moving needs, iMoving has qualified and experienced Decatur movers to safely transport your items. If you're in need of extra services to make your move even more of a success, you can take advantage of several options, including:
Full Packing: With full packing services, the local or long-distance moving company will make sure each item in your home is packed safely. Even oddly shaped or fragile items are in safe hands.
Local Moves: For shorter moves within Decatur or a city or town nearby, it's probably best to go with a local moving company. They often have more flexible schedules and can complete your move fast.
Long-Distance Moves: For cross-country moves or relocating from a few states away, you'll need Decatur movers with the proper licenses and insurance needed to guarantee a safe move.
Commercial Moves: If you're planning a move for a business, you can relax knowing that iMoving partners with licensed and trained Decatur moving companies that have the experience and equipment to execute complex commercial relocations.
Moving Tips
Since moving can be stressful and involve a lot of meticulous details, it's good to have some tips and tricks in mind to make the process more efficient and reduce the chance of mistakes or left-behind belongings.
Set-Up Services
If you rely on your phone, cable, or internet service on a daily basis, then getting to your new home and being without any of these services can be a downer. Instead, make sure that any existing services are transferred to your new home and schedule any installations before the day of your move so that you won't have to wait for a technician to come out.
Make a Master List
There are often more items in a home or business than you can account for without starting to pack. To make sure everything is accounted for, keep a master list of all of your belongings and check off items when they're packed in boxes that are labelled. You can also try to keep things organized by categories, adding some extra organization.
Keep Track of Important Dates
Things can get hectic while you're planning your move and dates can fly by without a second glance. Because of this, you could end up missing crucial deadlines and suffering the consequences. Keep track of any important dates using a calendar or writing them in a planner. You can even use your smartphone to make notes of things that need to be completed.
Search for Free Supplies
Instead of spending extra money on supplies, such as boxes or bubble wrap, try finding free supplies around town. You can find free boxes at restaurants, stores, bars, and even from schools. To save on bubble wrap or packing peanuts, use pillows, blankets, or items of clothing to securely wrap and pack items so that they don't break during transport.
Things to Know Before Moving to Decatur, GA
Decatur is a rich and colorful place with plenty to offer. The state of Georgia is beautiful as a whole, but Decatur takes it to a whole new level. If you don't know much about the great city of Decatur, GA, you'll soon learn that it's an amazing place to reside in.
The vibe is welcoming: Everyone is friendly, and you'll be greeted with head nods and smiles wherever you go. While you're getting acquainted with everything, don't be afraid to ask for directions or recommendations from locals.
There's plenty of greenery: For people that tire of city life and want something new, you've chosen an excellent place. There's beautiful natural scenery that calls to budding photographers and landscape enthusiasts. You can go for hikes or explore the natural terrain on foot, on a bicycle, or by car.
You can find fun things to do for everyone: No matter where you go, you can find something fun to do. There are gardens to peruse, restaurants to try, clubs to enjoy, and sports entertainment.
A unique history: When arriving in Decatur, you can find a wonderful and rich history all around you. Explore the historic district and even bring the kids along, giving them a tour of their new home while educating them in the process.
iMoving is here for you whenever you need a little more guidance during your move. Our professionals are available to help you get started on a new chapter in life and enjoy your new home before you even finish loading everything onto the truck. To make your move a complete success, you can trust us with helping you safely manage your move and belongings.