Total of
1
movers in
Fayetteville
Tate The Great Moving
Fayetteville

Fayetteville, GA

4.32
10

Years in Business

0

Trucks

20

Workers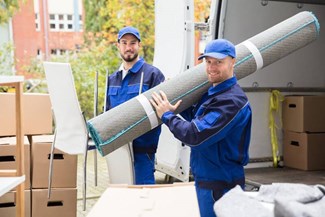 Fayetteville Movers
Moving to a new place is exciting and memorable, but the first thing to do is to get everything organized and get your home ready for the big move. The moving process can either be smooth or very stressful depending on how it goes, so it's critical to be on top of your game and get some professional help. iMoving does all the difficult work for you, providing local and long distance movers in Fayetteville, GA that can make sure your move is easy and affordable.
You can get a quote within minutes on iMoving.com that will give you an approximation of just how much your move will cost, allowing you to budget accordingly. All you have to do is enter your current location, the location you'll be moving to, and an approximate amount of stuff you'll need to be relocated. Once that information is entered, you can get estimated prices and start preparing your budget.
If you'd like an even more accurate estimate of the cost to use one of our reputable moving companies in Fayetteville, take advantage of precise quote. With this option, you can make a list of all of your items and compare prices between local or long-distance moving companies in Fayetteville to make the best choice. Once you've decided, all you have to do is book your mover and get ready to move without any stress.
iMoving only partners with very well qualified and licensed Fayetteville moving companies, so you can be sure that you're working with reliable, trusted, and dependable movers. If you want to make your move go as smooth as possible, start with iMoving.
Moving Services in Fayetteville, GA
Moving is a process that can either be great or stressful. No matter what services you need, you can find a Fayetteville moving company through iMoving to simplify your move and make relocating more pleasant.
Local Moving: While local moves may seem easy to do on your own, they can be complicated, and things can go missing or break. A professional moving company can get your items to their new home without any damage or delays.
Long-Distance Moving: If you're planning on moving across state lines, a long-distance or interstate moving company is the best way to make sure that every item arrives safely and in good condition.
Commercial Moving: Commercial business owners can trust Fayetteville movers in our network to perform moving jobs without causing any interruptions in service or delaying daily operations.
Storage: If items will need to be stored during your move, there are Fayetteville movers with pest and temperature controlled units to keep your belongings secure.
Moving Tips
Moving is a difficult process that can involve a lot of ups and downs. iMoving wants to make sure that every move you make goes smoothly and isn't a stressful experience. To help keep things as manageable as possible, here are some tips on having a successful move.
Stay organized with a planner or calendar
The organization is one of the most important ways to make sure your move goes without any delays or problems. Try keeping a calendar or planner that can help you stay on top of everything you need to do before your big move. Stay on top of any tasks you need to do and remember to label boxes accurately.
Get your utilities and services lined up beforehand
If you own a business or work from home, internet service can be highly important. To avoid any interruptions in your business operations, it is recommended to transfer any of your services and utilities to the new address as soon as possible. If you can, try to schedule any installations or technician visits within the week of your move so that you won't be at risk of waiting several weeks for service.
Pack a bag filled with several days' clothing and essentials
Before you pack everything up into boxes, be sure to set aside a few days' worths of clothing and other necessities. Keep a bag with the essentials you'll need for the first few days in your new home. By doing so, you can stay fresh and comfortable while unpacking and looking through items to set up your new home.
Budget for eating out at first
Chances are that you won't be able to cook a full meal comfortably for the first few nights in your new home. Because of this, you should make some room in the budget for at least a week's worth of restaurants, groceries, and snacks so that everyone in your home can stay fueled while getting settled in.
Great Things About Moving to Fayetteville, GA
Moving can be filled with uncertainty, but your move to Fayetteville, GA, shouldn't be. Even if you're already living in Georgia, Fayetteville is a pleasant change that has plenty to offer locals as well as newcomers. Some of the great things you can look forward to including great food, diverse cultures, great shopping, and more.
There's beautiful scenery around every corner. The natural beauty in the city of Fayetteville is gorgeous, calling to mind paintings of landscapes done by influential artists. Getting into nature is no chore when it's right outside your front door, which is what you'll get in this amazing city.
Your furry friends and children will love the parks. Pets and kids alike will love the chance to explore and run around in one of the many city parks. There are designated dog parks with plenty of places for fur family members to roam around and meet new mates while kids can enjoy jungle gyms, slides, and other fun park equipment.
There's always something fun to do no matter where you are. Fayetteville has a heap of entertainment options, from parks to amphitheaters and more. Whether you're a child or an adult, finding something fun is never hard to do. Simply walk outside and you'll be able to participate in something interesting, such as bowling at one of the local bowling alleys or exploring one of the museums in the city.
Explore local vineyards. If you enjoy wine and love to learn about local wineries, you can take a wine tour and explore some of the local vineyards in the city. Taste the local wines and gain an appreciation for how your favorite vinos are grown and produced. After the tour, you can take your favorite bottles home and enjoy delicious wines fresh from your own backyard.