Total of 1 carriers in
Clinton
Johnson Moving & Storage
Clinton

Clinton, MD

3.91
40

Years in Business

4

Trucks

10

Workers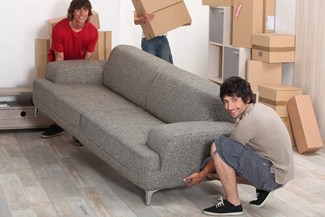 Clinton Movers
Though the physical aspects of moving consume a lot of time and energy, for many people the hardest part of moving is being comfortable with a moving company safely packing, transporting and delivering their entire lives from one place to another.
iMoving is a company that aims to remove the mental stress of moving by streamlining the moving process.
The first part of our process is providing you with quotes that are binding and non-negotiable. Too often companies add last-minute services or simply overcharge you, this can be a very nasty surprise when you realize a company has broken your trust.
When you get a quote from iMoving, it is fixed and will not change on the day of your move. In fact, you'll know exactly why your quote is priced as it is because we believe in full transparency and leave the fine print and last-minute surprises to mediocre Clinton moving companies.
If you're looking for local or interstate moving companies in Clinton, we can connect you to a large network of the best. Each company that is a part of our network has been screened thoroughly and has a record of delivering high-quality service. They have glowing recommendations from former customers to prove it.
Your money is safe, your quote is safe, and unlike many, we hold moving companies accountable when issues occur. There are a lot of reasons to use iMoving for your upcoming move but we find that people truly love the security we offer them.
Moving Services in Clinton, MD
Commercial Moving: Moving your business is not an everyday occurrence. Hiring a reliable commercial company that can handle the complexity and scope of the job makes all the difference. iMoving can put you in touch with experienced commercial moving companies in Clinton that can do it all.
Assembly and Disassembly: In order to remove large items from your home, you may need to disassemble them prior to moving. If you don't want to do it yourself, moving companies are happy to handle this process for you. If it can't be disassembled, movers will often tell you to take it apart to make items more manageable.
Local Moving: If you choose the right Clinton moving company, a local move will be cheaper than a long-distance one. A local mover that is reliable will be licensed by the state's moving authority.
Disposal: A company offering disposal services can be scheduled to come and take the junk you want to get rid of, taking it wherever it needs to go.
Tips to Make Your Upcoming Clinton Move Easier
Reserve movers in advance
Ordering a moving service the day of your move is not ideal. It will make things much more stressful for you and leave you open to companies that may overcharge or deliver unsatisfactory service. It's better to order the services of a mover 2-4 weeks ahead of time.
Disconnect your services
Paying for services you don't use anymore is frustrating, especially after all the money spent on moving. Schedule to disconnect the phone, utilities, and any other services in advance to avoid unnecessary payments.
Use towels and potholders for packing
Towels can provide the extra protection your fragile or delicate items need in order to make it to their new location in one piece. You can also stuff them into any gaps you find in your boxes while packing. This prevents unwanted movement of your items.
Potholders serve as surprisingly good packaging for knives. Knives placed inside your potholders won't be able to cut through other items while being transported.
Stack up when packing
Everything doesn't need its own box or packaging just for the sake of it. When possible, put smaller items into bigger ones. For example, cans, bottles, or spices can be placed into a crockpot or air fryer. You'll be shocked at how the extra space you save adds up.
Label your cords
Before packing up your cables away in a box, label them all. This will make it easier to know where each cord goes when you begin unpacking and reconnecting your electronics.
Separate liquids from other items
To prevent bottles from spilling, place the plastic wrap around the openings and then put the lids on. Reducing the chance of leaks is a good start, but during a move, you should be ready for anything. By placing all your liquids in the same box, if they do happen to leak, your belongings won't be damaged.
What to Know About Clinton, Maryland
Cosca Regional Park
The park is located near Andrews Air Force Base and provides an interesting combination of land that is partly developed for recreation and completely untouched in other parts. There's a children's playground, which is very large and is sure to tire the little ones out. There's also a train the entire family can ride and paddleboats that can be rented from the boathouse.
Surratt House Museum
This museum started out as a plantation home but now captures life during the mid-19th century. There is an array of home goods, authentic to the time period and get to learn about the middle-class lives of those during the Civil War. This place also has a history mystery – it focuses on the events that surround the assassination of Abraham Lincoln.
Poplar Hill On His Lordship's Kindness
This historic house museum was built in the 1780s. Today you can take a public tour and also get a great glimpse of Georgian architecture. If that's not enough, you'll be able to see their horse farm. Poplar Hill is surrounded by a fully functioning horse farm of about 130 acres.
Head to the Stables
If you're a horse enthusiast, you'll enjoy spending the day at Piscataway Riding Stables. You and the family can get riding lessons, rent ponies or go on a trail ride. No matter what you decide to do, there's no way you won't enjoy the 250 acres of gorgeous land filled with horses.
Miller Farms
267 acres of farmland is waiting for you in Clinton, MD. You can buy fresh fruit and veggies from their fall, all of which are sustainably grown. Their bakery has some of the most delicious baked bread and sweets and you'll also get to have some of their ice cream that they make by hand. It's not all eating however, there are seasonal hayrides, plants, and flowers to view and lots more family fun.
No matter how you make your way to Clinton, one thing is sure, you want a moving company that is going to make sure everything arrives the way it should.
iMoving can put you in contact with the best local movers in Clinton and get you started on your move.