Total of
1
movers in
Frederick
Wolfe Moving Systems
Frederick

Frederick, MD

4.37
17

Years in Business

4

Trucks

12

Workers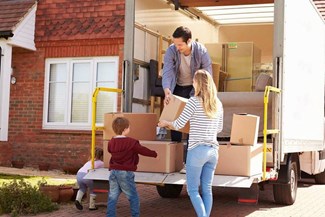 Frederick Movers
Getting ready for an upcoming move always adds a little bit of stress to what you're working through in your day-to-day life. How can you be sure that you've got everything sorted out and that you'll be able to schedule your move easily? And how much might it cost?
iMoving is a moving facilitation company and we're here to help you connect with and learn about the many different options for moving companies in Frederick, MD that you may want to consider. Our company is committed to helping you find the best options for your move, and our website makes that possible.
When you use our site, all you need to do is let us know where you're moving to and from, and when you plan on moving. Then, our website will give you a list of Frederick, MD movers that you can connect with, complete with quotes for your specific move.
We do a lot of work with background checks to ensure that the companies we offer quotes from are going to be high-end, reliable options that work well for what you need to do. All of the long moving companies we work with have good reputations and they've committed themselves to provide the best services to all of their customers.
So, if you're looking for moving companies in Frederick, we can provide the assistance you need to make that happen.
Moving Services in Frederick, MD
Local Moving: Most of the local moving companies we connect you with via iMoving offer some level of local moving services. While the definition of local may differ based on the Frederick mover that you choose, it's typically related to moves of less than 100 miles.
Long Distance Moving: Moves that are further than 100 miles in distance are usually considered to be long-distance moves. These moves typically take more than a day and your quote is calculated differently than a local move.
Commercial Moving: Businesses relocate frequently, but you want to know that you can trust your movers with the sensitive info and electronic items that they're moving. Many iMoving affiliates offer some level of commercial moves, allowing you to get your business relocated quickly and effectively.
Other services, including white glove services, packing and unpacking services, and storage services, may be available depending on what area you live in and what company that you choose to go with for your moving purposes.
Making Your Move Simple On Your Family
Help Everyone to Know Their Role
If your family is trying to get your move taken care of in an organized fashion, then you want to be sure that everyone knows what they need to do. Put together a list of tasks that need to be done and assign them to different people. Or, put together a checklist so that they can mark off things as they get done. That way, there's no question as to what you're trying to do.
Let Young Children Pack Their Own Box
If you have young kids, chances are they want to help you out in some way. Tell them to go into their bedroom or playroom and start packing up a box that you provide for them. Let them label it as well. That way, they can feel like they're helping while staying out of the way a little bit.
One Box, One Room
Don't take a box that you're packing into several rooms. If you start packing a box in one room, stay in that room until the box is completely packed. That way, when unpacking, you won't be frantically looking for that one thing that was packed in the wrong box.
Label Everything as Clearly As Possible
Along with not packing a box with items from several rooms, you also want to be sure that you label everything clearly. Whether that means that you're putting a list inside or outside every box so that you know the contents, or you just label the room and have a master list, you'll find that you are much more organized this way.
Communicate with Your Movers in Effective Ways 
Don't just expect your movers to know what they need to do. Talk to them ahead of time, be sure that you let them know what you're expecting and stay ahead of everything that may be going on with your move. In the end, that'll help you and the moving company stay ahead of problems.
What To Know When Moving to Frederick, MD
Frederick, Maryland is a small city located in Western Maryland, about an hour or so outside of Baltimore and about the same distance from Washington, DC. Some people consider it to be part of the Baltimore-Washington Metro area, others do not. This city is well-liked for its "small town" feel and there are a variety of things that you can do and see here. 
Frederick is consistently rated one of the top small downtown areas in the country, and the historical area of downtown is hopping with activity. First Saturdays are small-business and festival-focused; they have family-friendly activities all year long, and they are known for their arts (performing and visual) scene. It's a pretty popular place for people who are looking to live in a lovely town while commuting to and from Washington DC or Baltimore, MD.
The city isn't far from the many parks throughout Western Maryland; you can even hike on a portion of the Appalachian Trail if you want to do so. The area enjoys all 4 seasons, too. There's a MARC (Maryland Rail Commuter) station that can take you to and from Baltimore City. If you're looking to go into DC via public transportation, you'll have to drive to the Shady Grove stop, which is about 30 miles from Frederick.  Gettysburg, PA is only about half an hour away.
Frederick is known for being a friendly and welcoming city, and many people who move to the area end up staying there for a number of years because of its affordability and its atmosphere.