Total of
1
movers in
North Bethesda
Easy Relocation
North Bethesda

North Bethesda, MD

3.2
1

Years in Business

5

Trucks

4

Workers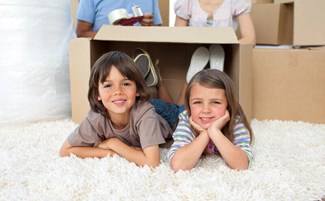 North Bethesda Movers
There are a lot of reasons for people to work with local or cross country moving companies when they are getting ready to relocate. But, it can be hard to find the one that's right for them. That's one of the biggest reasons that iMoving has become a huge driving force in regards to getting quotes, booking moves, and sorting things out.
iMoving.com is designed to connect long distance or local movers with customers and to make sure that everyone has the tools and help that they need in order to achieve their goals. They make everything as simple as possible by ensuring that you're able to get the help that you need from their website.
At iMoving, we're what is known as a moving facilitator. Facilitators are companies that work with movers and customers in order to make sure that consumers get what they need and that movers can get the business that they need to continue serving the public. So, everyone wins when a moving facilitator is at the core of the process.
The fact is, iMoving does a lot of work in order to make sure that every single local moving company that they work with is going to offer the best services to their clients. Whether you're just looking for truck rental services or you need to hire cross country movers, iMoving has plenty of options, and every one of them is reliable, affordable, and easy to work with.
All in all, iMoving is the top choice for finding and hiring moving companies. They take care of all of the hard work – all you need to do is compare prices and be sure to schedule everything through their website. Then, you've always got the help you need and every single move you execute will be easier than ever before!
Moving Services in North Bethesda, Maryland
Local Movers: If you're only moving a short distance from your current home, then local moving companies are going to be able to do the hard work for you. Typically, a local move is going to be defined as a move that is less than 100 miles from the starting point; they're charged by the hour and based on how many people the company believes you'll need for your move.
Long Distance Movers: Long-distance moves, on the other hand, are 100+ miles from your home. They can take anywhere from a few days to a week to complete, and they require a lot of logistical effort in the meantime. The calculation of the moving cost of these may differ based on a number of factors, including how much stuff is being moved, how far the move is going to be, and how long the move is expected to take.
Commercial and Other Business Relocations: Businesses have a lot of things that they need to move when they relocate. That's why only some moving companies actually offer some sort of commercial relocation options in their services. When they do, they have specialized equipment and training which helps them to be able to take care of things safely and ensure confidentiality of any private things that may be moved between locations.
Other Services: Moving companies often offer a lot of moving adjacent services, as well. These can include, but are not limited to, storage unit rentals, moving truck rentals, the purchase of moving boxes and other moving supplies, packing and unpacking services, and disassembly/reassembly options. These will typically have an additional charge, unless you work something out as part of a full-service moving plan. You may also have an additional charge for "white glove" services, which are related to moving large and/or fragile items.
Are You Looking for Some Moving Tips?
Put together a box that is meant to be opened before everything else
You're going to need certain things as soon as you arrive at your new home. Label it as thus and, if possible, have it in the vehicle that you're in so that you can take it inside.
This box should have a couple of cleaning supplies (wipes and/or spray + rags), any relevant paperwork, and other items that you may need in order to get settled in your new home.
Don't be afraid to spend a little extra to get the best services
Don't just pick the first company that you find or the one that gives you the lowest rate. The fact is, you should be willing to pay a little bit more money in order to make sure that you can get the very best services for your money.
When hiring a cross country mover (or, honestly, any type of service), you want to know that you're getting the most value for your money, not the cheapest price. That will take comparing services and figuring out who has the best options, but it will be worth it.
Start organizing and packing sooner than later
As soon as relocation becomes a certainty rather than a possibility, you want to start the process of organizing and packing your home. Whether that means that you're starting to get stuff ready to be donated or sold, or you're making sure that your decorations are going to be able to fit in whatever box you want to put them in, and whatever else you want to do.
Don't wait until the last minute. Even if you have your movers taking care of packing services, you at least need to start organizing everything so that they can pack it up more quickly.
What to Know When Moving to North Bethesda, Maryland
Many people know and recognize that the entire area from Baltimore, Maryland, to Washington, DC, is filled with suburbs and towns. The entire region is known for its bustling traffic and diverse population – and North Bethesda, Maryland, is no different.
This area, located about 11 miles north of Washington, DC, is one of the most well-known cities in the area. It's beautiful and full of history, and has a population of around 63,000 people. Two of the cornerstones of this community are the Walter Reed National Military Medical Center and the National Institute of Health Clinical Research Center.
Due to its location near these hospitals, it's not surprising that North Bethesda has become a really popular place for medical professionals to call home. On top of that, a lot of politicians also call North Bethesda home, because of its proximity to DC without actually being in the city.
As a result of these populations, North Bethesda is often boasted as the "smartest urban area in America" as well. The schools are some of the best in the country, with higher test scores and graduation rates than most that are found in urban areas with similar demographics and populations.
It's not just about smarts, however. There are also a lot of entertainment and recreation to enjoy throughout the area. Foodies rejoice – there are a lot of great restaurants here, and some of the country's best chefs have some sort of restaurant or presence near Bethesda, if not directly in the urban area.
If you're moving to Bethesda as a young professional or with a family, you're going to find that there are all sorts of opportunities here. The cost of living is higher than other parts of the Baltimore-Washington DC metro area, but the salaries are high enough to match it. It's well worth a consideration if you're looking to relocate to this region.