Total of 1 carriers in
Dundalk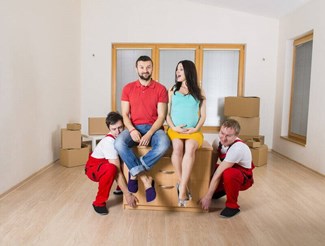 Dundalk Movers
When you're looking to move around Baltimore, you want to be sure that you connect with moving companies that know and understand the area well, correct? iMoving has been working with many movers in Dundalk, MD for a number of years, allowing people like you to sort out the information necessary to take care of your move properly.
At iMoving, we partner with a variety of Dundalk, MD movers so that you have the best options and can schedule your move without any trouble. By helping you to find high-quality local moving companies instantly, you don't have to waste a ton of time doing web searches trying to identify which are the best movers. Instead, you can trust that, when you schedule through the iMoving site, you are always going to have the best moving companies in Dundalk possible.
It's a fairly easy process. Give us information about your move – where you're headed, where you're coming from, and how much stuff you plan on bringing with you. Then, we'll provide you with a list of quotes from various moving companies in the area. You can then request precise quotes from the companies that you're most interested in.
Don't think we're done with you at that point, not at all! Our team is here to assist you with any questions or concerns that come up before or after your move. If something goes wrong on moving day, you can depend on us to take care of things. And, if you're concerned about paying them before the job is done, you don't have to be – you pay us, and then we pay them after things have been taken care of to your satisfaction. It's that simple!
Moving Services in Dundalk, MD
Local moves: Moving down the street or across town? Then you want to be sure that you get a local move scheduled, which is usually quoted at an hourly rate.
Long-distance moves: If you're moving a substantial distance, you want to be sure that you get connected with people that specialize in long-distance moves. They'll charge by how much you're moving and by the mile as well. Our quotes at iMoving are based on these rates.
Packing and unpacking: Unable to find the time or have difficulty when it comes to packing and unpacking? Many of the Dundalk movers we're connected with can help you with packing and unpacking for an extra cost.
Commercial or business moves: Business moves take additional time and effort, so you want to be sure that you get help that knows how to take care of these moves.
Storage options: Do you need to store items for a couple of days or a couple of weeks before you're able to move into your new place? That's okay! For a small additional fee, you can store your items for as long as necessary.
Other services: Do you need white glove services or help with purchasing your packing supplies? Many movers can take care of these needs as well. Prices may vary based on your moving company.
5 Simple Tricks to Make Your Move Easier
Label your boxes
One of the biggest mistakes that people make when it comes to moving is that they don't label and inventory everything. The more precise that you label your boxes and items, the easier it will be to unload and unpack everything later on as well.
Bring a "carry on" or two with you
You don't need to put absolutely everything into the truck – as a matter of fact, you don't want to. Important documents, valuable jewelry, and other small items, and family heirlooms (that are portable) may be better off coming with you in the car instead. Also, be sure that you have an overnight bag that has toiletries and changes of clothing for everyone.
Make it easier on the kids
Your kids may be having a difficult time with this transition, and that's okay. Help them feel like they're in on the action by allowing them to pack a box with important things from their room or playroom. Then, help them to pack their own bag or box that comes with them in the car, too. It'll keep them occupied and help them to relax.
Get your family involved in the process
Do you need help packing or filling the truck? Then you may want to go ahead and call your family in. Not only does it help you to spend time together before you move away, but it will help to lighten your load and make it that much easier for you to get everything packed up within a fairly reasonable amount of time.
Use blankets and clothing for filler
Instead of spending a ton of cash on newspaper and bubble wrap, use what you have. Get your blankets and other (clean) clothing and use that as the filler around fragile items that you've packed into boxes.
What to Know When Moving to Dundalk, MD
Dundalk is a southeastern suburb of Baltimore and is filled with a lot of history. Formerly the largest community in all of Maryland, Dundalk is filled with apartment buildings, places to eat, and a variety of unique places to visit. The steel industry was huge around here, and much of the land was originally purchased by the Bethlehem Steel Company to take care of the people that worked in their shipyard, which was in Baltimore City.
As you may expect, a former steel city has to start from scratch in a post-industrial age. Currently, the area is experiencing a bit of resurgence, mainly because of the rebuilding efforts of community members. More small businesses are opening up in the area, and it's reasonably affordable to purchase a home within the city limits. While the crime rate is not as low as in other areas, it has decreased immensely since more small businesses and other companies have moved into the area. As younger families move to the suburb, this will likely continue to decrease.
As they are in Baltimore County, they are served by the Baltimore County Public School System and have multiple high schools in the area. It's also a campus of the Community College of Baltimore County (better known as CCBC) and the home of a technical school (Sollers Point Technical High School). As with many of the suburbs around Baltimore, Dundalk is very diverse and welcoming. You'll find that public transportation is easy to come by and that it's really simple to go in and out of Baltimore City as you please.