Total of 3 carriers in
Rockville
Zip Moving and Storage
Atlanta

Atlanta, GA

4.00
14

Years in Business

1

Trucks

15

Workers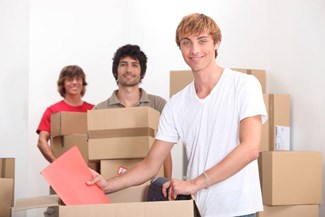 Rockville Movers
Getting ready for a big move takes time and planning, and you want to be sure that you find movers in Rockville that are going to be able to work everything out for your purposes. How can you find helpful and useful solutions for your purposes? Are there options that make sense for your needs?
At iMoving, we will do everything possible to ensure that you've got the resources and assistance necessary to take care of your move. We connect you with local or long-distance moving companies in Rockville that we've decided to make our partners. We go through a very robust background check before inviting any Rockville movers to work with us, so you can be confident that any mover in our network will be responsible, reliable and capable.
Our website has been built to make the process as simple as possible. Not only can you search for our partners via our site, but we'll provide you with estimates that you can utilize in order to determine what is best in your situation. We give you descriptions of each company and work with you to book your move with ease. It takes next to no time to search and get everything situated and scheduled – and we're proud to make the job that much easier for anyone and everyone.
iMoving is here to help you find the best Rockville movers, schedule them instantly, and ensure that everything with your move goes as smoothly as it can. We are here for you, the customer so that you can take care of the more important details of your big moving day.
Moving Services in Rockville, MD
Packing Services: Packing and unpacking takes a lot of time and can be difficult, especially if you're trying to do it on your own. Many movers offer this as an option for your move.
Local Movers: Need to move a short distance? Local movers can get multiple moving jobs done in a day – and yours will only take a few hours!
Long-Distance Movers: Long-distance moves can be tough, but if you hire experienced movers, they can make sure that it is executed smoothly and easily.
Business Movers: Business movers will work with business owners to ensure that their relocation project is able to go off without any sort of problem.
Moving Related Services: Other services include moving supply sales, moving tips, fragile/large item moving services and even storage rental services.
Top Moving and Packing Tips For You
Label and color-code boxes
Color-coding and labeling your boxes makes it easier for you and your movers to know where everything needs to go. Be sure that you label for the rooms that you want the items to go into, not the ones that they came out of.
Family and friends are great packing buddies
Now is the time to call in those favors that you've been waiting to call in! Family and friends can do a lot of good when it comes to helping you get everything packed up. But, if you do that, be sure that you order pizza or something to tell them "thanks."
Start planning for your move as soon as you know that it's a possibility
The moment that you know that moving is going to happen, you want to start the planning process. Start putting together lists and make sure that you start the process of sorting items. That way, it won't get closer to the time that you're going to move and you feel stressed out because you waited a little bit too long to get started.
Be smart when hiring your Rockville moving company
When you hire a company, use our services at iMoving and let us facilitate everything for you. Not only that, but be sure that you schedule for the middle of the week and in the middle of the month if you can. It'll be a lot cheaper than if you scheduled for a weekend or at the beginning or end of the month (because those times are busiest).
Avoid buying groceries during the last 2 weeks in your old place
Don't take extra food with you to your new place! Food takes up space and things can break or go bad while you're trying to transport them. You are much better off eating what you have and keeping the food that you put in the moving truck to an absolute minimum.
Rockville, MD Facts and Information for New Residents
Found in the Baltimore-Washington Metropolitan area, Rockville is a lovely little suburb with a population of about 65,000 residents. This area is a huge draw for many who are looking to live in the Baltimore-Washington Metro due to its "small-town feel" and all of the opportunities that you find there. Rockville is located in Montgomery County.
Rockville's Town Square area is a sight to behold. Boasting over 50 different shops, restaurants, and other small businesses, this area is booming and growing constantly. Due to Maryland's helpful small business laws, it's not surprising that Rockville is one of the places where small business owners have decided to put down their roots and expand.
Just because you live in the B-W Metro area doesn't mean that you can't enjoy the outdoors, however. There are over 1,000 acres of parkland within the suburb, allowing for lots of places for children and families to play and enjoy each other's company. Homes are relatively affordable (especially when compared to other parts of Montgomery County and the B-W Metro area), allowing families and young professionals to get their start here with no problem.
Rockville consistently makes a number of "top 100 places to live" lists, for many of these reasons and more. Their educational opportunities are also top-notch – the school district is one of the best in the region, and there are many different options for higher education within a short distance. And, as you may expect, the public transportation system is top-notch, allowing you to get to either Baltimore or DC within an hour or so (depending on where you're headed within the city). This ease of transport also makes it easy to find great jobs and makes Rockville an amazing place to live.