Total of 2 carriers in
Gaithersburg
Nation Capital Moving
Gaithersburg

Gaithersburg, MD

4.40
11

Years in Business

4

Trucks

19

Workers
VDMD VAN LINES
Gaithersburg

Gaithersburg, MD

3.83
12

Years in Business

5

Trucks

10

Workers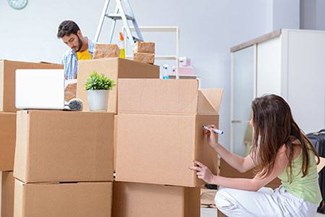 Gaithersburg Movers
Are you diving into the deep end getting ready for a move to a new place? If you're like many people, the thought of any sort of move – whether local or long-distance – is anxiety-provoking. There's so much that you need to get done and you are always trying to sort out what the best course of action is going to be.
At iMoving, we want to make that experience a little simpler for you, and that's why we've built our website. Our business focuses on making connections with the best Gaithersburg moving companies so that you're able to sort things out and find the most affordable options for your move. We only provide quotes for companies that we trust and that pass our rigorous vetting process, so you can feel comfortable scheduling your move with any local company we partner with.
When you search iMoving.com, you're going to be provided with quotes from multiple companies that can take care of your move easily. All you need to do is type the info about where you are right now and where you're moving to, and we'll offer all sorts of info that can help you to make solid choices about which local or long-distance Gaithersburg mover best matches your needs.
Our team at iMoving takes pride in how easy we make it for people to choose their best option for their next move. After you schedule your move through our site, you can feel good about your choice and know that you can take care of everything else related to your move with ease.
Moving Services in Gaithersburg MD
Residential Relocation: If you're moving your home, then you want to be sure that you have residential services that you can trust. The Gaithersburg movers you choose will come into your home and load items into a moving van or truck in order to take them to your new residence.
Business Relocation: Are you a business owner that is looking to move? Then commercial moving services are what you're seeking out. Many Gaithersburg moving businesses that iMoving partners with have at least one team that is trained as to how to take care of business moving needs.
Local and Long-Distance Services: The distance of your move will play a role as to how expensive your move may be. Local services are typically 99 miles or fewer; 100 miles or more and you've gone into long-distance services. We have movers who offer quotes for both via iMoving.com.
Moving-Adjacent Services: If you're in need of storage, many Gaithersburg movers have storage facilities that you can rent for a fee. Many movers also offer white glove services for large or fragile items. Others may offer packing and unpacking services. Some sell packing supplies – you may need to get in touch and inquire about any of these services.
Moving Hacks for Savvy Movers
If an item is precious to you, take it with you instead of putting it on the truck!
Many people get nervous about moving because they have items that are precious to them that may go on the truck. They don't have to! If you're driving yourself to your new location, consider packing a box with your precious items and taking them in the car with you.
Put together a checklist and stick to it.
Checklists go a long way when you're trying to make sure that you are going to stay on track for your entire moving process. They can help you to get a visual of what you need to accomplish and you can make sure that you've got everything together in a way that makes sense for what you need to accomplish and sort out.
Declutter as you pack.
Instead of just taking everything with you, take the opportunity to declutter and start getting rid of stuff. You don't need to have 3 different crockpots unless you cook for that many people. Put together piles for donations, throwing away, and selling in something like a hard sale. That way, you have everything organized and you don't feel like you need to drag it all with you to your new home. It'll be freeing and it can save you time and money, too.
Save space by packing clothing well.
Clothing can be difficult to pack if you aren't sure how to do it well. You can always vacuum seal clothing into one of those special bags, but if you don't have that available, there are other space-saving options. You can use the clothing as filler in boxes with fragile items. You can pack hanging clothes in garbage bags by putting the bag over a bunch of hangers, and you can roll your clothes (instead of folding).
What to Know When Moving to Gaithersburg MD
Found in Montgomery County, Maryland, Gaithersburg has often been rated highly in those lists you see about top places to live in the state of Maryland. This beautiful city is a unique place to live and there are all sorts of things to see. It's divided by Interstate 270, which leads you down into the DC metro area. If you move here, make sure that you're ready for some pretty rough traffic, especially during rush hour.
Gaithersburg is a lovely place to go if you're trying to sort out your best options for prospective jobs. It's one of the major technology hubs on the East Coast, housing IBM and the National Institute of Standards and Technology. And, you're within a short commuting distance of both DC and Baltimore, which each has its own opportunities in terms of jobs. As a result, many people who reside in and around Gaithersburg have pretty solid incomes.
Gaithersburg is a great place for young families. Almost half of the residents have children and the schools are some of the best that you will find in Maryland. There is plenty of diversity throughout the city, and the urban community is working hard on being one of the most sustainable cities in the country.
And, even though you're in the city, there are plenty of outdoor activities as well. You can go to one of the many parks in and around the city. Or, if you're willing to drive an hour or so, you can experience Western Maryland, which has parks, beautiful mountains, and amazing hiking trails.