Total of 1 carriers in
Hyattsville
All N One Stop
Hyattsville

Hyattsville, MD

4.52
7

Years in Business

2

Trucks

10

Workers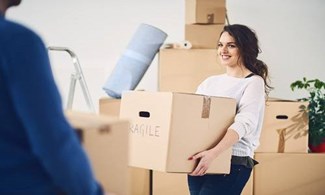 Hyattsville Movers
Moving takes up plenty of time and energy – everything needs to be managed effectively in order for things to go as smoothly as possible. Often, moving is an overwhelming experience and can be made even more overwhelming by taking it on yourself. Instead, you should let Hyattsville moving companies in the iMoving network take some of the weight off your shoulders.
iMoving has worked hard to improve the experience that comes with moving and we're here for you along each step of the journey. We go beyond expectations for our customers, providing protection, support, and security during the moving process.
Your move is protected by us, so you won't have any worries about hidden fees or extra charges. We hold onto your payment until the job has been successfully completed. Only after that will the money be released, so you can relax knowing you're working with trusted local movers in Hyattsville.
Not every move requires a truck and a full team of experts, so we work to give you what you need without any unnecessary extras that could end up costing you more. Just use the tools on iMoving.com to give us a few details of your move, and we'll provide a list of moving companies in Hyattsville that will be able to provide you with everything needed to complete your move.
We have a vast network of local and long distance movers in Hyattsville that have been working with customers in the area for years. Each mover has been put through a very thorough background and verification check to make sure that they are trustworthy and dependable.
You don't have to shoulder your move all on your own – let iMoving help you with your Hyattsville move.
Moving Services in Hyattsville, MD
Safe Storage: If you need to store any of your belongings, there are movers in Hyattsville with storage available that keeps your items secure. They're temperature-controlled and free of pests of all kinds, so your items are kept in excellent condition.
Careful Handling: For any items that need special care and handling, this is the service you want to keep them safe and sound during the move. This includes delicate, fragile, heavy, or oddly shaped objects.
Moves In and Out of the State: If you're planning on moving within the state or out of the state, then you can find movers to provide you with the right equipment and licensing for your move. Long-distance or interstate moves are generally more than 100 miles. Anything less than that is usually considered a local move.
Commercial Moves: For any commercial moves, you want a Hyattsville mover with the capability to handle the complex logistics and the training and equipment to move sensitive electronics and private company information. iMoving partners with several Hyattsville movers that are highly qualified to carry out a business relocation.
Moving Tips to Make Things Easier
Moving is a challenge, but it will be worth it when you're standing in front of your new home. To make moving easier, we've put together some tips to make the move go smoothly and help you get prepared.
Declutter the Home Before Packing
Before you start packing, there's something you need to consider doing – getting rid of junk in your home. You may see them as mementos, but these items could be taking up space in your home and could do the same in your new one. Donate them, recycle them, or gift them to someone you know. Decluttering makes the home much easier to pack up and unpack once your move is completed.
Keep an Eye on the Weather
The weather on the day of your move is crucial. Clear skies are always the goal, but this doesn't happen on the day of every move. Keep a close eye on the weather in your current area as well as in the area you will be moving to so that you can be prepared. If you don't check the weather, you may be in for surprise on your big moving day.
Set Aside Some Essentials
Movers in Hollywood have a goal of getting your belongings to your home safely and on time. However, there can be delays of all kinds – there could be traffic, you may need to rest after driving for hours, and more. If you need to pull over for the night, or to avoid looking through boxes, you should keep an overnight bag with all of your essentials inside. It can contain medications, emergency kits, clothing, toiletries, and anything else you may need to get through a night or two.
Budget Thoroughly
Your budget is highly important during a move, as it dictates what you will be able to do. Make sure you've covered all the bases in your budget and have a plan in case there's an emergency. You should plan for things like car trouble, food, and splurging for clothing and other items that may be needed in your new home.
Hyattsville, MD Has Something for Everyone to Love
If you're planning on moving to this beautiful city, then you won't be surprised to know just how great of a choice it is. Hyattsville, Maryland is home to unique events and places that you can explore once you've gotten settled in. The metro area can be a bit overwhelming at first, but you'll get used to it quickly once you get to know the area a bit more. To help things along, there are some things you should know about this city to help you get acclimated.
You're in the perfect location. This city is a great choice for individuals and families of all kinds. There are plenty of job opportunities for those working in education, government, administration, and more. You have access to an excellent public transportation system and easy access to local destinations. On top of everything else, you won't have to deal with absurd amounts of traffic.
Everything is a quick drive away. The Mall at Prince Georges has more than 30 clothing stores and over 20 restaurants. Route 1 is the main highway in Hyattsville, so it's no surprise that this is the way you'll be getting around the area most often. By venturing onto Route 1, you can find hundreds of retail stores and other things you're interested in, such as the Gateway Arts District.
You'll love the Gateway Arts District. In this area of Hyattsville, MD, there is nothing you won't find interesting. It's located along the highway, Route 1, and has played a major role in the city's revitalization over the years. It is a place where the residents of Hyattsville can find unique and delicious foods, classes, events, studios, and much more. The Gateway Arts District is where you can go to have fun in this wonderful city.