Total of 1 carriers in
Bloomfield
Good Life Moving Service
Bloomfield

Bloomfield, NJ

4.47
8

Years in Business

3

Trucks

8

Workers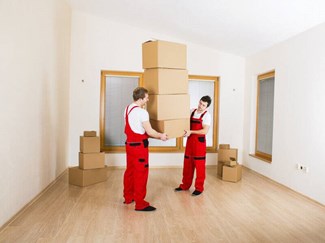 Bloomfield Movers
If you're moving to that part of New Jersey that is just to the left of Manhattan as you look at a map, you could be forgiven for wondering where Bloomfield actually starts and finishes. Luckily local moving companies know the area well and will be able to help you get to your new home. The question is how do you find the right mover for you?
One easy way to get multiple quotes to compare in a fair and open way is to use the service we provide here at iMoving.com. Most people are not involved with local or long-distance moving companies on a daily basis and trying to work out which one is the best for your move is not easy. At iMoving, we've come up with an idea to take the hassle away.
You provide an estimate of what you have to move, and we will find the best local or long-distance Bloomfield movers for you. You get a line of quotes for your move and you get to see everything you could ever want to know about them. iMoving believes in total transparency in both directions. You get to see everything and the movers themselves know how our users have rated them.
Every moving company we partner with has been thoroughly checked out by the iMoving team. They have to live up to a standard of practice covering all aspects of their business. They are insured and properly registered for example. With iMoving, you will never get Bill from down the road and his mate who isn't doing anything else that day.
You get peace of mind and a professional move to.
Moving Services in Bloomfield, New Jersey
You can expect to get any moving service you need with the companies we partner with.
Long-Distance Moving: When relocating to a destination more than 100 miles away, you'll want professional Bloomfield movers that have the equipment, licensing, and experience to make interstate, or long-distance, moves.
Special Handling: For oversized or valuable items, look for moving companies that offer special handling. If you have a piano, you'll want a company that specializes in piano moving.
Packing and Unpacking: If you can't get the time off work, some moving companies have trained crews that can pack and unpack for you – for a fee, of course.
With iMoving's partners, you can get whatever you need to move from where you are today to where you need to be tomorrow all from one place and one interaction. It is that easy.
Things to Know for a Successful Move
There is a line of things which people who move a lot know. These are things that make it much easier and cut down on the work you need to do. If you want to move like a pro but haven't ever done a big move before here are a few tips that will help you feel like you know what you're doing.
Local moving companies, cross-country movers, and long-distance movers do a slightly different job. Like everything else, picking the right one for the job is essential. If you're moving cross-country be prepared to see your entire life fit into a much smaller space than you thought it would because movers put three or four households into one truck before they set off on the long drive. Believe it or not, local movers will often do more than one job in a day. Pick your moving company according to the move you are about to make. It will save you money.
Trucks are packed and unpacked in order. Last in is first out. If you know you need something immediately on arrival at the new place, hold it back to be the last thing loaded into the truck.
The movers will have the logistics sorted before they arrive at the new place – let them get on with it. They do this every day – they have this down.
Think about plants in advance. You can move indoor plants, but you might not be able to take outdoor ones across state boundaries. Check-in advance, you'd be devastated if you had dug up the wisteria only to find you can't move it anyway.
You can protect big plants by wrapping a bedsheet around them and securing it with a clothespin or string.
What to Know About Bloomfield, New Jersey
There are a lot of little towns on the Jersey side – the other side of the Hudson from New York that is. Bloomfield is one of the hidden gems. This is a town where you can live relatively comfortably but still commute into the city relatively easily.
It is not as expensive as some other towns which are a little further out like Basking Ridge. The average house price here is around $320K which is half of what you might pay 30 minutes further out along a New Jersey Transit rail line. Rents also are more than reasonable at an average of $1,300. Bloomfield is a place where you can start to get your foot on the ladder.
This is a diverse and mixed community. There are people of every age and group represented, meaning the feel is of an active bustling town, not a bedroom suburb.
One note to take a look for if this concerns your family – the schools are rated B+ by the residents, which gives the idea there's room for improvement. If schools are really important you might want to take a look at private alternatives, but luckily there are plenty of options and you're going to be able to make some choices.
Many New Jersey towns are somewhat defined by their being close enough to Manhattan to get there easily and the daily commute is manageable – you'll have enough time to read the paper and have your morning coffee, but not much more. You also go into the city via Newark, which means you can change to Path rather than going into Penn Station if that's easier.
In summary, Bloomfield is close enough in and yet far enough out. You made a good choice and the property values are only going up.