Total of 1 carriers in
Saddle Brook
All In One Moving & Storage
Saddle Brook

Saddle Brook, NJ

4.47
15

Years in Business

10

Trucks

22

Workers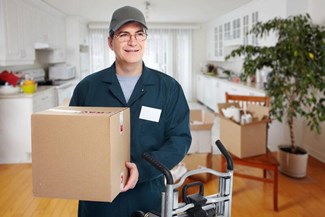 Saddle Brook Movers
Whether you are moving for work reasons or just because you're ready for a change of scenery in life, you're likely going to be looking for ways that you can streamline this process and make it a little easier, because if you've moved before, you surely know how demanding of a process it can be.
Luckily, thanks to services like iMoving, you can make it a little less demanding on yourself. At iMoving, we have seen how people struggle with something that should be simple. Moving shouldn't be something you dread doing - it should be something that excites you! After all, no one should dread getting ready to head to their new home - it should be a happy and exciting occasion.
Of course, the part of the moving process that fills people with that sense of dread is the act of moving itself, and all of the work and planning that goes into it. At iMoving, we have addressed this issue a few different ways. To help make planning your move easier, we provide digital tools like our moving planner and moving checklist, two printable tools you can use to make your move a little more efficient.
Best of all, when it comes to the process of loading up all your things and getting ready to head to your new home you have plenty of iMoving partner moving companies to choose from. We spent a long time assembling this expansive list of the best long distance and local moving companies you can find anywhere – even if you're doing a DIY move and looking at truck rental companies.
Each of our partner movers are highly experienced, trustworthy and reliable, and will do every job with a smile on their face, doing whatever they need to do to make the sure the customer is happy.
That's the iMoving way.
Moving Services in Saddle Brook, New Jersey
Moving can be a tough process and not one that everyone is going to be able to physically handle. This is where some of the full services moving companies partnered with iMoving come in. These are just some of the moving services that can help make your move that much easier.
Whole Home Packing Options: Folks physically unable or who just don't have the time to pack up every item in their house will be glad to hear about this service, where your movers will handle packing up and sorting your things for you before your move.
Local Moving Services: For moving from one town to another in the same state (usually within 50 miles), local moving companies are a better choice. Local movers don't have to charge for the complex logistics and long-haul equipment involved with interstate or cross country moves, so going with local pros will save you some money.
Long Distance Moving Services: Unlike local movers, long distance or cross country moving companies have to get special licensing and certifications to ensure they are in compliance with national and state transportation laws. You'll be happy to know that the cross country movers in the iMoving network meet the proper licensing and qualifications required to transport your stuff from coast to coast.
Disassembly and Reassembly Services: Sometimes, large items just won't fit out the door or onto the moving truck in their fully assembled state. You'll often find that you need to take apart certain appliances or even large pieces of furniture before they will be able to be properly moved.
Debris Pickup and Cleaning Services: Did you end up with a pile of stuff that you don't want to take with you but needs to be taken care of? Your moving company may be able to take care of this for you, which usually involves outsourcing the cleaning to a specialized cleaning company, who your movers will take care of scheduling for the job.
Move Like the Experts With These Professional Moving Tips
If you've never moved before, then you might be looking for a few more ways that it could be made even simpler. Use a few of these suggestions from professional movers to make things a little easier on yourself.
Take advantage of vacuum storage bags
Vacuum storage bags are a much easier way to pack away clothes than stuffing moving boxes and they save a ton of room. All you need to do is load your clothes into the storage bags, insert the vacuum hose, and remove all of the air within the bags. The bags will be flattened, allowing them to be placed almost anywhere on the moving truck to save as much room as possible.
Try to get your bed set up as soon as you arrive at your new home
Moving can take a lot out of you, and chances are good that you don't want to sleep on the floor the first night in your new home. To make sure you can be as comfortable as possible right out of the gate, go ahead and move your bed inside your new home upon arrival, and get it set up so you will have a comfortable place to sleep your first night in your new house.
Keep all of your small screws together
If you had to disassemble anything before you left your old home, like a piece of furniture or an electronic device, make sure you keep all of the screws and other tiny parts of it together. You can use a Ziploc bag to ensure that all of the screws remain together and don't get lost.
Exploring Saddle Brook, New Jersey
Once you're moved in and all set up in your new Saddle Brook home, you might be raring to go and see what there is for you to enjoy in your new area. Whether you're moving into town by yourself, with your partner, or with an entire family, you'll be happy to know that there are plenty of things in Saddle Brook for folks of all ages to enjoy.
If you want to take the kids somewhere fun for an afternoon of play, then you should look no further than the Otto C. Pehle playground. There are plenty of places for parents to sit and relax, while you watch the kiddos play. They can go up and down the slides, chase each other along the play area, and swing to their hearts' content. The whole park is wide open, allowing plenty of room to play and have a great time for kids of all ages.
Want to enjoy some beautiful scenery? You will enjoy a visit to the Saddle River County Park, which is a unique setup with five parks all joined together by beautiful pathways and gorgeous fountains and bodies of water. You can enjoy taking in the sun, casting a line out for fishing, or just having a good time playing with the kids at this destination.
For the adults looking for something fun to do in Saddle Brook after the sun goes down, you will be happy to learn that there are several exciting nightlife options. If you want to have a fun night out with your partner or friends, catch the sports game, and have your favorite adult beverage, then you should check out local options like the Midland Brew House, the Hilltop Tavern, or the Plank Pizza Co Beer Parlor.
These are but a few of the options you will have waiting for you to have a great time in your new city of Saddle Brook, New Jersey. When you're ready to start taking it all in for yourself, then get in touch with an iMoving partner company to get your Saddle Brook move underway.