Total of 1 carriers in
Teaneck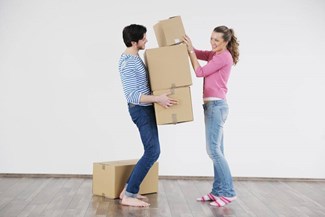 Teaneck Movers
How do you find movers in Teaneck? There are so many different things that you need to keep track of what you want to be sure that you're doing your best to find high-quality movers and work with them. How do you make that happen without spending hours upon hours doing research about them?
iMoving wants to help you out. We're a team of moving facilitators that can help you to find the best local moving companies in Teaneck and ensure that you've got the tools and help that you need in order to stay ahead of everything that's involved with a big move. All of our moving partners are well-trained, and they have great reputations in their communities and with all of the customers that they've worked with.
As a moving facilitator, we're here to expedite the entire process of finding movers that you can trust and rely on. iMoving.com makes it simple for you to search for local or long-distance moving companies in Teaneck and we ensure that you've got all of the tools and services that may be necessary for you to get the job done correctly. The movers will communicate with you and we'll make sure that everything goes smoothly.
If you need top-end movers for your job, be sure that you talk to our team. We're ready to help you with the process and we can give you advice related to how you want to go ahead and accomplish your moving goals. We're here to make the job easier for you and to make sure that you get the best help possible.
Moving Services in Teaneck, NJ
Packing and Unpacking: Need assistance with packing up and unpacking everything that needs to go to your new place? Many movers offer this service for an additional cost.
Local and Long-Distance: Local moves are less than 100 miles and/or can be completed in a day (including commute); Long-Distance movers are further than 100 miles and often require multiple days to finish.
Commercial and Residential: Home moves and business moves are similar, yet different. And many Teaneck moving companies will do everything possible to ensure that both types of jobs are completed in a safe, professional, and efficient manner.
Other Moving Services: Some moving companies also sell supplies and moving kits, offer large/fragile item moving services (you may see them called "white glove services"), or they may rent out storage units.
Some Useful Tips for Your Move
Get started as soon as you have an approximate moving date. When you know that you're moving for sure, you want to start the process and get the ball rolling. This includes putting together to-do lists, scheduling your Teaneck movers, and starting the process of purging items that you don't want to take with you.
Put together an "open first" box. Your open first box is a box filled with the essentials that you may need when you move into a new place, including sheets for your bed, towels and toiletries, any paperwork or keys, and whatever else you'd need if you get there late and can't fully unpack before bed.
Don't go grocery shopping within the last 2 weeks before your big move. Food is heavy and it's difficult to pack safely. It's best to just go ahead and eat whatever you can and only get a couple of essentials to make it through. Then, you'll have less to pack up, which can save money and time. It can also encourage you to get rid of expired items that were hiding in the back of your pantry.
Empty containers can be utilized as packing boxes. Empty containers (bins, baskets, etc.) are great to have around the house, but you don't want them to get loaded into your moving van completely empty! Fill them up with items and pack them securely so that you don't have to get as many boxes.
Be done with packing before moving day! You should not be packing anything up on moving day. You want to be completely done the day before, other than toiletries and such that you may need that morning. That way, you're not frantically trying to finish the whole packing process while also getting everything ready to go out the door.
Things to Consider When You're Moving to Teaneck, NJ
Nestled between Hackensack, NJ and New York City, Teaneck is a suburb with a population of about 42,000 people. Located in Bergen County, this fairly large suburb is the home of Fairleigh Dickinson University.
As with most of the Northeast, you actually get to experience all four seasons while you're living in the Teaneck area. And, since the suburb has put a lot of effort into keeping that "small-town feel" in Teaneck, many of the neighborhoods have multiple parks, lovely trees, and other natural things that you may not be used to seeing if you live in or around NYC.
Part of the charm of Teaneck is the fact that it's also a college town, and you definitely feel that when it comes to where businesses are located. Almost anyone can walk to many restaurants, shopping centers, and grocery stores. There are both chain stores and small businesses located here, and it only takes a 10 to 20-minute drive to hit the big chain stores (like Wal-Mart or Costco).
New York City is a hop, skip, and a jump away from Teaneck, taking only about an hour to get anywhere via their public transportation. And, the busses that go into and out of New York actually run until after midnight on weekdays, and later on the weekends. This allows people who live in Teaneck to have amazing access to the city without the hassle of living downtown.
Teaneck is a lovely, quiet suburb with everything that a family, college student, young professional, or retiree may be looking for from a place near NYC. This lovely area is affordable and it's a solid choice when it comes to settling down and enjoying the region around The Big Apple.