Total of 1 carriers in
Ridgefield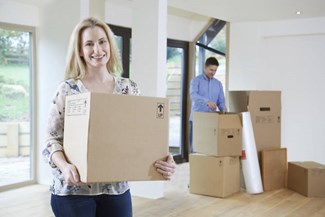 Ridgefield Movers
Getting ready to move to a new place can take a lot of time and effort, and it all starts by finding the right Ridgefield moving companies to assist you with the process. That's why iMoving is here and ready to assist you with the process of finding those top movers with no issues at all.
iMoving is a moving facilitator – we're here to expedite the process and make it a bit easier for you to find the top local moving companies in Ridgefield so that you can connect with them, get accurate estimates from them, and know that you've got everything that you need to get ready for moving day.
You see, we do the difficult part of the work – we're the ones that do the research necessary so that you can rest assured that you are only getting quotes from companies that you trust. We partner with these companies for a reason – we know that they have a great reputation and that they will take care of every part of your moving job with little to no problems or complications.
All you need to do is use our site and search for moving companies. Start off oniMoving.com by just letting us know where you're moving to and where your starting point is. Then, we'll provide you with moving estimates from a handful of companies that can take care of that route. You can check out each of the companies, see what they have to offer, schedule them and pay them through our website. It's really that easy.
Moving Services in Ridgefield, NJ
Local moving services: Moving to a place in the same town, city, or county as your current location takes less time and money to be able to get things are done, so your moves will be a bit more affordable and you can usually get the entire move completed within a couple of hours.
Long-distance moving services: Long distance moves require logistical efforts and specialists that know how to deal with the issues and concerns that often arise with moves over 100 miles from your original home. These get calculated differently at different moving companies.
Commercial movers: Business moves require a level of confidentiality and the tools that help movers take care of electronics and large furniture items with ease. Business movers have specialized training to ensure that things are done correctly.
Moving-adjacent options for additional fees: Additional options may include storage rentals, the ability to purchase moving supplies and kits, white-glove services, and packing/unpacking options.
Essential Packing and Moving Tips
Keep any valuables with you. If you have valuable items or important paperwork, you want to be sure that you know exactly where it is. Your best option is to keep them with you, whether in a special packing box, a jewelry box, and/or a fire-safe lockbox. Then, you and your movers can feel less stressed about its whereabouts.
Label and color-code everything. You want to know what is in every single box that you have with you. It helps you to remember what you packed in which box, but it can also be useful when your movers are taking stuff into your home. It will take less time and they'll know exactly where it is that they are supposed to put things.
Have a clear box for what you'll need the minute you step into your new place and label it as thus. Your "open this first" box should have all sorts of items in it, including toiletries, important paperwork, keys, sheets and pillows, and whatever else that you may need so that you can settle in more easily. Have that box available and open it the minute you get in there.
Be mindful when packing your electronics. Use the original box for your electronics and make sure that you label it well. Take a picture of the back of your electronics when you unplug them, and pack some extra padding around your electronics, too. That'll help to prevent any sort of broken electronics issues.
Donate, purge, and pack. While you're packing, you're now in the perfect time for getting rid of stuff that you don't use or need. Take some time to get rid of stuff. Separate things into 4 categories – keep, give away to family or friends, donate, and throw away. It'll make it so that you have less to pack and that you don't need to deal with purging after you move.
Moving to Ridgefield, NJ? Here's What You Want to Know
Located about 15 miles north of Center City Manhattan, Ridgefield, NJ is a lovely little suburb that is considered one of the safest places to live in the New York City metro area. With one of the lowest crime rates in the region, a solid school district, and relatively affordable housing options, there are many people that move to Ridgefield and work with in NYC.
While you are near the City, and not that far out of Hackensack, it's one of the better places that you can live if you're looking to stay away from the immense traffic that you deal within the city. While there's definitely still some traffic to deal with (of course!), it's much more reasonable than what you may see downtown.
Due to its proximity to the City, the public transportation is excellent. You're able to get into Hackensack or any borough in New York City quickly. The job opportunities in this entire area are plentiful, and many young professionals find it a good place to get started because they aren't paying the exorbitant prices for downtown apartments, but they also have the resources to work within the city.
There is always something to do and enjoy if you live in this part of the country, and the downtown area is booming and adding more small businesses, which provides even more opportunities for residents to experience different activities, ideas, and cultures. As a result, Ridgefield is becoming a really promising place for people to reside.