Total of 1 carriers in
Livingston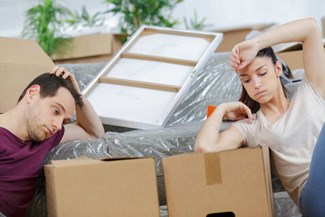 Livingston Movers
When it's time to move to a new location, whether you have a commercial business or residential property, it's important to make sure you're working with the right tools and supplies to get all equipment and belongings transported intact. This can be difficult for inexperienced home and business owners, which is why iMoving is dedicated to eliminating the hassle of moving.
Our goal is to making moving as simple as possible so you can handle all the other things that need to be organized before moving to a new location. We list numerous movers in Venice Township that can get you on the road and ready to go.
On iMoving, you can find the best price for a moving company in Venice Township offering the services you need. Our website makes it easy to filter your options and find a moving company that fits your needs. You can inventory items and modify services, organizing every aspect of your move with ease.
Our website also offers secure payments, so you won't have any worries about losing your money if anything goes wrong or if there are problems with your move. We handle the money and don't transfer it to your movers until you've confirmed that they job has been done well.
On top of payment protection, users get 24/7 support from our representatives no matter where they are in the world. This means that you can give us a call as soon as you've noticed a problem or if you have questions about your move or our website and services.
Moving Services in Venice Township, New Jersey
Full-service movers in Venice Township offer a variety of services, including:
Packing & Unpacking: Professional packing and unpacking services take the time and frustration out of making sure all of your items are stowed away neatly and safely. Once everything is packed and transported it can be unpacked upon arrival to your new residence, so you have nothing to worry about.
Storage: Delays and other factors can leave your belongings in limbo, but that can be avoided with storage services from reputable Venice Township local moving companies. Storage units are ideal in unexpected situations and keep your valuables safe in a controlled and protected environment.
Commercial Moving: Our moving companies are capable of relocating homes as well as commercial businesses. Offices, boutiques, and other commercial buildings can be packed up, loaded, and moved to their new destination with ease and efficiency.
Special Services: Special services may be required for items that are larger than normal, difficult to move, or delicate. Some of the items that may require this service include grand pianos, boats, artwork, vehicles, and other valuables.
Tips for Easy Relocations
Label all boxes
You may feel as if you'll have an easy time finding what you need once you've got all your boxes into the new home by looking in each one, but there can be a lot more items than you imagine. It takes time to go through each box, which is likely what will happen as things can get shifted during transport and boxes may not look the same as when they were packed. Label boxes with the room and contents so that you know exactly what is in each box, making things easier when it's time to unpack.
Wrap liquids
If you have toiletries and other liquids that are stored inside containers, keep these items stored in plastic bags or use saran wrap to cover the openings of the containers. If not, you may run the risk of having the contents of these containers spill all over your items. Not only will you have a mess to clean up, you could potentially damage other items and will have to replace whatever item has spilled.
Arrange utilities beforehand
You don't want to get to your new home and realize you don't have water or power, right? To avoid this, it's a good idea to arrange for your utilities to be up and running by the date of your move. It can take several weeks for certain utilities to become active, so speak with the gas, electric, and water company ahead of time to make sure you have everything you need by the time you arrive.
Schedule off time
It may seem doable to move while working your normal schedule, but this could lead to increased stress and issues with your move. You're much more likely to forget things if you're rushing, and there's likely to be a lot to do when you move into your home, so schedule a few days off of work to get settles and unpack without rushing and relax in your new surroundings.
What to Expect in Venice Township, New Jersey
Venice Township is located in Madison County and is home to plenty of parks and restaurants to enjoy. It's a great fit for single-family households and there are many opportunities to be found. If you're ready to get settled into Venice Township, let's look at some of the things you may be interested in learning about Venice Township before moving to the area.
Lower cost of living
Cost of living is a concern for all, as this determines whether or not you'll be able to live comfortably in an area. \In Venice Township, the cost of living is significantly lower than the national United States average. In fact, it is over 25 percent lower than the national average, making it a great place for those seeking to have a less expensive lifestyle.
Experience all 4 seasons
You won't get to experience winter, spring, summer, and fall in every state you move to. However, Venice Township changes dramatically with each season, so you'll experience each one throughout the year. The most comfortable months in the city are May, September, and October while December and January are considered the least comfortable.
Baseball fans welcome
Baseball is America's national pastime and no place knows this better than Venice Township. While there aren't any established baseball fields in the city itself, there are several in nearby Granite City, such as Babe Champion Field, that are just a 20-minute drive away.
If you're looking for a place to settle down, Venice Township, New Jersey is the perfect location. The area is quiet and doesn't get very crowded, so you'll be able to relax in the peace and serenity of the town. The cost of living is lower than the national average, residents experience all 4 seasons, and you're just minutes away from baseball fields and plenty of other fun activities.