Total of 1 carriers in
Howell Township
1st Moving Corp.
Howell Township

Howell Township, NJ

3.90
10

Years in Business

2

Trucks

6

Workers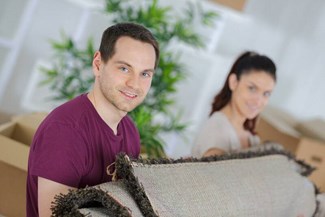 Howell Township Movers
There are thousands of moving companies in the world that you can find on the internet with a simple search. However, not every moving company is the same and they don't offer the same services or have the same equipment. Some movers may be able to perform long distance moves while others can only perform local moves.
There's a lot of information that needs to be analyzed before choosing a Township Movers mover to work with, but you can trust iMoving to connect you with professional movers that are within your budget and can handle your move.
Each of the moving companies in our network have been put through an extensive screening process so that we can make sure they provide the best possible services to commercial business owners and residents looking to relocate.
Once you're ready to start comparing moving companies in Township Movers, all you have to do is input your zip code, residence size, starting location, and end location. From there, you'll receive several quotes from movers that can handle your move with precision. Customizing your move is just as easy, so feel free to add or remove services at any point before your movers arrive.
Because we perform a background screening on all of the Township Movers movers in our network, your move will be conducted within the rules and regulations of applicable state and federal laws. When you've chosen a moving company, you can feel confident knowing that you are working with professionals that have been verified to be dependable and reliable by the team at iMoving.
Moving Services in Township Movers, New Jersey
Storage: Sometimes things don't work out how you plan, which is when storage services come in handy. Instead of entering into a contract with a storage company you can go through your moving company and take advantage of savings and convenience.
Special Services: Your items are precious, and our local movers will make sure they're treated with extreme care with special handling services. Art pieces, antiques, heavy furniture, and fragile items will make it to your new home in one piece with the help of experienced movers.
Long Distance Moving: Cross country moving can be overwhelming, so our movers make the process easy. Furniture and other valuable items in your home will be handled with care and taken across state lines to their destination, so you don't have to worry about making the trip yourself.
Commercial Moving: A commercial business can be moved to a new location easily using the moving companies in our network. Township Movers movers on iMoving have the skills and equipment required to make getting all of your business' assets to their destination on time and with no damage.
Tips to Make Moving Easier
Be careful grocery shopping
It may be tempting to go to the grocery store and stock up on your favorites for homecooked meals before your moving date arrives, but this can be an issue when it's time to pack everything up and clean out the fridge. Avoid buying perishables and instead use what you have, cutting down on what you need to pack and reducing waste. You'll also save money by not buying items that will need to be thrown out if they aren't used by your moving date.
Store important documents safely
Important documents, like birth certificates, should be stored in a separate container from your other belongings or kept close to you while moving. If you misplace these items, you may find yourself struggling to replace what has been lost and paying fees to recover your belongings. Tax documents, employment records, documents of sale, and other papers should be kept together in one place and kept safe while packing up the home.
Color code and label boxes
Labels are important when it comes to moving, as boxes pile up quickly and finding a single item can be like looking for a needle in a haystack if your boxes aren't labelled. Labels are made much more effective if they are precise and accurate, which can be done by color coding labels. Each color can correspond to a different room in the home, so you can easily find what you need without searching through several boxes.
Use suitcases and containers
Not everything needs to go into a moving box. In fact, you can save money and space by using the storage containers you already have in the home to pack clothing and other items. Suitcases can also be used to keep your belongings safe, making it possible to save a bit of space on your moving truck and make use of every available container.
Moving to Township Movers, New Jersey: Things to Know
Township Movers, New Jersey is a thriving suburb with a population of under 40,000. Cook County residents enjoy the suburb and its urban feel, traversing the many restaurants and parks throughout the city. Township Movers has plenty to offer newcomers, including great schools, friendly neighbors, safety, diversity, and fun activities.
Great Schools
The school district in Township Movers is well regarded, with numerous schools present in the area. There are several colleges, including National Louis University and Northbrook College of Healthcare in Township Movers. The high school curriculum is designed to produce well-rounded students that are prepared for career studies, so children are in good hands.
Friendly Neighbors
While some places can feel cold and lonely, Township Movers is the complete opposite. The city has a reputation for friendly neighbors, so you won't have any problems making new friends and meeting new people. There are plenty of events going on, so there is no shortage of opportunities to interact with others and form bonds.
Safe
In Township Movers you'll feel confident when walking the streets, as there are plenty of resources available in times of emergency. Firefighters, health experts, and police officers are nearby, keeping residents safe and watching over the city. Residents have long regarded Township Movers as a place in which they feel protected, which makes it a good fit for households with children.
Diverse
The individuals living in Township Movers are extremely diverse, so you'll be able to interact with people from all walks of life and learn about different cultures. One place you can visit, for example, is the Korean Cultural Center, which allows you to learn about Korean traditions and culture interactively.
Outdoor Activities
If you'd like to get outside and get active, the aquatic center is a place where the whole family can go down water slides, play water basketball, lounge, play volleyball, and more. Cook County Forest Preserve is another place where you can get active and go hiking, horseback riding, or just sit back and have a relaxing picnic.