Total of 1 carriers in
Elizabeth
American Budget Van Lines
Elizabeth

Elizabeth, NJ

4.50
5

Years in Business

3

Trucks

16

Workers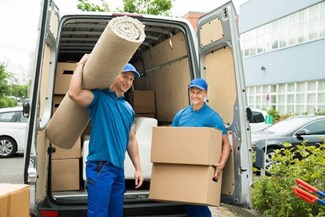 Elizabeth Movers
Are you getting ready for a big move? What sorts of things are on your to-do list, and how can you be sure that you get all of them done quickly and effectively? Are there ways to find moving companies in Elizabeth, NJ without stressing out too much? And how do you know that you're going to get a moving company that works for you?
There's a lot to look at when you start to explore the details of a move, and iMoving wants to demystify some of the processes for you. Our company was built on the premise that finding a high-quality, licensed, and vetted moving company in Elizabeth doesn't have to take hours, even days to do. Over the years, we've built out a network of highly qualified professional local movers to choose from, and our commitment is always to our customers.
We have a full vetting process where we do the research and check out every single one of the local or long-distance moving companies that we partner with. We've put time and effort into researching every last one of them, making sure that you will be happy with the services that you can get from every partner moving company that we offer quotes from.
We've made things simple – all you need to do to give us the info surrounding your move. We can then provide you with basic quotes from multiple companies. Think you want to learn more about a specific company's quote? Then do a deep dive with our precise quotes. After you find the right mover in Elizabeth, all you need to do is schedule them and you're good to go. 
Moving Services in Elizabeth, NJ
Packing and unpacking: There are a number of people out there who need help with packing and unpacking due to time, disability, or other issues. Many movers now offer this service as a result.
Local moving: Short-distance moves are simple for movers – they can usually take care of everything around them in just a couple of hours.
Interstate or cross-country moves: Moving a long distances is quite a process and requires more work on the part of professionals. Long-distance moving companies have experience in this regard and can help you to sort out all the necessary info around your move.
Commercial moving: Business relocation services are very specialized, but iMoving partners with several Elizabeth, NJ movers that can take care of this sort of work for you without too many problems.
Storage services: Have some time between when you leave your old home and when you go into your new one? Movers often have storage facilities and other options that work for this purpose.
Other service options: Loading and unloading services, heavy item moving services, white-glove services for antiques, sales of packing supplies, and other moving-adjacent options may be offered.
5 Useful Moving Tips
Put together a moving list
Having a definitive list that you use to keep track of everything that is going on and how you want to take care of everything is very helpful when you're trying to get your move taken care of. Have a complete list with every last thing listed and you'll feel more confident about your move.
Get boxes from local businesses
You can get all sorts of boxes from local businesses – especially liquor stores and offices. Those boxes are really sturdy and they hold a lot of stuff without too many problems. They're also really easy to label and take with you to different places. Be careful though – you may be tempted to overfill these boxes, but don't – it could cause the box to collapse or cause the person carrying it to get hurt.
Take care of electronics!
Your electronics can get complicated. Do you have the original box? If so, use that for packing it. Before you unplug, take a picture on your phone so you can use it to set everything back up at your new place. Sort your wires and other such things into plastic baggies and label what electronics they go with, too.
Pack decor and knick-knacks first
Before anything else, pack your décor and knick-knacks. They won't be needed for that time between now and your move-out date, and they are really awkwardly shaped, which can make them hard to pack with other items later on. Get them out of the way and packed properly and you'll have a much easier time with it.
Label everything properly
You want to know where everything went, so make sure that you go ahead and label your boxes with everything that is inside of them. Not only does it make it easier to figure out what room they go into, but it also helps you to know what needs to be unpacked before anything else.
Info About Moving to Elizabeth, NJ
Elizabeth, NJ is right in the heart of northern New Jersey, making it an ideal place for people who are commuting into New York City on a regular basis. It's only about 15 minutes from the Big Apple, and all sorts of public transportation make it simple for you to get into the city within a relatively short period of time.
Named for the Elizabeth River, Elizabeth has 11 different neighborhoods, and each of them is a little bit different from the other. Midtown, which is the main commercial area of Elizabeth, is where a lot of the action happens. There's always something going on in regards to activities that people can enjoy. The entire area is filled with a rich history (specifically Revolutionary War history) and lots to learn and explore.
Another area is Downtown Elizabeth, where many of the apartments and other small businesses are located. This area is where the Elizabeth Marina is found, and where a lot of the well-known festivals are as well. Throughout the summer months, when the weather is the best it will be all year, there are all sorts of events that you and your family can enjoy at the Marina.
The school districts in Elizabeth are the best they have ever been, and more and more families are choosing to send their students to public school. There are, however, a number of private schools found in Elizabeth and the surrounding areas, and they are just as popular among residents of the area.
Be aware that you are likely going to need to deal with a much higher cost of living than what you're going to see in other areas of New Jersey. This is because of its proximity to New York City. While housing prices are average, you will be paying more for things like consumer goods, gasoline, and other such items.