Total of 1 carriers in
Fairview
Daniel & Sons Moving Services Inc.
Fairview

Fairview, NJ

3.83
8

Years in Business

4

Trucks

8

Workers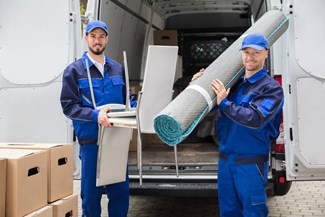 Fairview Movers
It takes a lot of time and energy to make a move go smoothly and oftentimes it can be very overwhelming if you find yourself doing it all alone. iMoving is the platform that can change that.
Not only do we improve the moving experience, but we are also with you every step of the way. Once you book with us you can expect customer support, security, and protection.
Here are a few ways we go above and beyond for our customers:
Payment Protection: Money is a part of the moving process that has a tendency of making people uncomfortable. iMoving handles the money part so you don't have to think about it. We pay our movers a week after they have completed your move. That means you have 7 days to make sure your belongings are in the proper condition – we wait on your final approval.
Moving Services: Every move doesn't require a team of experts or a moving truck. Depending on what your move entails, we provide Fairview movers that have access to storage, moving and transport services that are sure to help you with whatever you need.
Trusted Movers: Our network of local moving companies has some of the best Fairview has to offer. Every company within the iMoving network has been in business for at least two years, has very high levels of satisfaction (as reported by their customers), is licensed, holds Certificates of Insurance, and is held accountable by our team if they violate iMoving's company standards.
Don't move alone again, let iMoving do the legwork on your upcoming Fairview move.
Moving Services in Fairview, NJ
Storage: There are a number of reasons you may need storage. You may need to downsize, cut down the amount of clutter in your apartment, or simply don't have the space to store all your things at home. Take advantage of iMoving's network of companies to find the right storage solution for you.
Auto Transport: Driving your car to your new home may not be ideal if it's a very far distance. If you're not in the mood to put a lot of wear and tear on your car or you don't like the idea of driving for the long amount of time necessary to relocate your vehicle, connecting with a company that offers auto transport services is a good idea.
Commercial Moving: Commercial moving is complex and should be taken seriously. iMoving can connect you with a specialist that will work with your in-house contact to coordinate the many details of the move.
Packing/Unpacking: Packing and unpacking frustrate many people regarding moving. A moving company can take care of this process for you if you're set against it.
Move Easy with These Tips
Create box handles
If your boxes don't come with perforated box handles already, make your own. Cut handholds in the sides of the boxes using a knife. This makes them much easier to pick up, hold and lift, especially if they're heavy.
Make the most of soft items
Stuffed animals, pillows, blankets, and sheets can all be used as padding. You can put them in trash bags and place them in between fragile belongings so they don't scrape up against other items. Individual soft objects can also be used as space fillers inside of your boxes. Stuff them in any gaps to keep items from knocking around in the box when being transported.
Get a sitter for your kids and pets
Moving day can be very stressful without kids or pets, and dealing with your pet's anxiety or your child's cold can make the situation feel out of control. Instead of tackling everything on your own, it's a good idea to keep your little ones and pets away on this day.
Pack a first-night kit or box
The first day you move in will be tiring. You're most likely not going to want to unpack everything. Having a box of essentials in a separate box will go a long way in helping you handle your basic needs.
Leave space
If you're not careful, moving boxes strewn across your house can quickly turn your entire space into a mess. Have a no-pack zone that is kept clear of any boxes and things that will not be packed. Now you'll know where things are that you didn't want to be packed up just yet.
Defrost your fridge
Planning your moving ahead makes things easier. In this case, defrosting, cleaning and drying your refrigerator so it's ready to go keeps you from dealing with a mess on move day. Things are hectic enough as is.
What to Know about Fairview, NJ
Riverside Gardens Park – Red Bank
Located in Red Bank, this park is an hour drive from Fairview but gives some views of the Navesink River. You can also enjoy weekly jazz concerts for free, with the magnificent waterfront acting as the perfect backdrop.
New York City!
Getting to be so close to NYC without having to pay NYC prices is a win! In less than an hour, you are able to drive or take a train to one of the most exciting cities on the planet. Explore the boroughs, each with its own distinct flair and see all the art you could want. There are also some of the finest restaurants and shops the country has to offer.
Take Part in a Greek Festival
The Ascension Greek Orthodox Church in Fairview is a majestic church built after the original burned down. You'll be in awe of this beautiful structure sitting atop the cliffs of Fairview as it overlooks the valley below. On a clear day, you can see a far as 20 miles. In May, they have a huge Greek festival complete with music, crafts, dancing, and authentic Greek food.
Field Station Dinosaurs
Just 15 minutes away in Leonia, this is where dinosaurs come to life! Take your kids to see over 30 realistic dinosaurs, including an animatronic one! The kids will be more than happy to spend the day exploring mountain paths and mysterious trails as they wait for the next roar. This is a great place that combines education with cutting-edge science.
The Long Path Trail at Palisades Interstate Park
30 minutes away in Fort Lee is Palisades Interstate Park. Here you'll have access to about 30 miles of trails that give you the opportunity to hike challenging rock scrambles or easy strolls along the riverside. The Long Path Trail is a highlight, giving spectacular views of the Hudson River and NYC.
Fairview, NJ is an amazing area offering experiences we know you can't wait to take part in. iMoving can get you and your family there for the most affordable price and with the most reputable moving company. Get a quote today and start preparing for your move.