Total of
1
movers in
Baytown
2 Soldiers and a Truck
Baytown

Baytown, TX

3.4
21

Years in Business

2

Trucks

30

Workers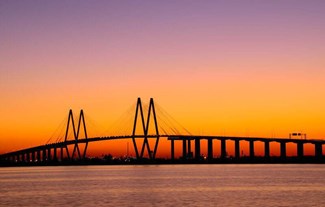 Baytown Movers
Whether you are moving to Baytown from another city or another state, the process of moving is a big one that takes up a lot of time and energy for you and your family. With enough stress being piled on to you about arranging the move, making sure you can get into your new location, and ensuring that you have your new opportunities planned out, you don't want a bad moving company to add to it.
Moving companies that show up late, carelessly pack your boxes, bombard you with hidden fees, or even steal your stuff are sadly a dime a dozen. Customers have to be careful which ones they pick to ensure a good moving experience, and that's where we at iMoving come in. Our company connects consumers with local or long-distance moving companies that have passed our comprehensive vetting process.
iMoving only works with movers that have all the necessary licensing, have a proven track record of outstanding customer service, and adhere to our high ethical standards. If a company's performance falls short, we remove them from our partner list because we care that much about our connections. We don't want to connect you with a bad Texas mover because maintaining a network of reputable, trustworthy moving companies is the foundation of what we do at iMoving.
You plug your information about the move into the tools on our site, the distance, time, approximate size of the move, as well as any special services, and then we use that information to come up with a list of local or long-distance Texas moving companies who might be a good fit. You can also use iMoving to get accurate quotes and pricing that you can always rely on. Who doesn't like that?
Moving Services for Baytown, Texas Moves
Long-distance moving: Whether you are moving across one state line or taking your family on a cross-country move, the Baytown long-distance movers in our iMoving network can make sure that your stuff stays safe and secure for the long trip.
Packing: Professional packing can certainly be a blessing when you're faced with severe time constraints or just can't physically handle the task. Look for Texas moving companies with crews who are experienced and equipped to offer full-packing services if you can't handle it yourself.
Storage: Sometimes there's a lag between when your possessions arrive at the new location and the date your new home is actually yours. Many movers in iMoving's network can have your items safely and securely stored during the interim without any problems and schedule an actual move-in date for later.
Tips for Preparing to Move
Whether your Baytown move is just across town or involves cross-country travel, here are few things to make the job easier.
Prepare yourself for the move by separating your immediate needs from those that can come later. Chances are you and your car will arrive at the location before the moving van, and you should have everything you need to live in the new environment for at least one or two nights in your vehicle. The moving van should contain things you don't need right away.
Make sure to call ahead to the proper channels to ensure that your new house or office is set up and can be accessed. Nothing is more annoying than driving all the way to the new location and then discovering you don't have the proper key or you can't access your residence.
Get mover's insurance! Especially with a long drive, the dangers and risk of accidents for your belongings and boxes can become much larger. If something gets misplaced or damaged, you'll want to be able to have the proper insurance and make sure that you can cover any lost or broken items.
Label and inventory. When it comes time to move in, you'll want to know what goes where and what's in each box. Keep a running list of inventory and checkboxes off as they arrive using color-coordinated labels or other organization methods. Whether you put certain things in one type of box or have different colors for different items, a planning system will help keep you sane.
Finally, communicate with the moving company on the schedule the day before the move to make sure that everything is on track.
Getting Your Baywatch on for Baytown Texas
Baytown, TX has a lot to do for people who love art. The city has its own Downtown Arts District that holds various buildings such as a Performing Arts Center, an art gallery, and a volunteer-run community theater. The theater is used by volunteer groups to put on various shows and has been around for almost six decades. It also produces six shows throughout the year, with each show giving seven performances for people to enjoy.
The town also has the Baytown Symphony Orchestra, as well as the Art Gallery of Baytown, which both show off the local artistic and musical talent in the area. Or if you want to see more, the entire area is filled with murals and even an Umbrella Alley, which was a broken down alleyway but is now fixed up with a unique "ceiling" of umbrellas that provide a pleasing shadow show on sunny days. Plus, it's a great shelter when it starts raining, with all the umbrellas just floating overhead!
If you aren't the most artistic loving person in the world, then there's a nature center that's surrounded on three sides by water. It's a refuge for countless fish, animals, and birds that is open to the public for exploration and recreation. If you happen to love a little more speed, then the town also has Houston Raceway, which is a massive motorsports area filled with drag races and events.
So, alongside the shopping malls, food courts, and restaurants that any city is known for, visitors to Baytown will have a lot to do and see. There's a little something for everyone, and all they have to do is get exploring and see what the town has to offer.