Total of 1 carriers in
Hewitt
Samson Professional Movers
Hewitt

Hewitt, TX

4.87
5

Years in Business

3

Trucks

10

Workers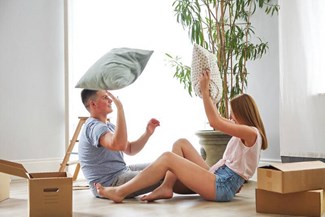 Hewitt Movers
When you are planning a move, you're going to want to work only with the best of the best when it comes to moving companies. After all, nobody working hard to plan a move wants to deal with extra hassles and headaches when they can count on some of the best moving companies in the country to give them a hand with their moves.
At iMoving, we do everything in our power to make sure folks planning their moves are well-informed on best moving practices, provide people with helpful moving resources and tools like our digital moving planner and accurate moving cost calculator. Most of all, at iMoving, you get access to one of the biggest and best networks ever assembled of local, interstate and cross country moving companies.
We aim to make our platform your one stop shop for anything related to your move, from the early beginning stages, to choosing your moving company, to the final execution of your move. You want your Hewitt move to go over without a hitch, and that can be exceedingly simple when you choose to work with one of our great partner moving companies.
At iMoving, we have done all of the work necessary when it comes to making sure the moving companies in our network are the best in their business. They have shown time and time again through successful moves and satisfied customers that they have the experience, the knowledge, and the drive to make sure their customers are happy with the end result of their move.
Since we've already vetted and background checked every moving company in our network, you won't have to worry about problems like movers not showing up on time, unkind workers, or hidden fees in prices. When your movers show up, they will be courteous, kind, respectful, and ready to work. In just a short matter of time, your Texas move will be complete, and you'll be set up in your brand new home with the help of your chosen iMoving partner company.
Moving Services in Hewitt, Texas
Sometimes, there might be parts of the moving process that you just might not be able to handle yourself. Tasks like taking large furnishings apart and putting them back together just might not be things you can easily handle. Thankfully, you don't even have to lift a finger when working with iMoving full service mover partner companies.
You can choose from some of the following services to help your move go even easier. Just say the word, and your movers will handle some of these jobs for you.
Local Moving Options: When you just need movers to give you a hand for a few hours if you're moving within the same town or to a town nearby, then you'll need to choose local movers to give you a hand. Local moving companies most often charge by the hour and work within a 50 mile radius.
Long Distance or Interstate Moving Options: What if you are moving to another state or from one end of the country to another? Long distance or cross country movers that partner with iMoving are fully equipped and properly licensed to take you anywhere in the country you'd like to move to.
Whole Home Packing Services: If you are disabled or just can't work for longer stretches of time, then the thought of packing up your whole house can seem like a nightmare. Using whole home packing services, your movers will take care of this job for you.
Disassembly and Reassembly Services: These are the perfect additional services for anyone looking to move large pieces of furniture or appliances that are going to need to be taken apart before they will be able to go into the moving truck.
Difficult Maneuvering Services: Loading large items like a grand piano or a fridge into a moving truck can require some navigational skills. Leave it to the pros who have been doing this for years to make sure your harder-to-navigate items are safely loaded onto the truck without a scratch.
Professional Moving Tips, Just For You
To further help your move go as easily as it can possibly can, you can take advantage of some of these great tips from some of the moving experts.
A yard sale can be a great way to make extra money and get rid of unwanted stuff
If you're thinking about getting rid of some of your things to cut down on the amount of stuff you're packing onto the moving truck, then consider having a yard sale instead of just giving it away. This way, you can make some spare money to have on hand during your move, and there is nothing wrong with some extra cash.
Set a moving timeline, and try not to stray from it
For your move to go over well, everyone needs to be on the same page about the move, and that includes when it is supposed to happen. Once you have a moving date set, make sure everyone else in the family is aware of it and begins working off their moving checklist to make sure it isn't delayed.
Pack your silverware in plastic wrap
If you don't want to lose your silverware, keep it all together. You can use plastic wrap to put all of the silverware together in one place so you don't end up losing any of it.
Check Out Hewitt, Texas
Now that you've got your move to Hewitt planned out with a great iMoving partner company, you may be wondering what fun could be waiting for you in your new town. Hewitt has a good deal to offer residents, especially people with families who enjoy a good time out exploring natural areas.
In Hewitt, you will be able to find several great places to take the kids for a day of play and enjoying the sunshine. The first of these terrific options is Hewitt Park, a wide open, green park that features plenty of room for the whole family to spread out and play. You'll find space for having a picnic, an area specifically meant for playing disc golf, and of course, a playground for the little ones.
There is a second option for parks in Hewitt, as well, though it does not offer as many amenities as Hewitt Park. What Warren Park does have for enjoyment, though, is an even better playground for the kids. Climbing ladders, several slides, and even more fun can be had by kids of all ages at this fun outdoor park option.
Of course, since you're in Texas, you're going to have access to amazing local cuisine, as well. This is especially true if you like Mexican food, which is well-loved in Hewitt. You can pop into either of the best Mexican establishments in town, like the Mexicano Grille or the Tacqueria Altos de Jalisco, both easily accessible on Hewitt Drive.
Hewitt has that smalltown charm that makes many people happy to call it home. If you're not a huge fan of bigger cities, then you could find Hewitt to be a refreshing breath of fresh air. When you're thinking about living in a small Texas town, you won't find many better options than the town of Hewitt.