Total of 1 carriers in
Katy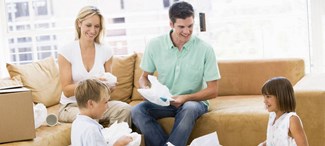 Katy Movers
As you start to prepare for relocating, you probably have a lot of different things on your mind. More often than not, you're likely looking at a lot of options. How can you be sure that you sort everything out in the easiest possible way? Are there options that will work in a positive manner for your purposes?
iMoving is here to help you figure out the specifics of what your move might entail and give you options and information that will make your Katy move as straightforward as possible. There are so many different things that you need to consider that you want to have someone on your side that is able to assist you with finding the right moving company for your purposes. Whether that's a moving company in Katy TX or somewhere else, we can help you with the whole process.
Our site allows you to get quotes from our partner local moving companies, which makes it easy for you to determine what it is that you need to budget and how you want to sort out everything in a manner that makes sense for you. You can get quotes from multiple local or long-distance moving companies at iMoving.com to compare and ensure that you're choosing the right option for your move in just a few clicks.
Making things easy for people who need to hire Katy movers is our specialty, and we will do everything that we can to make sure that you've got the resources you need to make it happen. Our site is easy to use and iMoving facilitates the entire move, even down to ensuring that it's done right before any payment comes out!
Ready to get started? Go to our search page and get started today so your move is all sorted out!
Moving Services in Katy, TX
Long Distance Moves: Are you moving far away, and do you need long-distance movers to give you a hand? These moving companies do a lot of work in order to help you when it comes to interstate or cross-country moves.
Local Moves: If you're just moving within the same town, city, or county, you'll be working with local movers that can help you to get your items from your old place to your new one in a day, or even just a morning or afternoon.
Commercial Relocations: If your business needs to be relocated, you want to get professionals that know how to take care of your electronics, office furniture, and more. Those who need to do a commercial relocation can use iMoving to schedule a move, too.
Other Services: Other services that many of our Katy moving companies offer include packing/unpacking services, storage units (short-term and long-term rentals), packing supply purchases, and fragile item moving services.
Some of Our Favorite Moving Tips
Get boxes in multiple sizes: You want to have a variety of sizes because they'll help you in a variety of ways. Heavier items should go in smaller boxes, and lighter items can get packed up really tightly in bigger boxes. By having a variety of options, you can make it easier for yourself.
Sort items by room and category: Always be sure that you sort your items in the most logical ways possible. You don't want to have items from several different rooms all in one box unless they're going into one room in your new place. Be conscious of what you're doing and how you're doing it.
Open everything up! You want to open closets, cupboards, and any other door that may reveal items you own. That way, you can see what it is that you're going to need to go ahead and pack. When you're done with a closer or space behind a door, close the door. It makes it much easier to keep track of what you have and haven't done.
Be aware of your kitchen: Kitchens take the most time to pack and be sure that you save time to pack everything in there. You may need a couple of days to pack things, so be aware of that while you're planning and figuring out what it is that you need to get done.
Get a tape gun: A tape gun is one of your best options when it comes to packing items. Fill it with packing tape, and then all you're going to need to do is seal boxes up, put the tape on the box, cut it with the tape gun, and call it done.
Katy, TX – What Do You Need to Know?
Katy, TX is a unique place in Texas, and there's always something to see and enjoy there. A small town/suburb located right next to the much larger city of Houston, you'll find that it's quite a solid place to raise a family.
The community is really safe and many people enjoy living in Katy because of all of the opportunities that their kids have. The school district is a fairly solid one, and kids feel prepared to go off to college when they complete their education here. Not only that, but their focus on family-oriented activities and helping the community to be a welcoming place is a big part of what makes Katy what it is.
Katy has been around for a long, long time. The earliest settlements of this area were in the early 1800's. It was started as a railroad town, and you can still see some of the history at its handful of museums and historical spots. The railroad came through this area, and so it was very easy for a group of people to establish this region as a new home for them.
The local government in Katy works hard to ensure that the infrastructure and resources for small businesses are the best that they can be. Between well-maintained roads and a commitment to keep this town quaint and safe (even with major interstates being built here), residents put a lot of time and effort into ensuring that their local government is working for them and with them.