Total of 1 carriers in
Euless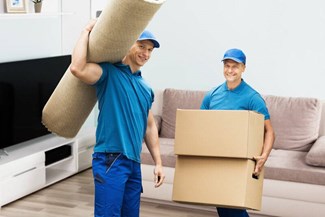 Euless Movers
Congratulations! You're moving to Euless. Texas is booming, particularly the Dallas area. But now you have to get yourself and your possessions to Euless. Now is the time to get a move on—literally!
With a snap of your fingers – or rather, at a click or a tap – iMoving can assist you with your big move.
Some of the benefits offered by using iMoving include the following:
Accurate price quotes
Trusted local and long-distance Euless movers to choose from
Carefully selected, fully-vetted professional movers for hire through our network
The live support team is always available to answer your questions via phone, live chat, and/or email
And much more!
At iMoving, our quotes are precisely calculated per move and are dependent on a variety of factors which include:
Where do you want to move
What type of home, apartment, or storage do you want to move to or from
Number of rooms or amount of cubic feet of storage space
Type and number of rooms (e.g. bedrooms, living rooms, dining rooms, kitchen)
Number of boxes to be moved based on your inventory
Number of additional pickups
Aside from the handy moving quotation calculator available here on iMoving.com, we also help make your moving experience more convenient and efficient by providing a printable moving checklist along with an outline of what you should do and when you should do them before you make your move.
Moving Services in Euless, TX
Special handling: While all your furniture and packed boxes will be handled with care by the Euless moving company you choose from our network, some items such as antiques, collectibles, and extremely fragile items require a higher degree of care. Trust one of our reputable partner movers with special handling experience when it comes to handling delicate items.
Cross-country moving: This is also known as interstate or long-distance moving and involves a move that crosses the boundaries of two or more different states, regardless of the total amount of miles between point A to point B. Long-distance moving companies that perform this type of moving service are required by law to have a special license from the Federal Motor Carrier Safety Administration.
Storage facilities: When the time has come to move but your new place is not yet ready for moving in, what is there to do? The solution to your problem is to choose one of our partner  local moving companies in Euless, TX that can proved safe storage space for a short span of time until you're ready to move in.
Helpful Moving Tips
Here are some helpful tips that can make every move as smooth as possible!
Bigger isn't always better
When packing your boxes, instead of packing a lot of things into one or two extra-large boxes, try using several small or medium-sized boxes. This will make things easier to carry, transport, and unload.
Label, label, label!
Avoid confusion and make unpacking at your new place easier by properly labeling which room the items were originally from, and to whom the items belong. When doing a cross-country move, it might be a good idea to label your boxes with your name, new address, and contact number in the unlikely event that a box gets left behind or lost in transit.
Everything has its place
Create an inventory list for each room as you pack. Place a written or printed list, or write directly on the box, the inventory list. By doing this, you will be able to know what's inside each box without needing to open all of them one by one to find the things you need. 
Choose quality, every time
Your things are valuable and moving shouldn't compromise that. Choosing one of iMoving's trusted moving partners that you can rely on to use quality tools and materials is a sure way to have your items arrive in one piece. Study boxes, strong tape, and ample amounts of bubble wrap are a must when packing and transporting your precious cargo!
Fun for all ages
Moving can be a hard time for a family, especially for young children who are moving for the first time. To make moving a bit more fun, you can let your children place stickers or draw on some of the boxes so they can express their creative sides. While in transit during a move, playing interactive games like "I Spy" in the car can make moving fun as well.
What to Expect When Moving to Euless, Texas
If you're already living in Texas, you may or may not be familiar with Euless. If you're not, here are some things to know when you make your move here:
Suburban area with easy access to bigger, urban cities
Euless is a suburb of Dallas, Texas but that doesn't mean it's a boring place to live. Other nearby cities include Grapevine, Arlington, and Irving. A few sights and landmarks that are must-sees in Euless are the Heritage Park and St. John the Baptist Greek Orthodox Church.
Reasonably priced place to live and raise a family
In Euless, suburban homes for a single-family have a typical median home value of $164,000, while the national median home value is about $20,000 more!
Plenty of public schools with high standards and well-performing students
As a suburb of Dallas, Euless has great access to great public high schools. Two of the best-rated and top-ranked public high schools in all of Texas are located in Dallas: School of Science & Engineering and School for the Talented & Gifted.
Tons of diversity
In Euless, you'll encounter people of all ages, ethnicities, educational backgrounds, and economic statuses. Here, you'll be sure to find your niche and encounter new cultures at the same time!
If you're coming in from out-of-state, life in Texas might be a lot different from what you are used to. Here are some additional things to know and expect when you move to Euless, Texas:
The weather in Texas can be very hot and humid especially during the summer and monsoon season.
Experience the delight that is Tex-Mex fusion cuisine! Although you can find your typical fast-food joint around the corner, sitting down at a hole-in-the-wall restaurant can give you a real taste of Texas.
Have an open mind and look beyond the stereotypes. Texas is a diverse place with a rich culture and history, and although it may have its unique qualities, life in Texas will still have things that can remind you of home, no matter where you're from.