Total of 2 carriers in
Grand Prairie
Federal Moving
Grand Prairie

Grand Prairie, TX

3.70
5

Years in Business

6

Trucks

10

Workers
Traditional Express
Grand Prairie

Grand Prairie, TX

3.25
5

Years in Business

16

Trucks

55

Workers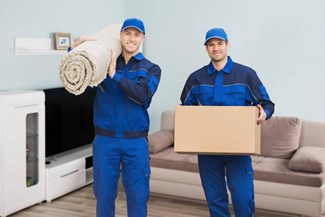 Grand Prairie Movers
Moving can be a draining and frustrating experience if you're doing it all on your own. It takes time and a lot of energy to get everything organized and ready for a big move. To relieve some of the frustration involved in the moving process, you can turn to iMoving.
iMoving is a platform that gives you access to movers that offer all the services needed to complete your move smoothly. A team of expert movers in Grand Prairie can keep your items safe and help you get to your destination without delays or incidents.
To improve your moving experience, we go beyond and strive to exceed expectations. Some of the ways we do this are by providing protection, 24/7 customer support, and more.
Protected Payments: A big part of moving is the price, but iMoving takes the worry out of your move by handling your transaction securely. After the move is done, you have a week to make sure all of your items are present and in good condition to approve the payment.
Reliable Movers: The Grand Prairie moving companies we work with are all verified to make sure that they provide excellent service and have all the necessary certifications, licenses, and skills to complete your move without any problems.
Moving Services: Not every move is the same, so our moving partners provide various moving services for you to choose from to make your move easier. These include transport services, storage, managing moves for large and small companies, and more.
Moving Services in Grand Prairie, TX
Packing & Unpacking: Packing can seem easy at first, but a home can have a lot more items than you realize. iMoving can connect you with local movers in Grand Prairie that can pack up your old home and unpack your new one.
Storage: Storage can be required for several reasons. If you need to get rid of clutter, downsize, or simply make space in your new home, then iMoving can connect you to a vast network of Grand Prairie movers that provide safe storage for your belongings.
Transport Services: Sometimes taking your car isn't the best idea when moving. This is especially true for long distances. Instead of putting your car through a long trip, connect with movers that offer transport services.
Commercial Moving: Moving a business involves very complex skills and must be handled by professionals. iMoving connects you with certified and experienced specialists that can coordinate all the details of your move.
Moving Tips
Planning your next big move? Get everything handled properly and keep your belongings safe with these tips - care of our experienced iMoving team.
Get Creative
Moving is made easier if you get a bit ingenious. Instead of going to the store and blowing your budget on packing peanuts and bubble wrap, consider using soft items around the home to keep items from breaking. You can wrap CDs, glassware, and other fragile items to avoid cracks, scratches, dents, or any other damage. Sheets, pillows, and loose items of clothing can all be used creatively when moving.
Plan Babysitters
If you have a household with a child or pet, then it's wise to make arrangements for sitters beforehand. Moving with pets and kids can be a hassle, making it essential to plan as much as possible. If you can, try to have a sitter for the day of your move so that you can pay attention to making sure everything is packed up and ready to go. By spending a little on a sitter, you can save a whole lot of time.
Pack an Overnight Bag
You never know how long it will be before you can get settled into your new home – it could be minutes or it could be a few days. In any case, it is handy to have an overnight bag filled with several days' worth of outfits, toiletries, and any other essentials.
Clean Out the Fridge
Nobody wants to open their fridge and be offended by the smell emanating from it. You can keep this from occurring by cleaning out the fridge before your fridge is packed and ready to go. Get rid of anything perishable and pack up all other items that you want to save. You could even help others by donating anything you don't want to take to your new home to shelters.
Get to Know Grand Prairie, TX
Before you get to your new house, it's great to know a little bit about where you're moving. The movers in Grand Prairie can get your things to their destination, but it's up to you to make your new house a home and settle into the city.
If you love a scenic view, then Grand Prairie, TX is a dream. As the name suggests, Grand Prairie is in the middle of the Texas prairie. There are rolling fields with beautiful wildflowers and buzzing insects floating around peacefully. In the spring, you can look forward to waves of blue as Texas Bluebonnets take over the entire countryside and paint the town.
Grand Prairie is the home of just under 200,000 people. This may not seem small when compared to other cities across the states, but it's considered small in Texas. However, there's no end to the fun that can happen in this small(ish) town. Events take place throughout the year in the town and the community is tight-knit. It's filled with diverse families from all locations, making it a great place to grow or raise your own family.
Even though Grand Prairie is a small suburb, it has the advantage of being close to many of the bigger cities in Texas, such as Dallas, Arlington, and Fort Worth. Getting out for a drive can lead you to big adventures in a completely different town. Meet new people, enjoy the arts, and find new and exciting attractions to discover.
It's also located close to the airport, making it the perfect place for people that have to travel frequently. The Dallas/ Forth Worth International Airport is massive, listed as one of the biggest airports in the United States. You can take a short drive and find yourself ready to go anywhere and everywhere.