Total of
1
movers in
Texarkana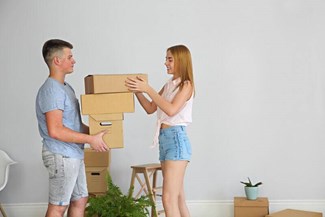 Texarkana Movers
Working on planning a move? Are you worried about some of the specifics, like whether or not you are going to need special moving services, how much the whole thing is going to cost, and where you're going to find the best moving companies to work with?
If the above scenario sounds like something you are going through, then you have come to the right place. At iMoving, we know what it is like to have to plan a stressful move all by yourself. This is why we have done everything we can to make the lives of folks just like you who are planning moves a little bit easier.
We have created digital moving simplification tools, such as our moving planner and our moving checklist, to help give people tools that can make things simpler. We're also aware that having the right tools for your move is only part of the equation.
When you're moving, the chances are high that you will probably want to work with professional moving companies. But how do you find the best moving company, one who will treat you and your belongings with the respect you deserve?
That is why we've built one of the largest networks of trustworthy moving companies you can find anywhere on the internet. Whether you're looking for local movers or cross country moving companies, we have put together a list of the best of the best, enabling you to choose the best moving company for your move, while being assured that they will do everything they can to ensure your move goes off smoothly.
All of the moving companies in our network have been thoroughly background checked by our professional iMoving team, and have been recommended happily by plenty of their previous customers. They are well experienced in their trade and highly dedicated to their craft - ensuring easy moves for everyone.
Moving Services in Texarkana, Texas
Planning a move can take a lot out of you, and depending on your circumstances, you may not be able to handle everything on your own. If your move needs an extra touch from the moving professionals, then you might think about adding in some of these extra services from full service moving companies.
Storage Solutions: Are you preparing to stage your home for a sale, or just have a few things you want to store away while the moving process is ongoing? You will find that many iMoving partner companies provide storage solutions for customers to take advantage of.
Local Moving Options: Moving within the same state or maybe just town or two over calls for local movers. Local moving companies work by the hour which ends up costing less money than long distance or cross country movers will charge.
Long Distance Moving Options: When moving across state lines, some extra licensing and certification is required – not to mention the heavy-duty equipment and logistical expertise required for long distance or interstate moves. Choosing one of iMoving's partner cross country moving companies is a great way to make sure the company you choose meets all of the qualifications required to move people and their things across state lines
.
Special Handling Services: If your family is like most others, it probably has an old piece of furniture or some other antique items that have been passed down through the generations. Items like these need a little extra care when being transported, and these services are meant specifically for transporting such items.
Commercial Moving Services: Moving services aren't exclusive to residents switching homes. If you're opening up a new office in a new town or state, utilize commercial moving services, where professional movers will help you move your business assets and all of your office gear and supplies to your new location.
Moving Simplification with Professional Tips
To help make your Texarkana move even easier, keep a few of these handy moving tips in mind.
Utilize item totes for smaller items
Do you have a bunch of smaller items that you want to make sure don't get lost during the move? Make sure you have some totes around that can be easily loaded up with these items. Things like toys, small electronics, and more are great candidates for this storage solution.
Make sure anything that can spill has a lid
You don't want anything that has the ability to spill to tip over without a lid while it is going down the road in the moving truck. To prevent this, make sure anything with liquid in it, like shampoo, conditioner or detergents, are tightly fastened down. It also helps to stretch a layer of plastic wrap over the top before screwing on the lid.
Stretch wrap can be your best friend
When you have a lot of items that go together like tools or equipment of the same type, use stretch wrap to keep them all wrapped tightly together. This will help keep track of anything that may need to be kept together.
Before Moving, Learn What to Know About Texarkana?
There are a surprisingly large amount of exciting things you and your family will be able to do together once your move to Texarkana is complete. With fun options for the entire family, as well as some exciting choices for an adult night out, you will find no shortage of things to do available to you in Texarkana.
For example, you have two exciting options for local water parks if you want to take the kids out for an afternoon of wet fun and beating the summer heat. Your first choice would be to head to the immensely popular Holiday Springs Water Park, which is complete with several choices of exciting water slides, a chilled-out lazy river, and a wave pool to pretend like you are at the beach. With so many fun things to do here, your first predicament might be figuring out which of the activities you want to enjoy first!
Another great place for the whole family is the Spring Lake Park, a smaller space with a fountain area for the kids to splash around in, as well as spots for disc golf and fishing. If you want to get wet and play games at the same time, this would be the place to go.
Feeling like taking the kids for an afternoon of learning? Visit the Discovery Place Interactive Museum, where kids can interact with all kinds of different exhibits and learn things related to history and science. Who knows, you might even learn a new thing or two during your visit.
If you're feeling like it is time for an adult night out, Texarkana has you covered, too! You can visit a few local options, such as the 108 Lounge, the 237 Pub and Pool, or the Cellar at Verona, each local Texarkana option offering up activities like pool, dinner menus, sports on television, and of course, adult beverages to enjoy with great company.
As you've probably noticed, Texarkana is one of those cities that truly does have something for everyone to enjoy. Whether you're looking to cool off, learn something, have a drink, or just spend time out in nature, you're going to find the perfect place for you in your new city. If you're ready to start exploring everything Texarkana has to offer for yourself, then get your move scheduled with a great iMoving partner moving company as soon as possible.