Total of 1 carriers in
Chico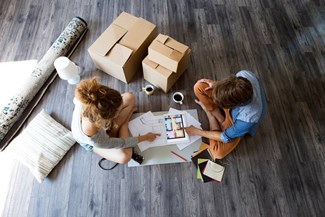 Chico Movers
Moving day is coming up and you're likely nervous about what is involved in the process. But, thankfully, there are a lot of ways that you can work to accomplish your goals. If you're thinking about hiring Chico movers, how can you be sure that you find the one that is best for you?
A moving facilitator, like our team at iMoving, makes it easy for you to get together everything for moving day without any problems at all. We work to oversee every step of the move that you're getting ready for and make sure that you're satisfied with whatever Chico moving company that you end up choosing through our site.
Our website has been designed to make the process as simple as possible, allowing you to look for quotes and make sure that you get the best picture of who you're hiring. Every single Chico moving company that we list at our site has been fully vetted, and we check out all of the necessary details around their teams. We do the hard work of research so that you can have peace of mind when you schedule it via our site.
Trust iMoving to keep an eye on your moving process in big ways. We always strive to give you the best in customer service, which ensures that you have a solid handle on what it is that you need to get done before moving day. Check out the site and schedule your movers with ease today!
Moving Services in Chico, California
Local Moving. Even if you aren't moving too far from your current residence, iMoving can help you to schedule your movers and take care of everything without any problems. Typically, local moves are less than 100 miles from your starting point.
Long Distance Moving. Long distance movers in Chico aren't hard to find if you trust iMoving as your top resource! We can get you quotes from multiple movers in your region and schedule everything for you.
Commercial Moving. Businesses take a lot more work to get moved properly, so it's important to get movers that know just how to move electronics and sensitive information. At iMoving, we even help you to find Chico movers that offer business moving services.
Additional Services. Many moving companies offer additional services so that their customers can have the best in convenience and price. These include storage services, white-glove services, packing supply sales, and more.
Tricks, Advice, and Tips for an Easy Move
Start packing right away!
One of the biggest mistakes that people make when they move is that they delay packing until the last minute. This will make the process a lot more stressful and you may have a hard time getting everything done in the way that you want to do so.
Schedule turn-off and turn-on dates for utilities
Once you start having some of your dates set in stone, it's essential to take some time and look at the utilities that you need to turn off at your current home. Also, schedule turn-on dates at your new place – make sure that they coincide with your move-in date, though.
Heavy on bottom; light on top
Whether you're packing items in a box or loading them in a truck, you always want to go from heaviest to lightest, if possible. As you stack the items up, there will be more weight on the bottom boxes, which should be sturdier. If you do it this way, you'll have fewer broken items and the boxes won't collapse.
Use clothing like you would newspaper and bubble wrap
Clothing is a great option if you want to be sure that you aren't spending an arm and a leg on bubble wrap and other filler items. You can use the clothing that you have and fill up all of those empty spaces, protecting your items while also ensuring that you don't need to try and pack up your clothes, as well.
Get a packing kit
Packing kits are available from many Chico movers and companies that specialize in moving supplies. They are sorted by how many rooms that your home has and provides you with everything that you should need for a home that size. They also have scissors, tape, writing utensils, and other items you may need for the packing process.
What to Know When Moving to Chico, California
Chico, which is now the largest city found north of Sacramento, is a city has been getting a lot of attention in recent years. This city is one of the most connected that you can find in California – there are all sorts of public transportation options that you can consider, including trains, pedicabs, a municipal airport, and more.
Chico is still quite the college town. The California State University, Chico campus is located here, and Butte College isn't too far away either. The closer that you get to the university, the more transient the population is, and the more college students that you'll see. Other than the college, the biggest employers of Chico residents are the medical industry – pharmacists and doctors are among the best-paid people in the region. The college presence has also allowed for a robust schooling system, as well.
Residents of Chico really enjoy their entertainment. The Pageant Theatre is always showing off Indie Movies (and they have couches), Cal State at Chico has a great baseball team, and there are plenty of biking trails. Like many of the smaller California cities, there are all sorts of trees found throughout the city, allowing for a lot of green space that you can enjoy with friends and family.
As with much of California, you will have to be aware of the high housing costs in one way or another, and you always have to be careful of what you're doing during the drier months of the year. But, otherwise, the cost of living is quite comfortable; food, entertainment, and other things are about the same as you'd find in other parts of the West Coast. If you've got a job or education waiting for you, Chico may be a destination that you want to consider when moving to a new place.