Total of
1
movers in
Rancho Cordova
A2B Storage and Moving
Rancho Cordova

Rancho Cordova, CA

3.8
2

Years in Business

3

Trucks

15

Workers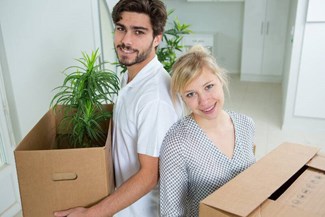 Rancho Cordova Movers
Rancho Cordova in California is quite a beautiful city, and is a great choice to lay down roots in with a new home. Whether you're merely renting in town for the short term or planning on sticking around indefinitely, you will find something to love about Rancho Cordova.
Of course, to begin soaking up that beautiful Golden State sun, you need to actually get to California first. You've got a fair amount of work cut out for you, things like scheduling movers for estimates, pinning down your moving day, figuring out everything you're taking with you, and more. How will you even have time to breathe, let alone easily plan a move?
This is where your friends at iMoving come in. You see, we understand exactly what you're feeling. Moving can be a stressful experience, and can present unique issues because every move is completely different. No two moves are the same, and no two families planning moves face the same circumstances. That's why we've done the work of assembling the very best moving companies in Rancho Cordova to help you move with confidence.
Think about some of the hardest parts of moving. Most of them involve the actual labor, which means sorting through all of your belongings, deciding what is going with you and what you'd like to get rid of, loading and unloading everything onto the moving truck, and more. What if there was a way to make this whole process just a little bit easier than it is?
As it turns out, there is! Our iMoving partner companies are thoroughly trained and hold years of experience in the moving industry. We have made sure each Rancho Cordova moving company in our network is up to only the highest quality, and every company we partner with has come recommended by happy customers the companies have worked with in the past.
All of this adds up to mean that when you choose to facilitate your move with iMoving and choose one of our partner Rancho Cordova movers, you will be working with only the best who will treat you and your possessions with respect and care. That in itself is one of the top signs of a great moving company.
Moving Services in Rancho Cordova, California
Whether you're moving to the city of Rancho Cordova from out of state or just coming in from another part of California, you'll be able to find a mover in our network who will be able to help you get your move done with ease. To make things even simpler for you, you will find that many of our mover partners also offer special services for customers who would like to take advantage of them.
Most of these services involve laborious tasks, so if you have trouble lifting up on things, don't have much help, or just need a hand with some of these heavier tasks, then these special services could come in handy for you.
Whole house packing: What's better than having someone help you load up all of your stuff? Having someone pack all of your stuff up for you! That's right, you don't have to worry about packing up your belongings by yourself if you don't want to. You will find many of our moving company partners offer whole house packing services to take care of helping sort through and box up your stuff for you.
Loading and unloading services: Many things around the house can be heavy, like refrigerators, washers and driers, heavy electronics, and so much more. You might have trouble lifting up on these kinds of items, or you just might not want to deal with loading it all up. Whatever the case may be, an iMoving partner company can load and unload your stuff for you, no problem.
Commercial moving: A relocation of your business can be a crazy time for not only you, but also for your family and your staff. An iMoving partner can make relocating your office a little easier by helping load up your essential office equipment, taking special care to make sure everything is loaded up with special attention and delivered promptly to your new location.
Special handling services: Antiques and family heirlooms often need a little tender handling to preserve them. Many families have items like this, and as such, you will find many of our moving partner companies offer special handling services to load up and store your special item carefully and with respect.
Storage solutions: What if you need to store some things safely away that you're not planning on moving right away? This isn't a problem for many of our moving partners, who offer storage solutions for customers to use as needed. You'll be able to rest assured knowing your stuff is protected from the elements and locked safely away in a climate controlled environment, as well as safe from insects and other pests.
Helpful Hints for an Easier Move
A great moving company can really come in handy in helping you move confidently, but you can also use a few friendly tips from iMoving to think about while you make your plans. These hints could just end up coming in handy for you later on, so pay close attention to them.
Make sure you go through any shelving units, chests of drawers, or other containers and make sure you don't have any personal belongings inside of them. This is because most moving companies will not move something that still has your personal effects inside.
Keep an eye on how much perishable foods you purchase before your move. You don't want to buy anything that could expire up to two weeks before your move. In a hectic moving environment, you could forget about it, and could quite possibly go bad.
Save time and money by going through your stuff and finding things you don't need or use anymore. Not only will getting rid of unwanted belongings save you some room while packing and loading stuff up, but you could make some extra money by selling things you no longer use. Consider having a yard sale before your move if you have enough things you'd like to let go of. What a great way to get your hands on some extra spending money before you even get to Rancho Cordova!
Exploring the City of Rancho Cordova, California
So, now you know some helpful hints and services offered by moving companies to help you and your stuff get safely moved to Rancho Cordova in the beautiful Golden State of California. What, then, is there to do once you get here? You will be pleased to know that you will find absolutely no shortage of things to enjoy once you arrive at your new home in Rancho Cordova.
Parents moving their families to Rancho Cordova will be happy to know that there are plenty of kid friendly activities in the city that the whole family can enjoy together. Take your kiddos to the Sacramento Children's Museum, where they can learn about interesting subjects in a fun and colorful environment. If you feel like climbing, your whole clan can hit the rock walls at the Granite Arch Climbing Center. Who can make it up the highest?
That's not all the family fun that can be had in Rancho Cordova, either. If you want to get in on the escape room craze and try your hand at solving puzzles in a set amount of time with your family, then you will want to check out the Red Door Escape Room. Fans of miniature golf will love hitting the holes at Monster Mini Golf, while you can also get the whole family outdoors and enjoying the river by visiting American River Raft Rentals.
Want to bounce away to your hearts' content? Check out Bounce U, an inflatables and trampoline park where the whole family can bounce and jump until they feel weak. When you're ready to relax and enjoy nature for a bit, you will love a visit to the Hagan Community Park, where the whole family can take in the scenery and enjoy the fresh air and walking trails.
What about fun for the adults? No problem at all, there is more than enough fun to be had when the sun goes down in Rancho Cordova. If you feel like hitting the slots or trying your hand at a poker or blackjack table, you will love a visit to the Parkwest Casino Cordova. Feeling like a drink? You'll find plenty of nightlife and bar options in the city, not to mention Burning Barrel Brewing if you want to learn how some fine local craft is made.
If it isn't already obvious, Rancho Cordova is absolutely packed with things for people to enjoy. It is especially full of great activities for families, so if you are moving your entire family to Rancho Cordova, you will never have to worry about not having something to do together. Rancho Cordova really is a special city, and with enough time, you might be proud to call it your city.