Total of 1 carriers in
Costa Mesa
CalState Moving & Storage
Costa Mesa

Costa Mesa, CA

4.43
Years in Business

1

Trucks

Workers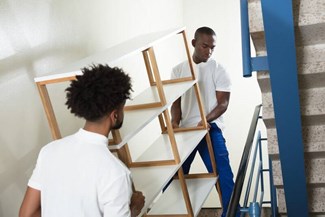 Costa Mesa Movers
When you get ready for a move, you have a whole list of things to do, and finding a Costa Mesa moving company is among them. Taking the time to see what there is to be done and how you may want to proceed with it all can be really helpful in regards to your next steps. How do you make sure that you're doing things in the correct manner?
That's where iMoving has been making a difference in the moving industry. We're a moving facilitator – that is, we do the hard work of finding the best quality options for what you need to do. All you need to do is let us know where you're going, where you're coming from, and how much stuff you plan on taking with you to your new home and we'll provide a selection of high-quality local or interstate moving companies that match your needs.
We've fully vetted every single one of the Costa Mesa movers that we work with. We know that there are a lot of choices that you may be exploring, and taking the time to look at every single one takes a lot of time. So, we do the necessary research, give you the details and only recommend the best moving companies for Costa Mesa moves to choose from. That way, you're getting the information you need and you feel good about who you end up hiring.
When you provide us with the information we need, you'll get a handful of quotes from  local multiple movers. Then, you can choose to get a more detailed look at quotes from the companies that you believe will serve your needs the best. This quote will give you whatever information that you will need in order to make a decision. iMoving is here if you have any questions and we make sure that you get the best service possible for your needs. 
Moving Services in Costa Mesa, CA
Local Moving: Heading down the street, across town, or maybe to the next city over? If so, then local movers from Costa Mesa can give you a hand and make sure that your move goes as smoothly as it's able to.
Long Distance Moving: Moves of 100 miles or more take extra time and knowledge, so you want to be sure that you get help from movers that know how to make the process simpler and that will work with you to get it all done correctly.
Commercial Moving: Need some help with relocating your business? Many moving companies have some people who are specially trained to take care of such things.
Packing and Unpacking: Sometimes, we may need help when it comes to dealing with packing and unpacking the things we're taking with us. Many moving companies now offer this as a regular part of their services.
Other Moving-Adjacent Services: Storage services, selling moving supply packages, white glove services, and other necessary services related to your move may also be available.
Tips for a Simpler Moving Process
Always start the packing process well before you start your move. That way, you aren't in a situation where, a week before you move, you're frantically packing up everything and you don't miss out on opportunities to donate items or have a yard sale for things that you don't want to take with you.
Looking for more affordable options for your packing supplies? Get boxes from some local businesses. Local businesses like offices and liquor stores will have some pretty solid boxes that are absolutely perfect when it comes to packing books and other heavier items.
Never try to pack or move on your own. Instead, contact family and friends who can give you a hand with it. Not only will it save you a lot of headaches, but you'll also find that things go more quickly. Plus, if you're moving far away, you'll find that this is a perfect way to spend some time with them before you head out.
Always pack knick-knacks and other decorations first. These are, typically, the most awkwardly shaped items that you own, which can make it difficult to try and pack them later on. If you have the original boxes for decorations, feel free to use them, as they'll likely be easier to take care of and maneuver.
Label everything, not just the items that are fragile. By putting lists on the outside of your boxes, not only will it be easier to know where your boxes should go in the new home, but it also prevents those frantic moments of unpacking where you're asking "where did I put that? I need it!"
What to Know When Moving to Costa Mesa, CA
Costa Mesa is a very popular location for people who are looking to relocate. It has been listed in dozens of lists related to livability and "best small cities to live in", so that should give you an idea as to its popularity.
The majority of people in this 16 square mile city are young and well-educated. More than a third of the population has at least a Bachelor's degree. Even with such a young population, there are a variety of different job opportunities, and the commutes to work are not too long. On average, most employees in and around Costa Mesa commute 20 to 30 minutes one way.
Costa Mesa is an awesome place to raise families. The crime rate is below average, the school districts have a 23 to 1 student-to-teacher ratio (lower than many around the country) and the average salary is between $50k and $65k.
There's always something to do and enjoy when you're living in or around the area of Costa Mesa. The rich culture of the region helps to make it a really exciting place to live. Between the many festivals, historical sites, museums, and parks, there is always something new and exciting that you're going to be able to do and enjoy every single day.
In Costa Mesa, you're not far from the Pacific Ocean – in fact, the name itself has the Spanish term for "coast" in it (Costa). Many people who are looking to spend more of their time enjoying the ocean find that Costa Mesa is one of the best places to do so.