Total of 1 carriers in
San Leandro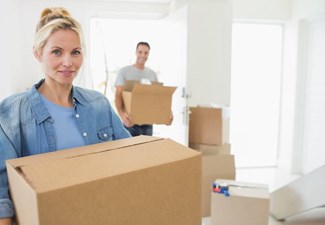 San Leandro Movers
When you first consider moving, it can seem exciting and the promise of opportunity is all you hear. However, as the time draws closer to the day of your move, things can become more frantic and it becomes important to get everything in order. Managing a residential or commercial move is challenging, and it is recommended that you work with a moving company in San Leandro that has been thoroughly verified.
With iMoving, you can find thousands of movers in California and the San Leandro area that can facilitate your move in several ways. They provide various services to make the process of moving smoother, such as packing, transportation, special handling, and more.
You can also rest easy knowing that you're working with a legal and verified moving company. Each mover in our iMoving network has been researched thoroughly by our team in order to ensure the safety of your belongings and make the experience a good one.
Users can make a budget and get a solid idea of what to expect during their move. On iMoving, users can make an inventory list of their belongings and get an accurate price of the cost to move their items. You can even add any special items, like heavy or highly valuable items, to see how they affect the price of your move.
Payments are protected as well, so you won't need to worry about the moving company upping the price and demanding more before releasing your items. We take care of a lot of hard work, leaving you time to tackle everything else.
Moving Services in San Leandro, CA
Packing Services: Packing up every item that you own can be a challenge. If you have a large home or a lot of items that will need to be moved, you can work with a San Leandro moving company that provides packing services to have your home packed up in no time.
Moving in or Out of State: Movers in San Leandro must be in accordance with state law when moving within state lines, but they need to follow other state and federal laws when crossing states. iMoving makes sure that the long-distance movers in our network are fully licensed and credentialed to operate within state and federal parameters.
Commercial Relocations: Moving a commercial building is tough, but San Leandro movers can get it done with no delays and no hiccups. Movers that offer business moving services are highly trained in complex moving projects, such as commercial moves.
Moving Precious Cargo: If you have any items that fall into a special category, you may worry about their safety for the entirety of the move. San Leandro movers can provide special packing and moving services to ensure they arrive at your new home without a scratch.
Moving Tips
Getting ready to move is something that people look forward to. That is until they realize how much goes into a successful move. To make the process less stressful, let's discuss some tips.
Declutter your home
Clutter in the home can make packing your items take longer and become more tedious. There are plenty of things in the home that isn't used and have simply been sitting in a closet or a drawer – do you really need to take those items to your new location? Declutter the home and get rid of items that you no longer use or that no longer work, donating them, selling them, or tossing them in the trash and keeping Marie Kondo in your thoughts.
Schedule installations and service calls beforehand
If your new home will need anything installed, you should make arrangements for service calls as soon as possible. If you work from home, this is extremely important so you can avoid interruptions when getting back into the flow of work. Any services at your old home should be shut off or transferred, so be sure to schedule those at least a week in advance.
Label all boxes clearly
Boxes will stack up as you get deeper into the home and pack more and more items away. Instead of having a bunch of boxes with unclear labels or no label at all, keep them organized by putting a label on everything. If a box has toiletries and bathroom items, label it. You don't have to list every item inside the box, but you should at least know what to expect when opening the box.
Don't leave anything until the last minute
Procrastination is a horrible idea when you're moving from one place to another. There are a lot of small details that need to be handled before you can complete your move successfully, so it's important to start planning as soon as possible and making arrangements.
Things to Know About Moving to San Leandro, CA
When you're moving to a new place, it's important to get to know the area a bit before you make the permanent move. San Leandro, CA is a beautiful place with plenty of fun and unique entertainment.
San Leandro is a family place, with more than half the current population listed as married with children. To truly be a great family place, entertainment for children must never cease. There's no issue with this in San Leandro, where families can find arcades, museums, mini-golf, outdoor movies, puppet shows, and more. It's astounding how much the entire family can do in just one area. Each day offers a new surprise, as there is so much to do and explore.
The weather in San Leandro is unmatched – the skies are usually clear and the median temperature is nice and comfortable. The sun is always shining, making it a great place for people that love the outdoors. Hiking can be a relaxing experience in a place so beautiful. You could also visit the Japanese Gardens, enjoy the annual Cherry Festival, and more. You'll find friends and a great community awaiting you each time you step out of your doors.
You can find anything you need right in the city without having to travel too far. This Bay area city has plenty of entertainment no matter what your interests are. You can watch a baseball game at RingCentral Coliseum, visit the deaf community center to learn and mingle with others, or you can head on over to the Historic BAL Theatre for more entertainment. With such great weather, there's no need to wonder why so many festivals take place – at any given time of the year, you can find several festivals to attend and fun to be had.