Total of
1
movers in
Commerce
Out Of The Box Moving Solutions
Commerce

Commerce, CA

4.35
7

Years in Business

1

Trucks

10

Workers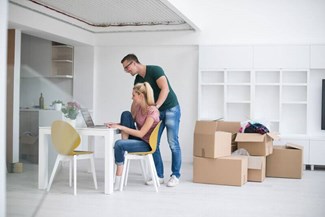 Commerce Movers
If you've never moved before, it's likely that you are still trying to figure out exactly what it is that you need to do in order to get everything finished. In many cases, you have to start your journey by finding moving companies in Commerce that can help you to stay ahead of things.
At iMoving, we do everything possible to ensure that you've got the connections and help that you need in order to make a good decision about the moving company that you want to move with. We know that it takes a lot for you to entrust your items with a moving company, so we do our best to help you find the best Commerce, CA movers for your purposes.
We pride ourselves in having a thorough and helpful process that allows us to background check and vet every single one of the moving companies that we want to work with. We won't list any Commerce moving companies on our website that we don't trust – so you don't have to do the extra work of trying to figure out which companies are worth your time and which ones are not.
We've also done everything possible to make iMoving.com as simple as possible to use. If you have the basic info related to your move, you can input it into our website. Then, our site will let you know exactly what info you'll need in order to make an educated decision between the companies that can meet your needs the best. You can contact them directly to get more info, and you can schedule and pay through our website so that you are only using one site for all of it.
Our job at iMoving is to ensure that your move is simple and that planning your move isn't going to take as long as it may have otherwise. When all is said and done, you'll be able to plan your move as quickly and precisely as possible. You won't be spending hours trying to compare moving companies because you'll have everything you need, all from our website.
Moving Services in Commerce, California
Long-distance moves: Moving long distances can be some of the most complex moving out there. If you're moving more than 100 miles from your current location, then you're probably going to be categorized as a long-distance move. These cost more, but your moving company is able to take care of all sorts of things that need to be done with it.
Local moves: Local moves stay within your local area or within 100 miles of it (some moving companies will end up having a lower number, they'll let you know when you start talking with them). These are typically determined by an hourly rate per mover you need.
Residential moves: Moving home has a variety of challenges, and it's important to know what is involved in it. The majority of moving companies in Commerce are going to be companies that focus on providing homeowners and renters with their moving needs.
Business moves: Business moves, or commercial moves, are not as common, but they're really important to execute correctly. You can find a handful of moving companies out there that focus solely on commercial moves and will have the knowledge and tools necessary to perform those moves well.
Other optional services that may be available: Many moving companies have done their best to provide pretty much any sort of service that a client may need from them. Some of the most common options for additional services may include packing and unpacking your boxes, disassembling and reassembling furniture and other items, transporting fragile items, and selling different types of moving supplies.
Talk with your moving company to see what services they have available for you. Also, be sure that they include any of these other services on any quote that you get from them so that you don't end up with a higher bill than you expected to have.
Moving Tips
Load up your décor first
Many people don't realize just how easy they make things if they just go ahead and take care of their décor first. Décor is awkwardly shaped and sized and can be hard to fit in the midst of everything else. So, most of the time, you're better off taking it down and loading it up in boxes ASAP.
Work with family and friends to get moving help
If you need some extra hands on deck to get things done, then you may want to go ahead and talk to your family and friends in order to get the assistance that you need. More often than not, they'll totally be willing to give you a hand – just be sure you supply drinks, snacks, and even a meal to them.
Schedule time off between moving and starting school or work
There's a lot that needs to be done when you move into your new place, and you don't want to feel rushed to go back to work. If you need to do so, you can – but try to schedule some time in there so that you can take a breath before going back to work or school.
Use labels and color code as much as you can
The organization is absolutely essential when you want to be sure that you can pack and unpack quickly. So, if you label every box and you make sure that you color code things (so you can figure out what room they go to at a glance), you're going to be a lot better off.
Always compare quotes from movers
As you start to figure out what it is that you need for your move, you want to take some time and compare quotes from the different movers that you are going to choose from. You may not always want to go with the cheapest one – but instead, you want to go with the moving company that is going to provide you with the best value based on what they have and what you need.
Don't spend a lot of cash on moving supplies
Moving supplies get really expensive, really quickly, and they are typically just something that you end up tossing when you're done. Your best bet is to see what you can get for cheap. Use clothing for your fragile items, get boxes from local businesses, and do everything that you can in order to save cash on moving supplies.
What to Know When Moving to Commerce, California
Commerce, California is a suburb of Los Angeles. Located in Los Angeles County, there are around 15,000 people who call Commerce home. The cost of living in this region of California is a lot less expensive than in areas like San Francisco, with the median cost for a home falling somewhere in the $300,000 range.
If you're bringing a family to Commerce, you'll find that it's a pretty good place for you to raise your kids. With dozens of options for schools, you're sure to find one that fits the interests of your children and that can help them to find the success that will follow them into college and beyond. There are also a number of parks and other recreational sites that you can go to with your family.
You're also not too far from many of LA's most prestigious universities, including UCLA, the University of Southern California, California State University Long Beach, Loyola Marymount, and a number of other schools. Plus, public transportation in this part of the country is some of the best available. The CC Transit, which is Commerce's main public transport, gets you throughout the area with ease and can even connect you to the Los Angeles Public Transit/LA Metro stations that you may need to get to.
Commerce isn't very far from the city of Pasadena. As a result, there are all sorts of places that you can go to in order to enjoy entertainment. The night scene in Commerce is quite busy, with all sorts of places where you can go to get a bite to eat, dance the night away, or grab a drink with friends. There are also a lot of the big city amenities that you'd expect to find in LA, without requiring you to live in the center city.
One of the best things about Commerce is the fact that you are not far from the beach and the coastline. That means that you have access to the beautiful Pacific Ocean, allowing you to enjoy its beauty and get involved in activities like surfing, swimming, boating, and more. 
Like most of the area in and around Los Angeles, the air quality isn't the best, so you want to be aware of that before you make the choice to dive in and move there. Some parts of Commerce are more crowded than others as well, so be sure that you do your research and see where will be best for you and your family to be comfortable when living here.