Total of 1 carriers in
Hayward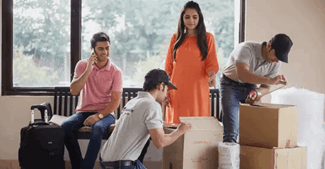 Hayward Movers
Moving within or to Hayward, CA is something that needs to be as easy as possible. Moving comes with a lot of stress attached - getting things packed, working with moving trucks, and transporting everything to your new home or office. The best way to remove that stress is to work with iMoving.
iMoving is a moving facilitator that you can use to find Hayward movers that will help you make your move easier. We have a network of moving companies in Hayward that you can choose from, all of them reliable and qualified to help with your moving needs. iMoving's rigorous system only selects the best movers, allowing you to see the best companies and get them to work for you.
The best part is, you get total transparency with the price. Plug in the information about your move, such as where you are going, the weight of your items, and when you need the move done. We'll get you accurate price quotes from movers we partner with that best suit your needs, and when you choose a Hayward mover and get a final quote, it won't change unless your data does. No hidden fees, no surprise costs. You'll be charged the price you saw beforehand.
We only work with the best of the best Hayward movers that will make sure that your valuable items, time, and money are all treated with the respect they deserve. You'll certainly understand why the movers we work with are rated so highly after they help you with your moving process.  
Moving Services in Hayward, CA
Commercial Moving: When you need to move from one place of business to another, you'll need some specialized Hayward movers. Moving companies specializing in commercial moves have the experience to pack up your office equipment, including electronics, and carefully bring them to your new place of work.
Storage: Sometimes there's a lag time between when you move out and when your new place is ready to move into. iMoving partners with many moving companies in Hayward that have climate-controlled storage units where you can keep your items.
Full Packing Services: If you aren't one of those people who is confident in packing up everything you own, then fear not! Moving companies can easily come and do the packing for you.
Long-distance moving: It doesn't matter if you are moving from a neighboring state or clear across the country from coast to coast, long-distance moving companies will be able to handle the logistics of the move and are licensed to haul your belongings anywhere you need them to be.
Tips to Make Your Move Easy
No one wants to make moving any harder or more costly than it needs to be, because it can get pretty stressful pretty fast. Thankfully, there are some great tips that will not only save you money but will also save you time.
Deal with extra costs first: If you are moving on a budget, you'll want to make the move as cheap as possible. Things, like disassembling larger items, specialized packing, and having movers pack your items for you, are all extra costs. Try to pack what you can yourself, measure doors to make sure all your items fit and only get packing help for what you can't do yourself.
Begin with the end in mind: You shouldn't stress about where all your items are going, so be sure to double-check that your new home or office will have lights, water, heat, and electricity ready when you arrive. Once you know you'll be comfortable in your new home, then moving will come naturally.
Ask people you know for help: As long as you give them some incentive to help you move, most friends and family members will be happy to help you. Make an event out of it, where you move during the morning and then do something together in the evening. Or make the moving fun and do a 'girls vs boys' packing contest, where the winner gets a treat at the end.
Pack by room beforehand: Instead of cramming all your moving into one day, go room by room, so you gradually pack up the house over a period of weeks to save some stress.
What to Know About Hayward, CA
Hayward California is a great place to live, and you'll always have tons of things to do. It's a great place with a lot of day trip locations for everyone. Here are just a few places you can go.
Normally if you want the peace and tranquility of a Japanese garden you need to go to Japan, but Hayward has its own set of Japanese gardens that are just as breathtaking. Every bed has been cultivated to look like a landscape, with over 70 types of trees and plants to look at.
If you like old apple orchards, then you'll love Garin Regional Park. It's a massive hilly area with apple orchards galore. There's even a harvest festival in the fall, or you can just come to the hills for the gorgeous view, especially at sunset.
You'll also be able to explore a salt marsh on the east bay, where there is a thriving ecosystem of birds, fish, animals, and plant life. Use some binoculars and take a walk down the area, and it might even be one of your stops if you choose to walk down part of the 345 mile San Francisco Bay Trail.
Speaking of walking, in order to combat a graffiti problem in the city, they decided to invite artists to paint their own murals on the larger walls around the city. It can be a load of fun to just walk around and see what the art looks like.
Finally, for the foodies among you, Hayward is a melting pot of food. Just walk the streets for a few moments and you'll see restaurants that serve Mexican, Korean, and American food. Your taste buds will never want for anything again, and if you want a different style of food, then there's a street where food trucks gather on Mondays.