Total of 1 carriers in
Martinez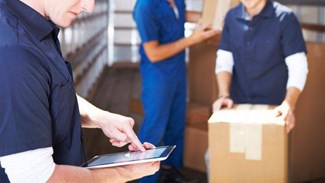 Martinez Movers
Searching for high-quality local movers in Martinez can be a bit of work, and the internet doesn't make it easier most of the time. There are so many different moving companies that you need to sort through that it can be stressful and anxiety-inducing to try and work out all of the details.
That's why iMoving exists. Instead of forcing you to take hours and hours to search through every moving company, you can find, you're able to use iMoving.com in order to get quotes from the best, most qualified moving companies in Martinez. Just give us info about where you live right this moment and where you'll be moving to, and we can get your info from some of our best partners.
iMoving is a moving facilitator – we do the heavy lifting when it comes to seeking out your options and sorting out which moving companies are the most trustworthy for you to consider. We connect with all sorts of pros and work to make sure that you've got everything that you need so that you can be ready to go. Not only that, but our partner movers are some of the best in the business, so if you schedule your move through us, you know that you're getting the best help.
So, use our search engine and get started with the process. Then, after your move is scheduled, you'll find that you have even more time in which you can deal with the other issues, concerns, and details around your big moving day.
Moving Services in Martinez, CA
Local Moving - Need to move less than 100 miles from where you live right now? Then local moving services in Martinez are going to be the type of thing that you want to go ahead and keep your eyes out for.
Long Distance Moving - Moving further than 100 miles? Then you want to be sure that you find long distance moving companies that specialize in this work – it'll make things easier and much less stressful.
Commercial Moves - Commercial movers deal with business moves of all types, from small businesses to large enterprises, and they do it in a manner that ensures that all of their items are moved safely.
Packing and Unpacking - Worried you won't have the time or ability to take care of packing and unpacking in a safe and effective manner? Then, for an extra fee, your movers can do the packing for you as well.
Other Services - Need storage, packing supplies, and/or fragile item loading and unloading services? Many moving companies offer these as an adjacent service to everything else that they offer.
Tips To Make Packing and Moving Simpler
Keep all of your important items with you. If you have important items like jewelry, important paperwork, and other items, you want to be sure that they are kept as safe as possible. Because of that, it's better just to get a fire-safe lock box and keep it with you.
Talk to your movers before moving day to sort out details. Be sure that your movers know where to park, whether or not they need a code to get into the area that you live, and whatever else that they may need to know in order to execute your move properly.
Schedule disconnects and change of addresses. You don't want to pay for the electric of the people moving into your old place, right? Be sure that you schedule your disconnects as soon as possible and make sure that your address is changed ASAP too. It'll prevent complications and it'll reduce a lot of headache in the long run.
Pack decorative items first. Your decorative items are merely that – decorative. So, you don't necessarily need them to stay up if you have a moving date. Instead, take them down ASAP. It'll help with the progress, but it'll also save you a lot of frustration. Why? Because decorative pieces are usually strangely shaped, and if you get them done first, you won't have to deal with the frustration of figuring out where they'll go.
Always label everything! Labeling everything is essential if you want to be sure that your Martinez movers are going to take the boxes to the right rooms in your new home. Not only that, but it will also prevent any confusion that you may have when you're trying to unpack your items as well. No need to stress, because you should know where everything is by the labels.
Info About Moving to Martinez, CA
Martinez, CA is located near Concord, and it's a lovely little town that the residents love. As many people know, California can be a pricey place to live, but Martinez is one of those small towns that are actually really affordable to reside in. While the cost of living is still high, it's better for those who work lower-paying jobs or have large families.
Speaking of families, the school district in Martinez is one of the best in the region, and the school continually gets solid marks in national studies. The neighborhoods in and around the town are also very safe, and there are always fun things for kids to do and enjoy together. Family activities are encouraged and people get really excited about the festivals and activities at local community centers and other locations.
Martinez is especially great if you're looking to start a small business. They are best known for their downtown area, which is filled with quaint antique shops and historical buildings that they have put a lot of work and effort into preserving over the years. This makes the downtown area quite a busy place, and it seems like there is always something new to check out when you're downtown.
Its proximity to Concord also makes it a great place to live if you have a job in the city, but you want to live in a less busy area. The traffic is relatively relaxed and you will find that your commute isn't very long, so it's a win-win for you and your family in the long run.