Total of 2 carriers in
Daly City
CalState Moving & Storage
Daly City

Daly City, CA

4.33
Years in Business

2

Trucks

Workers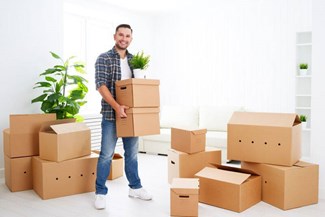 Daly City Movers
There are a lot of little things that need to be put in order as you sort out your next move to a new home. How are you supposed to deal with the details? Are there ways to figure out what options are best? And do you want to hire a moving company in Daly City, CA without spending hours upon hours searching online and trying to work out which companies are going to do your job professionally and efficiently?
Before iMoving came along, the hardest part of moving was finding and hiring the best mover. With so many to choose from, you may feel a little intimidated when it comes to reading reviews. That's why we've worked to build our network of qualified local and interstate moving companies - to help people like you get the quotes you want and need from Daly City movers that you can trust will do a good job. At iMoving, we put every company we partner with through a rigorous vetting process to ensure that each one adheres to our high ethical values and meets or exceeds industry standards for the highest quality local moving companies.
Your part is easy – all you need to do is go ahead and give us the information about your move – where you're moving from, where you're going, and how many bedrooms your current home has. This helps us to pull up quotes from multiple moving companies that will be able to take care of the services that you need. Then, you can choose which Daly City moving companies that you want to go ahead and get more information from – it's as simple as that. You can even schedule and pay through iMoving!
Moving Services in Daly City, California
Local Movers: When you aren't moving very far, then you may be looking at the options that you have regarding local movers. They can get your job done fast and usually cost much less than long-distance moves.
Long Distance Movers: These movers calculate quotes (like what you see here at iMoving) based on the distance of the move and how much that you will be taking with you when you move.
Commercial Relocation Services: Are you relocating your business? Moving companies that focus on these processes can help you to get your business moved carefully and affordably.
Storage Options: Need storage for short or long-term situations related to your move? Some moving companies offer storage options for extra fees.
Other Services: Packing, unpacking, white glove services (for fragile and/or large items), purchases of packing supplies, and other services may also be offered by your Daly City Movers.
Our Top Moving Tips for You
Use clothing to fill empty space
Do you have fragile items that you're getting ready to pack up? If so, take some clean clothing and/or towels and use them to fill in the empty space and keep everything as safe and secure as possible.
Help your kids to adapt to the change
Get your kids involved in the move. Allow them to help by letting them pack a box with their favorite items inside. Let them "label" the box. Not only does it keep them out of the way a little more effectively, but it helps them to have more peace of mind related to your move, too.
Sort items while packing
When you're packing up, be sure that you get rid of any items that you don't need or that you aren't taking with you. Schedule a yard sale, or schedule a local donation center to come and take away the things that you plan on donating. It'll make the process a lot easier and you will save some cash if you end up moving fewer items.
Only pack one room at a time
You don't want to jump all over the place when packing. Pack one room at a time, and make sure that you don't pack items from several rooms in the same box. Label your boxes by the room and you'll find that the unpacking process goes a lot more smoothly for you.
Be smart when scheduling your move!
Schedule your move on the right day, if you can. It's going to be a lot cheaper for you to schedule a move in the middle of the week, and/or in the middle of the month. These are some of the slowest times for your moving companies, and it will allow you to get some of the best prices for a long-distance move or local move.
Moving to Daly City, CA? Here Are Some Things to Expect
Daly City is a southern suburb of San Francisco, and the area has become quite a popular destination for many people over the past few years. It still maintains that San Fran feels without the San Fran prices (even though it can still be a pretty penny to move to this area). Many people in Daly City actually commute to San Francisco for their work. If you do so, be sure that you take the BART public transportation system – otherwise, you're in for quite a long commute.
Food is a big deal in and around Daly City and the greater Bay Area; it's estimated that, for every 10,000 households, there are almost 40 restaurants. That's a lot of great places to eat! But, unlike many similarly-sized cities, you probably want to go out to eat relatively early. Very few places, outside of bars, are open much later than 10 PM.
The weather in and around the Bay Area is absolutely lovely. It's a Mediterranean climate, so you have comfortable summers and cool winters. As a result, there are all sorts of fantastic festivals, cultural celebrations, and outdoor activities that you'll be able to enjoy with your family all year long. Also, if your family includes a furry canine friend, you've found the right place – there are more dogs than kids in the region, and many, many places are very dog-friendly as well.