Total of 1 carriers in
Bradenton
T & J's Moving Company
Bradenton

Bradenton, FL

4.72
2

Years in Business

2

Trucks

4

Workers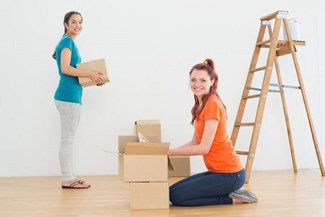 Bradenton Movers
Whether you plan on moving to a location within the city of Bradenton, Florida or moving out of the Sunshine State, a smooth move is a goal. Eliminating hassles and stress is the goal of many home and business owners when they decide to relocate. iMoving was designed to make moving easy and simple, connecting you with reliable moving companies that take the stress away from the moving process.
Our process of selection is very thorough and each moving company in our network has been checked and verified to provide dependable service and will treat your items with the care they deserve. We provide several tools to make finding the right movers for you easy, including an inventory checklist that helps you figure out the costs of your move.
iMoving puts the customer first and only works with the most highly skilled and well-trained professional local and long-distance moving companies in Bradenton. They are respectful and dedicated to providing excellent moving services and letting their work speak for itself.
We pride ourselves on our transparency, so you know exactly what you can expect on the day of your move. The final quote you receive from the mover you choose is a binding quote, so you won't be hit with a higher price when your move is nearly complete. Your inventory will still be able to be updated and you'll be able to see what each individual item costs to move.
iMoving also makes it easy to compare quotes, so you won't have to do all the hard work of contacting moving companies and getting inventory walk-throughs performed. Companies on our website offer competitive prices and you can see them side by side and make your decision on who will perform your move.
Each moving company in our network embodies the ideals and values of iMoving, so you can expect professionalism and reliability. Get started today by deciding whether you want a quick or precise quote to begin the process of finding a Bradenton mover.
Moving Services in Bradenton, Florida
Movers in Bradenton offer several different services that further increase the convenience and ease of relocating your home or business. Services include:
Special Handling: Your items should be treated with care whenever they are being handled by a professional, but some items require special handling and care in order to get them to their destination undamaged. Pieces of art, overweight furniture, large instruments, mirrors, and other items may need to be put into special crates designed to keep them from breaking or chipping when being moved.
Commercial Moves: Homeowners aren't the only ones that relocate – businesses, offices, schools, medical centers, and other commercial operations may need to move to a new location for a number of reasons. iMoving can connect you with skilled commercial movers that know the ins and outs of performing complex commercial moves, including creating floor plans.
Long Distance Moves: Each state has specific laws and licensing requirements for movers to perform long-distance moves, which is one of the things we look for when vetting moving companies in Bradenton. Our long-distance movers are qualified to perform state-to-state moves, so your items are in safe hands.
Local Moves: Local moving companies perform moves within the city of Bradenton or just beyond it, which makes some of the required licenses for long-distance moving unnecessarily. Local movers are just as skilled as long-distance movers, packing your items and getting them loaded and unloaded with no problems.
Full Packing/Unpacking: Full packing makes it possible to get your home packed without lifting a finger – the movers can do it for you. Movers are trained in properly packing items, so you won't have to worry about taking it into your own hands. Your items can also be unpacked by the Bradenton movers you work with, making the moving process even easier.
Moving Tips to Ensure Success
1. Purge Your Belongings
It can be overwhelming to pack every item in your home before movers arrive. This can lead to burnout and delays, costing you time and money. If you're moving long-distance, Bradenton moving company prices will rise depending on the weight of your items when they're loaded onto the truck.
To save frustration, money, and time, purge your belongings by getting rid of items that you no longer use, need, or want. Cut back on as much as possible, donating items or giving them away to friends and family members. You may also be able to make a bit of money by selling items.
2. Separate Items in Different Rooms
It is never a good idea to put items into boxes without paying attention. Instead, be careful when packing and make sure that boxes are labeled accordingly. You can also color code boxes to further reduce confusion, associating colors with different rooms.
Place items that are for certain rooms together, keeping items in one place and making it easier to unpack once you arrive at your home. It will also allow you to direct movers on where to place boxes so that you don't have to move them to different rooms yourself.
3. Get Assistance for Special Items
Not every item can be treated the same when a move is occurring, so speak with Bradenton moving companies about items that are fragile and need additional protection during your move. Special crating can be provided for pieces of expensive art and other items to make sure they are kept safe while being transported.
Washing machines will need stabilizers and large pianos will need special care and crating when being moved to your new home. You will need to arrange these services before movers arrive to your home to prevent delays in acquiring equipment.
4. Take Photos
When hiring movers in Bradenton, one of the things that many people fail to do is take pictures of their items. This may not be a big deal if you're not moving anything valuable, but the chances of that are slim. Any items that are valuable or easily breakable should be documented and photographed so that you have a record of their condition before they are loaded onto the moving truck.
If anything happens to your items, such as damage, you can prove what condition they were in before they were loaded when filing a claim. This makes it easier to receive compensation for your item if it is damaged during the move, though professional moving companies in Bradenton take all measures to ensure that items are kept in their original condition.
What to Know About Living in Bradenton
Bradenton is a place of magnificent views of the water and relaxation – it's also a family-friendly area that makes a great choice for families looking to settle down. There is plenty you can enjoy in the city of Bradenton, including the weather.
Weather
Living in Florida means you'll experience plenty of heat, especially during the summer. However, the cool breezes that blow from the water can be a welcome reprieve from the sun's heat. In the summer, temperatures are regularly in the low 90s and mid-80s. In the winter, temperatures can get as low at the 40s but will usually average around 50 degrees.
You'll find that the most comfortable temperatures occur between the months of February to May and October to December. The rainy season is from June to September when showers are more frequent and there may be a higher chance of tropical storms developing in nearby ocean waters.
Employment
Bradenton's unemployment rate is 3.4%, which is 0.5% lower than the national average. Growth in the workforce has continued to expand, though it is going a bit slower than other cities in the U.S. The average income for residents is lower than the nation's average, coming in at $22,000. Midian income is also lower than average, at $40,000.
There are also numerous large companies that employ residents of Bradenton. Some of the large companies operating in Bradenton include:
Sun Hydraulics
IMG Academy
Publix
Bealls, Inc.
Tropicana Products
Schools
Bradenton is not in short supply of good schools. In fact, you'll find that you have plenty of options when searching for public schools, private schools, and charter schools. You can also find schools that rank highly in test scores, safety, and hosting extracurricular activities for children to participate in.
Family Fun
Bradenton is also a fun place, with plenty of things the family can enjoy together. The Manatee County Fair is one event kids and adults alike will love and takes place every year in the city in the month of January. The Sarasota Seafood Festival also takes place in January and features delectable seafood dishes from local restaurants.
Other events you can enjoy include the Bradenton Area River Regatta, the St. Barbara Greek Festival, the Circus, and the Suncoast Blues Festival. There's plenty more – this is just a small taste of all you can enjoy in Bradenton.
Bradenton is a good choice for individuals looking for a place to grow and settle down. The schools are top-rated, unemployment rates are low, and public transportation is readily available. The weather is also a plus, as you'll hardly ever have a day without sun and won't need to worry about shoveling snow. Once you're ready to begin your move, use iMoving to find the best movers in Bradenton, Florida.