Total of 1 carriers in
Casselberry
Forward Moving & Storage
Casselberry

Casselberry, FL

4.40
18

Years in Business

1

Trucks

32

Workers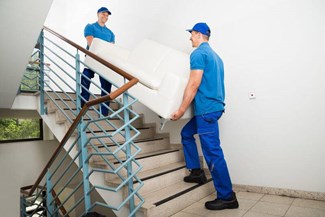 Casselberry Movers
Moving on your own comes with a lot of challenges and frustration. However, iMoving has made it easier than ever to relocate by providing you with a trusted network of Casselberry moving companies that can get your items delivered safely to your new residence or commercial building.
You won't have to worry about any delays or missing items when you work with the reliable moving companies we recommend. Each moving company we partner with has been researched and checked to verify their information, qualifications, customer satisfaction, and experience. You won't need to search for random companies that may not be reliable or have the necessary licenses and qualifications to move your items. With our local and long-distance moving companies in Casselberry, FL, your move will be a lot less stressful and a lot more organized.
iMoving.com features an inventory checklist that allows you to figure out the exact cost to move each of your items, helping you get an accurate estimate of your moving costs, so you can plan a budget accordingly. There are no surprises or hidden fees when using iMoving – all of your expenses are calculated so that you can make the best choice possible when looking for a moving company to help you get relocated.
Each and every one of our Casselberry moving partners has been put through our extensive verification and background check to validate their credentials. You can relax on your moving day with the knowledge that all of your belongings are being treated with care and caution so that you can start building a life in your new home with as little difficulty as possible.
Moving Services in Casselberry, FL
Full Packing: Packing up a home is often difficult due to how much stuff accumulates over the years. This is why moving companies offer full packing services at an affordable price.
Storage: Unexpected delays and other issues can require storage units to be utilized during your move. If so, our Casselberry movers have storage available to keep your items safe and sound during relocation.
Local Moves: For moving across town or to a nearby city, local movers are usually the best. They are often less expensive because they don't have the expenses or equipment needed to make long-haul moves.
Long Distance Moves: If you're moving cross-country or across a few state lines, every long-distance moving company on iMoving is qualified to help with your move.
Commercial Moves: If you're relocating your commercial business, we have movers with the experience along with the training to handle all kinds of business relocations, ensuring the safety of all assets and valuables.
Special Handling: For objects that don't fit into any standard category, our Casselberry moving companies have your back and can handle anything from odd shapes to irreplaceable heirlooms.
Moving Tips
When you're moving, there are a lot of things that go into it that could be overlooked or forgotten. Moving is stressful enough on its own but managing everything can be a bit frustrating if you're not organized about it. To help make things easier, we've provided some tips to get you packed and ready to go in no time.
Create and stick to a definite plan. Planning everything out is the best way to make sure your home is packed completely, and nothing is left behind. It also helps you handle all the details that go into relocating, such as canceling services or making sure your mail is forwarded to the new address.
Pack an overnight bag with essentials and toiletries. Sometimes, unexpected delays can cause you to spend some time in your new home before the moving truck arrives. For this reason, we recommend packing a bag with several days' worth of clothes as well as toiletries and other essentials you may need.
Label boxes accurately. You may have labels on boxes, but the important thing is to make sure that they are labeled accurately. Be specific about the rooms the boxes belong to as well as what they contain so that you can make unpacking easier and more efficient.
Disconnect services that cannot be transferred. There are times when you'll be able to simply transfer your internet or cable service to your new address, but other services require cancellations. Be sure to speak with all service providers about your move and cancel any that are no longer required or that cannot be transferred to your new home.
Use clothes and other soft items to keep fragile items secure. If you own a lot of glass or electronics, it can be nerve-wracking moving all of these sensitive objects. Try wrapping them in clothing and using pillows to keep them secure inside boxes and avoid breaking any of the things you love.
Things to Know About Casselberry, FL
Moving to Casselberry can be an exciting thing, as Florida is known for all things exciting. This location is great for families of all kinds, exposing you to the colorful scenery and city dwellers that call the area home. It's located just a bit north of downtown Orlando, where you can enjoy theme parks like Disney World and Universal Studios. You can even just relax and take a relaxing stroll up and down Universal Studio's CityWalk in nearby Orlando.
If theme parks aren't your thing, there are plenty of beautiful parks and natural areas located around the city of Casselberry. You can go for a relaxing drive and see all the sights the city has to offer, such as beautiful sunsets and sunrises and pastures filled with colorful flowers. This is actually why Florida has its name – the land of beautiful flowers. Visit Secret Lake Park or go on an adventure and cross the Seminole Trail – it's all up to you.
You're going to love living in the beautiful city of Casselberry, where you can get a feel for the suburbs and enjoy a quiet home just outside of the city. The schools in the area are great, so children of all ages can get an excellent education and learn about the world around them. There are plenty of natural learning opportunities, including fishing in one of the many lakes or visiting the trails to get a glimpse of the nature around you.
If you're considering a move to Casselberry, you've made an excellent decision – there's so much to look forward to! Our trusted iMoving moving partners can get you on the way to your new home in as little time as possible, allowing you to get started on the newest chapter of your life without any delays or interruptions.