Total of 1 carriers in
Lake City
Moving America Logistics
Palm Coast

Palm Coast, FL

4.20
3

Years in Business

1

Trucks

15

Workers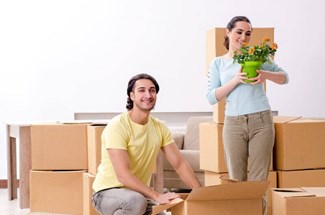 Lake City Movers
Anyone planning a move has a lot of things on their plate. They have a lot to think about while moving, such as coming up with plans, getting all of their things sorted through and packed up, and of course, finding the right moving company to facilitate the move. You want your moving company to go above and beyond to help you get situated in your new home as quickly as possible.
This is where iMoving comes in. At iMoving, we believe every person should have access to only the best local and long-distance movers in the nation. That is why we have spent a long time building up a network of the very best moving companies around. These moving companies are very well reviewed by their past customers and have proven through customer satisfaction and years of trusted work that they are among the best moving companies on offer.
With such a large selection of local moving companies to select from in the iMoving family, you will be able to rest assured that your move is going to go over without a hitch. Our Lake City partner moving companies are fully equipped, certified, and licensed to help you and your family move from your current home to anywhere else in the nation, and they go above and beyond to ensure their customers are happy with the experience they receive during their moving day.
We are proud to work with the best Lake City moving companies, and you can bet that we thoroughly background check and vet any new additions to the iMoving network. We take pride in the fact that our partner moving companies are among the best in the country, and we want to keep that tradition alive by introducing more of the nation's top moving talent into our roster of great moving companies.
When you get ready for your Lake City move, you should know that the iMoving team and our nationwide network of mover partners have you covered.
Moving Services in Lake City, Florida
When you're getting ready for your move to Lake City, you'll want to make it as simple as possible, taking as much of the workload off of yourself as you can. That's perfectly okay, too, because our partner moving companies have you covered with a host of great moving services to make your move that much easier for you.
Here are just a few of the services our partners offer.
Local and Long Distance Moving: It doesn't matter if you're planning to move to the other side of town or to the other side of the country. Our partner moving companies are fully certified and properly licensed with the governing authorities to help you move to your destination.
Storage Solutions: If you think you're going to need access to storage facilities during your move, start by asking your moving company if they offer storage facilities before you plan to rent one through someone else. Many of our mover partners offer storage facilities for their customers to take advantage of before, during, or even after their move so they can keep their things stored away safely while they get things situated in their new home.
Commercial Moving: Our partner moving companies aren't only skilled at helping people move to their new homes, but they are also highly adept at aiding customers in getting their businesses relocated when needed. Thanks to commercial moving services, you can have one of our mover partners help you safely relocate your office and all of your assets so you can get back to work in no time at all.
Special Handling Services: Everyone has a special item in their household that may just need a little extra attention during the moving process. Whether it's an old family antique or a uniquely shaped piece of furniture, special handling services can help you get it moved safely and efficiently.
Full Packing Options: We completely understand if you're looking around your home and filling up with dread at the idea of packing all of your stuff up alone. You don't have to worry about that, either, thanks to whole house packing services. Just sit back and relax while your movers handle all of the tough work of packing up your home for you.
Pro Moving Tips to Ease Your Move
While you can certainly make things easier through the help of our partner moving companies, you can also take advantage of a few other moving tips from your friends at iMoving to make your move a little less stressful. Think about some of these tips as you move:
1. Organization is key to an efficient move
Want to know the secret to an efficient and easy move? It's this simple: organization! If you keep all of your things organized, sorted by room or by name, or even color code your belongings, you'll find that packing and unpacking your stuff can be made so much easier if you are well organized.
2. Try to cut back on buying perishable food before your move
With things being unplugged and moved out (most likely including the refrigerator), you should try to avoid buying perishable foods at least two weeks before your move. This way, you won't have a bunch of perishable food items to deal with right before the move.
3. Go room by room when packing
Don't overwhelm yourself while packing your home up. It is much easier to pack up room by room, making sure to label each box so you know where the contents belong when it comes time to unload everything at your new location. If you do it just right and keep everything from each room together, you should find unpacking everything when you get to your new home to be quite the trivial task.
Lake City, Florida: What You Need To Know
Excited about your upcoming move to Lake City in the beautiful Sunshine State of Florida? You have a lot to look forward to with this move, as so many people love everything that living in Florida brings with it, from the beautiful weather and easy access to the water to the wonderful year-round climate.
What about Lake City in particular, though? You'll find there is no shortage of things for you to enjoy here when your move to Lake City is finished. You're going to have a lot of new things to explore and get used to in your new city, so let's get you acquainted with what you can expect to find when you get to Lake City.
Located just in between the cities of Jacksonville and Tallahassee, and about equidistant from the Gulf of Mexico and the Atlantic Ocean, Lake City has a population of 12,116 people as of the last census. It has a little something for everybody to enjoy, but people who love history and nature will especially find themselves right at home in Lake City.
For folks interested in exploring the natural areas the city has to offer, be sure to check out Osceola National Forest, where you can find plenty of options for outdoor activities. Here, you will be able to go hiking, visit biking trails if you enjoy cycling, as well as plenty of possible camping spots to pick from. You can also find lakes and rivers in the area, so you can always jump in for a swim if the mood strikes you.
History buffs in the area will get a fun time out of visiting the Lake City Columbia County Historical Museum. Located in downtown Lake City, this museum is located inside of a restored home from the 1870s and is chock-full of interesting historical facts about the city, the surrounding area, and the people who first settled in the area now known as Lake City. You can view furniture that dates back to this historical period, view old art exhibits, and more.
If you love going shopping for antiques and other knick-knacks, then you will probably adore a visit to the Webb's Antique Mall in Lake City. It is a popular attraction for collectors and antique lovers in the area, and features a large array of unique items. While some of the things that can be found here are quite common trinkets, you'd be surprised at how often a rarer "diamond in the rough" shows up.
Appreciate a good time looking at art? You might feel right at home the Gateway Art Gallery, where you can view art pieces from various local artists and photographers. The majority of the pieces and exhibits found here can't be seen anywhere else, so this is another very unique experience for anyone who loves a good art exhibit.
As you can see, there is no shortage of things for you to be able to enjoy once you get settled in Lake City. You'll have all kinds of opportunities to have fun, whether you're into nature, history, art, or something else entirely, you'll find something to love about the beautiful area of Lake City, and you'll quickly understand why over 12,000 people are proud to call it their home.